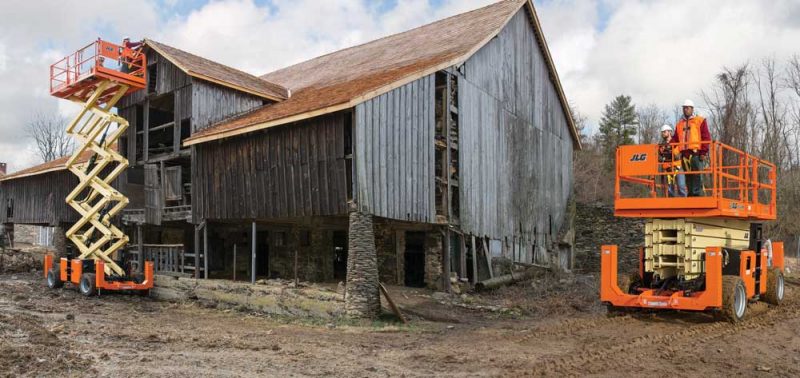 The effective date for the new safety and training standards for aerial lift equipment or MEWPs (mobile elevated work platforms) was once again pushed back late last year until March 1, 2020. Dubbed the ANSI A92 suite of standards (A92.20 design, A92.22 safe use and A92.24 training standards), these new protocols will put a big emphasis on the responsibilities of the user and employer for training, planning and accountability on MEWPs. These standards will also require new safety gadgets on lifts — for example, platform load sense technology that will disable machine function if the load is above the unit's weight capacity limit.
Scissor lifts specifically will have a big change — limitations for outdoor use because of wind safety concerns (especially on slab scissors) — along with other ANSI mandates from toe guards to higher guard rails. ANSI A92 wind force requirements are pushing MEWP makers to increase machine weight for more stability, reduce platform capacities and sometimes use wind sensors for scissors that work outdoors. MEWPs labeled for indoor use aren't held to the same standard. Manufacturers are taking different approaches to these new wind requirements with indoor/outdoor slab scissor products. This is how industry expert Chad Hislop explained scissor wind restrictions at a recent press event in Seattle. He's the senior director of product management at Genie Industries.
"Let's talk about scissors and wind," said Hislop. "We had two choices here. Most manufacturers in Europe currently divide up their fleets into indoor and outdoor machines. Indoor machines tend to be narrower and lighter. Outdoor machines tend to be heavier and more expensive. We thought that there was a better way than having two machines. Using some of our control systems, what we decided to do was make sure that all of the slab scissor fleet had the capability of going indoor and outdoor, and limiting the height of the machine when outdoors."
Genie and other lift manufacturers are taking interesting approaches to new wind force requirements, creating dual use machines. With Genie's new dual zone feature, operators will now have the ability to switch between indoor or outdoor applications. Genie slab scissors, equipped with the Genie Smart Link dual zone control, will now have two buttons on the platform controller that require the operator to select the "Indoor" or "Outdoor" zone of operation. But because new ANSI standards got pushed back, Genie is holding off on releasing units.
"Starting March 1, when the new ANSI standards are anticipated to go into effect in the United States, all Genie GS scissor lifts produced moving forward will be equipped with dual-zone operation, which means all models will be both indoor and outdoor operation capable," explained Hislop. "We will not have a mix of indoor-only, outdoor-only and mixed-use models, which is confusing to our customers and the market."
A company like Snorkel will offer a wide range of scissor lifts in 2020, including push-around models for interior-only, low-level use working up to heavy-duty rough terrain models which can tackle tough outdoor jobsites. Snorkel's solution to the wind loading and indoor/outdoor rating dilemma for slab scissors is to limit elevation automatically based on the inclination angle.
"We're using a new variable side angle algorithm in our control system software that reduces the permissible side slope of the unit based on the height of the platform," explained Jeff Eckhardt, vice president and chief engineer at Snorkel. "It is linearly interpolated so that it constantly reduces as the height is increased. Some units will have small amounts of counterweight added to increase this envelope, but ultimately the system is automatic and requires no input from the operator, permits full height — even outdoors — without a capacity reduction. At the lower stages of the scissors' lift height, the permissible side slope was increased to allow much more flexibility at lower operating heights."
In basic terms, this means that all Snorkel electric slab scissor lifts, from the S3215E to the S4732E, will allow you to elevate indoors or outdoors, rated at wind speeds up to 28 mph, until you reach a certain height limit, which is based on the current incline on which the unit is situated. Like Genie, Snorkel is in a holding pattern and will be rolling out these new models in early 2020.
It's clear a variety of technologies will be employed in the market to achieve standardization, so it will be important to do a deep dive into the operator's manual of the specific slab scissor in use, noting rough terrain scissors will primarily be focused on outdoor applications. All of these scissor lifts are primarily sold to rental houses, so how are those companies approaching this new fleet management situation?
"As the standards are still evolving, we are taking all of this into consideration in regard to managing our own fleet," said Bal Guerrero, director of United Academy at United Rentals. "Our goal is to stay aligned with customer needs and ensure we offer the right training to coincide with standards and regulations."
"Because the ANSI standards are still under appeal, the introduction of new equipment is not fully understood in the marketplace," explained Brad Coverdale, vice president of fleet and product support at Sunbelt Rentals, "but safety has always been and will continue to be our No. 1 priority at Sunbelt. We are actively engaged with the ANSI standard review and know that manufacturers are working on new solutions that meet the new MEWP requirements."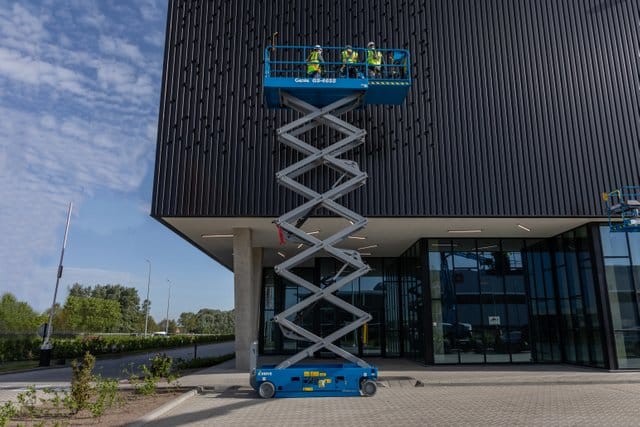 ANSI standards overall are dramatically changing the MEWP industry for the better, bringing a global safety standard to the aerial lift marketplace. Along with new safety tech, ANSI A92 will set new training requirements for MEWP operators, supervisors and even mechanics.
Professional users, supervisors and mechanics working with MEWPs like scissor lifts can get more info and properly certified in a variety of a different ways, including the rental house (like United Rentals' United Academy), through the machine maker (Genie offers its aerial safety and operator training) or through an association like IPAF (the International Powered Access Federation). The new ANSI standards and training deadline have been pushed back to March, but now is the time to get certified and understand the new training and technology involved with the next generation of aerial lift equipment.
Tags:
home
,
January 2020 Print Issue
,
JLG Industries
,
Snorkel
,
Sunbelt Rentals
,
United Rentals