Compact crawler booms, also called spider lifts (depending on the manufacturer), give operators the ability to reach up and over to access even the hardest-to-reach spots. They're both awesome all-terrain lifts that are great on uneven ground, thanks to legs that lock into place and provide stability at varying elevations, and ideal for indoor work on fragile floors. Compact crawlers are also ultra compact. They can fit through doors and be easily transported and stored. All of this makes these machines attractive to a variety of customers — especially in rental — often eliminating the need for scaffolding jobs.
"Compact crawler booms are ideal for tough, hard-to-reach indoor and outdoor applications that require the operator to bring tools and materials to the work area," says Randy Marzicola, director of business development at JLG Industries Inc. "Atriums, gymnasiums, arenas, auditoriums, airports, schools and universities, as well as city, state, federal and military facilities. The machines' versatility and ease of mobility is also ideal for jobs performed in hotels and convention centers by window washers, painters, maintenance professionals, electricians and tree trimmers."
With such a large and diverse customer base, compact crawler booms are a sought-after machine on rental lots. Unit sales are also on the rise.
"The majority of units JLG sells start out in a rental fleet, however, we do see a steady cadence of purchases from end-users who have jobs requiring more consistent usage," says Marzicola. "Colleges and universities, where there is a consistent variety of indoor and outdoor maintenance work, are good examples."
Jukka Kytömäki, president of Avant Tecno USA, agrees.
"In general, we see the rental market as the biggest opportunity for us," he says. "However, we are also quickly discovering that a lot of our customers are investing in these machines, particularly in the tree care segment."
In October, Avant Tecno USA announced select dealers in its extensive network would begin promoting, selling and servicing Leguan 190 spider lifts designed for tree care and heavy-duty professional and rental use. Regardless of the brand, how do you rent?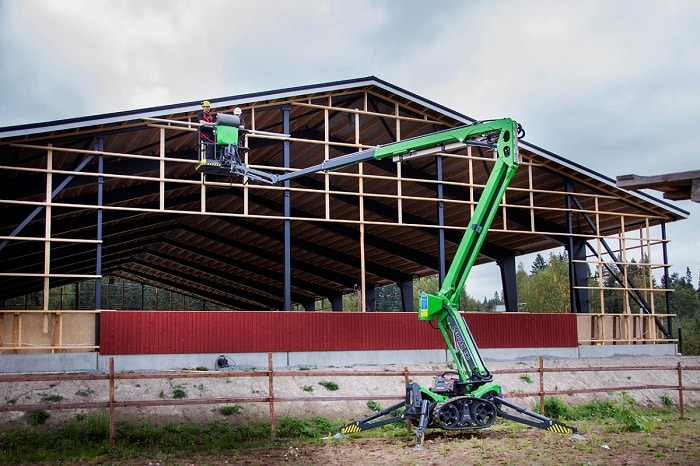 "There are several features that are key to meeting a users' needs," says Marzicola. "Up-and-over reach is considered very important, as are, platform height, working height and platform capacity. Environmental considerations also come into play for customers looking for a machine that can deliver clean, quiet operation, and lastly, space and weight criteria such as ground bearing pressure, particularly when working on sensitive flooring, are important."
Renters will have choices in power and propulsion: AC power, gas or maybe an optional lithium-ion electrical system that doesn't produce emissions. The biggest units might have a diesel option. Most of the drive systems we've seen in the United States are mounted on tracks, but wheels are available in the global market. Non-marking tracks or tires for indoor operation are available. Automatic levelling makes setting up the platform quick and effortless. There may be a wired or wireless remote control for the driving and outrigger operation.
"Compact crawler booms are fairly intuitive machines," says Marzicola. "They can be operated with ground controls or from the basket. Thanks to a handheld unit with a wire, you can step outside the basket to operate it while walking next to the machine. This is extremely helpful when maneuvering it through tight areas."
Max working heights can range from 50 to over a 100 ft and max outreach ranges from 20 to over 50 ft. Platform or basket capacities hover around 500 lbs. Something else to consider is training. In order to operate a compact crawler boom, operators are required to complete ANSI A92 compliance training.
"Manufacturers like JLG and even select rental houses and associations can help you get certified," says Marzicola. "Some of the things you'll learn as part of the certification are regulations, safety hazards, proper operation and proper use of safety harnesses."
Three Popular Lifts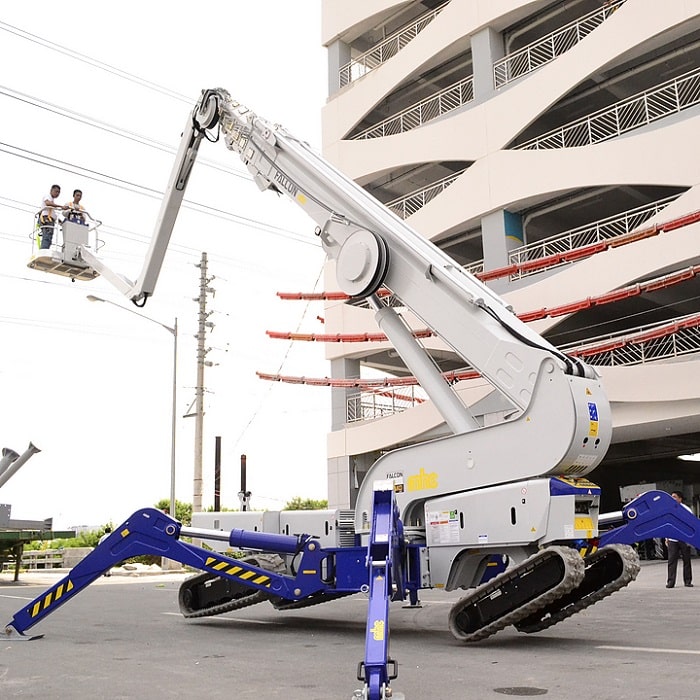 Let's look at three popular machines from JLG, Leguan Lifts and Falcon Lifts. JLG says the versatility of its X600AJ in the 60-ft height class makes it a popular option. Its ability to pass through a single-person doorway is also an attractive feature for a wide variety of users.
Leguan Lifts only offers one model in the United States and Canada — the Leguan 190. "In the design of this particular spider lift, special attention has been paid to durability, excellent up-and-over clearance and user-friendly interface," says Kytömäki. "The Leguan 190 is the right choice for tree care, painters, construction work and facility maintenance."
For Falcon Lifts, the FS95 hits a sweet spot for many users.
"Its compactness and low weight allow the unit to pass single doors and operate on sensitive floors," says Brian Falck-Schmidt, sales director at Falcon Lifts. "The Falcon FS95 is the only model offering a double jib for maximum reach and flexibility during work."
Tags:
Avant Tecno USA
,
Falcon Lifts
,
home
,
JLG Industries
,
November December 2020 Print Issue