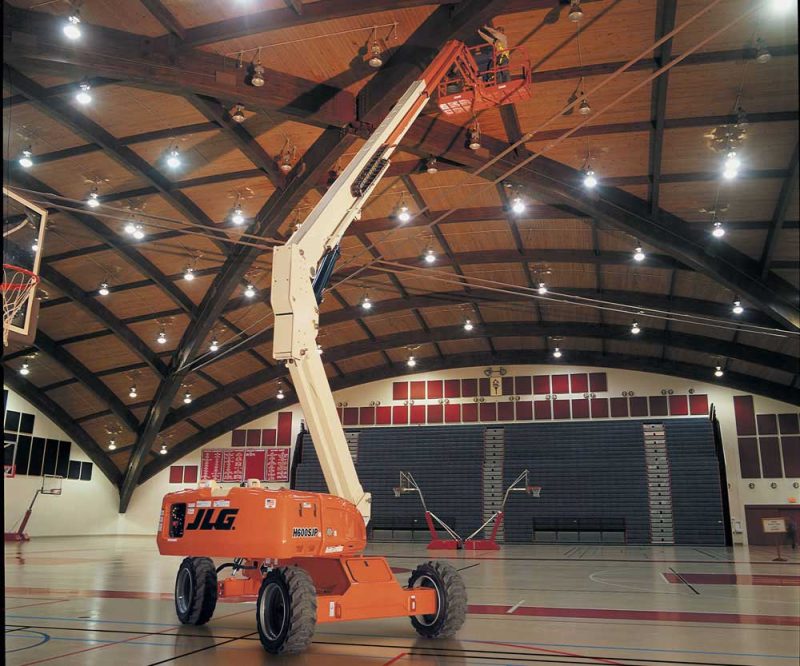 Aerial lifts were introduced 70 years ago as an alternative to erecting scaffolding and working from ladders. Known today as mobile elevating work platforms (MEWPs), articulated booms, scissor lifts, compact crawler spider lifts and so on, they are hydraulic wonders in their ability to move people and materials nimbly, securely and distantly. Today, manufacturers of lifts are reaching new markets by employing electric and hybrid technologies (especially good for indoor usage). They are configured as electric, bi-energy or variously styled hybrid models — all offering performance comparable to diesel equivalents.
"The idea and purpose of hybrid machines have not really changed since their introduction, but the execution of these machines has evolved significantly along with the technology that powers them," says Zach Gilmor, product manager for Genie, a division of Terex. "Hybrid MEWPs employ a combination of two different power sources in most cases — a small diesel engine with generator and battery power."
These units significantly increase rental flexibility and boost machine utilization by offering the same productive operation as a diesel rough terrain unit.
"You wouldn't notice the difference between the electric or Kubota-powered diesel models," says William Dovey, product manager at JLG, one of the pioneering manufacturers of lift equipment. Dovey specifically refers to the 25-hp diesel-powered 340AJ articulating boom lift and its battery-powered H340AJ equivalent that features four independent electric-drive motors.
Each of these four-wheel-drive lifts weighs 9,700 to 9,800 lbs, moves at 3-plus mph and can climb 45 percent grades. The H340AJ is termed a hybrid because, though its motive power is from electric motors, its eight 12-V batteries are charged by an onboard 11-hp diesel engine. The H340AJ is an example of JLG's "series hybrid" machines — primarily electric but with a recharging diesel engine — whereas the company's "parallel hybrid" machines rely principally upon a diesel engine but have an electric motor to boost performance or to take over when operated indoors. Outdoors, the electric motor kicks in automatically whenever the lift encounters rolling resistance. An example of a parallel hybrid is the JLG H800AJ articulating boom.
Then there are purely plug-in electric lifts. Absent a charge, how many working hours can be expected from a battery-powered model? Dovey cites testing done a few years ago on JLG E600 telescopic lifts, among the highest-lifting electric booms in the industry:
"The machine made 71 complete cycles. That's almost three miles of driving plus 71 full up-and-down cycles. That was a number of years ago though. With today's battery technology, it might do more than 71 cycles."
Battery Choices
Several battery technologies are utilized in the lift industry, with the differences sometimes showing up in the price tag for a machine. A lithium-ion battery, for example, is costlier than a lead-acid battery. The extra cost is repaid in lighter weight and longer battery life.
"The adoption of lithium-ion battery technology is one of the major developments in the engineering of electric machines," says Snorkel CEO Matthew Elvin, noting that the lithium-ion battery "can produce significantly more energy in the same or less physical space. This means that it is becoming possible to electrify larger and more powerful equipment that traditionally has been powered by a conventional engine."
Snorkel's Speed Level models SL26RTE (31.5-ft working height) and SL30RTE (35-ft height) are two new lithium-ion lifts designed to work on sloped ground without outriggers. Both units deliver a long duty cycle, emit up to 60 percent less noise than the diesel equivalent and can be recharged in less than six hours, according to Elvin.
Yet, lithium-ion batteries have not swept through the industry replacing their lead-acid counterparts. For one thing, the extra weight of lead-acid batteries can be an advantage in smaller lifts, giving the base more stability. For another, lead-acid battery manufacturers offer "deep-cycle" products that let lifts repeatedly draw down a battery's charge without injuring the unit. That translates into long work times between recharges.
The battery industry also offers AGM (sealed absorbed glass mat) products that are more efficiently discharged and recharged. AGM batteries are maintenance-free, produce high-cranking charges and produce more power-per-pound than conventional lead-acid batteries.
"In terms of equipment purchase cost, there is little difference for electric units that are powered by traditional lead-acid batteries versus a comparable diesel unit," says Elvin. "For lithium ion-powered products, there currently is a premium on the purchase price of these units, due to the technology utilized and the cost of the lithium-ion battery cells."
Hybrid Evolutions Continue
Batteries aren't the only upgrade in electric lifts, according to Gilmor. "There certainly have been advancements in battery technology," he says, but "the efficiency of other components continues to improve. The engineering certainly has not plateaued."
As noted, variations on the electric lift model include solely electric, either-or models and tandem-use hybrids. Even within these categories, the electrical components can differ. Example: Genie offers two non-diesel self-propelled articulated boom models that lift platforms 60 ft in the air. One is all-electric, the Z-60/37DC. The other is a hybrid, or "fuel-electric" model, the Z-60/37FE. Both carry eight 6-V batteries. However, the all-electric machine's batteries are traditional flooded lead-acid units, whereas the FE's batteries are of the newer AGM design.
"Both Genie FE and DC booms have been a success in the market because they are tailored to the application needs of the operator and the needs of the rental business," says Gilmor. He touts FE models' versatility.
"The FE system provides enough power output to operate the machine normally, regardless of the charge of the batteries. And, Genie's mobile elevating work platforms equipped with FE technology can be swapped out for an all-electric machine working in indoor applications, as well as a diesel machine working in outdoor, rough terrain applications."
Their everyday use certainly includes rented models. Hybrid booms are a popular piece of equipment in rental houses because of their indoor-outdoor versatility. Their multi-application capability leads to the machines being rented out rather than sitting on the rental lot. Consequently, Elvin says "a large proportion" of electric-powered compact lift products are sold to rental companies. At Snorkel, the 19-ft-lift height scissor lift is the most popular rental company choice. Electric models of one configuration or another are quieter, of course. The difference between all-electric and diesel models can be 12 to 15 decibels.
How popular are hybrids? Elvin says the split between electric-powered and diesel-powered units at Snorkel "is fairly even. However, with increasing environmental regulations, customer demand for electric-powered versions is increasing."
At JLG: "By far the most popular models are diesels," says Dovey. "They account for a vast majority of JLG boom sales." But overall…
"In today's market, hybrid and electric MEWPs are used every single day in construction applications," says Gilmor. "No longer are these machines engineered to only work in commercial buildings with concrete slab floors. Historically, these machines were typically indoor, all-electric designs that were simply adapted to a hybrid powertrain through the addition of a simple generator. Modern hybrids in today's marketplace, which are designed from the ground up to be comparable to the performance of traditional diesel machines and can be used in any application, do not carry the same compromises as predecessor MEWPs did. A well-designed hybrid MEWP today can add a lot of versatility and other benefits like reduced noise compared to diesel machines."
Giles Lambertson is a freelance writer for Compact Equipment.
Hy-Brid Lifts Releases 19-Ft PS-1930 with LeakGuard
Hy-Brid Lifts is a brand of Custom Equipment LLC that engineers and manufactures all-purpose lifts in electric self-propelled and push-around models. Its newest model brings lightweight technology to the 19-ft lift market with the introduction of the brand-new Pro Series PS-1930. The tallest model in the Hy-Brid line, this unit offers unique features such as non-fold-down rails and the company's innovative LeakGuard system. The new lift meets ANSI A92.20 standards that will go into effect March 2020. The PS-1930 will feature a new color scheme to identify Hy-Brid Lifts' A92.20-compliant lifts, with other models following suit as they meet new standards.
With a platform height of 19 ft and a working height of 25 ft, the PS-1930 is an effective lift for a wide variety of uses including construction, maintenance and other applications. The lift provides additional height to users while still offering the same versatile characteristics that have become hallmarks of Hy-Brid Lifts. The lift will debut Hy-Brid Lifts' latest innovation: LeakGuard. This fluid containment system integrates with the PS-1930 to allow for 110 percent hydraulic fluid containment. The system provides users with a simpler alternative to inconvenient methods such as diapers or other manufacturers' multi-tray systems. For more info, visit hybridlifts.com.
Tags:
February 2020 Print Issue
,
Genie
,
home
,
Hy-Brid Lifts
,
JLG
,
Snorkel