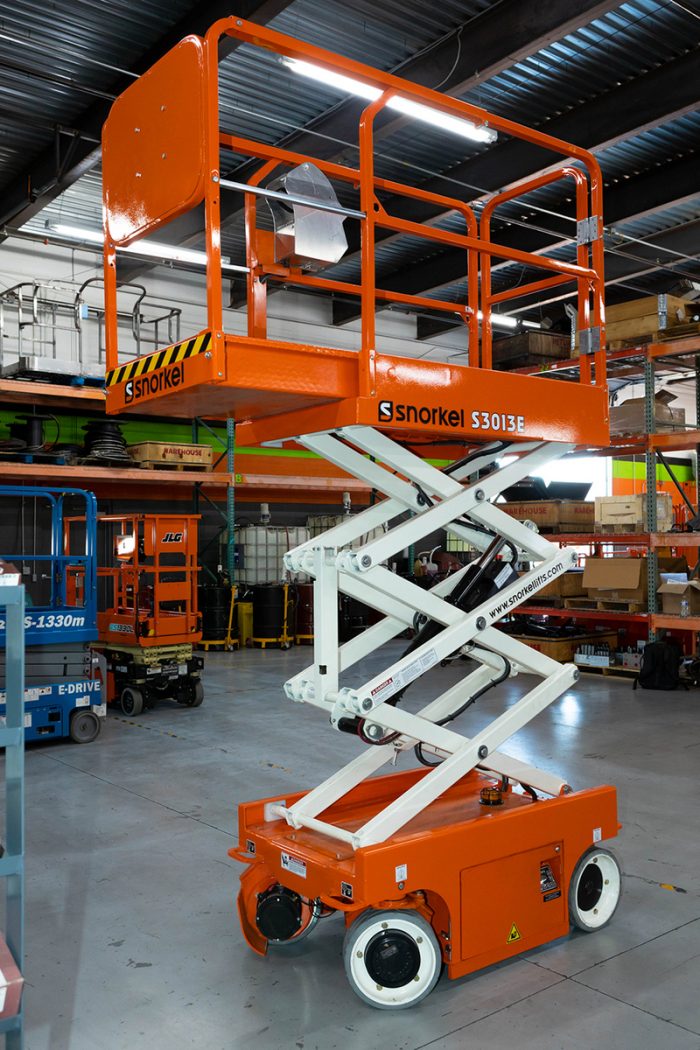 Snorkel's unveiled a new electric scissor lift, the S3013E, at the American Rental Association's The ARA Show in February. Developed to address specific needs in the low-level scissor lift market, the S3013E mini-scissor offers the versatility of a compact scissor with all the features that make Snorkel's larger electric lifts popular. This innovative model was also designed to be environmentally friendly with an electric drive for zero emissions and reduced noise. The electric drive also eliminates external hoses and therefore potential leaks.
Compared to its closest Snorkel counterpart — the S3215E — the S3013E features better drive motors to make it even more robust. Other new features include tamper-proof trays, tie-downs and mitered stack edges for a smooth edge. The S3013E also shares the fixed control box design with all Snorkel scissors, which is proven to reduce damage costs and save downtime on the jobsite. The component layout is designed for ease of maintenance, reducing service time to a minimum.
Snorkel is renowned for long-lasting, well-built products, and the S3013E is no exception. Designed and manufactured to last longer, the S3013E will improve return on investment and keep total cost of ownership low while providing a drastically reduced carbon footprint. The S3013E joins Snorkel's existing range of electric scissor lifts, which won the EquipmentWatch Highest Retained Value Award for 2022.
For more information on the S3013E and Snorkel's complete line of electric scissor lifts, please visit snorkellifts.com.
What can we say? We love rental. So much so that we published a Digital Rental Guide covering everything you need to know when renting a machine. Check it out here!
Tags:
American Rental Association
,
Snorkel
,
The ARA Show