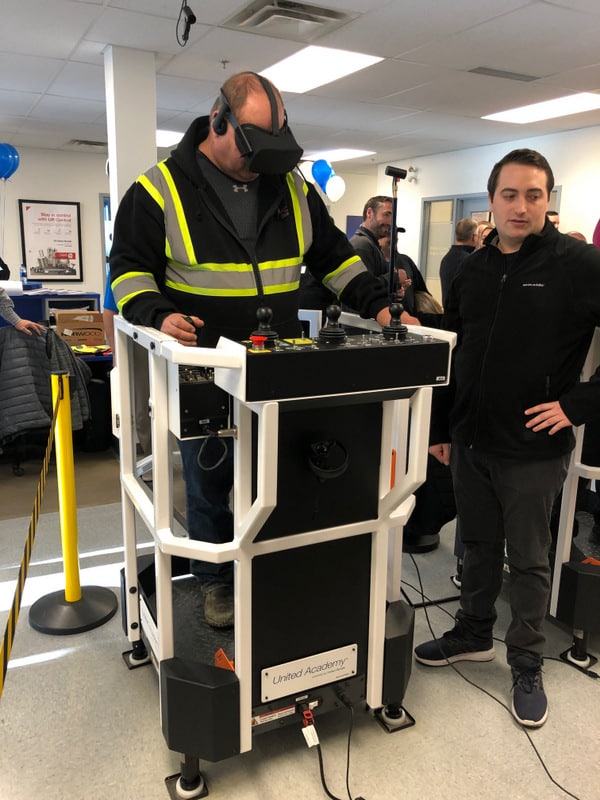 Serious Labs Inc., a market leader in virtual reality (VR) solutions for operator training of heavy equipment, recently announced an extension of its partnership with equipment rental leader United Rentals Inc. Virtual reality (VR) simulation developed by Serious Labs is being deployed by United Rentals as part of its blended learning model for mobile elevated work platform (MEWP) operator certification courses. This model — new to the equipment rental industry — debuted on November 28 when United Rentals opened its first United Academy training center with VR simulation in Alberta, Canada.
The new training center environment expands on the eLearning and in-person training options previously offered through United Academy. It incorporates VR simulation of MEWP operations from Serious Labs; VR simulation of crane operations from Industrial Training International, Inc. (ITI); a computer lab; eLearning content that satisfies OSHA requirements; a digital training library; and hands-on training from United Rentals experts.
VR simulators provide the ability to practice skills in real-world situations before being tested on actual equipment. Simulators can improve motor skills, critical thinking and an understanding of training objectives. Real-time data tracks the trainee's performance and flags gaps that require improvement.
"Serious Labs, United Rentals and the broader equipment rental industry share the goal of safe worksites and well-trained operators," said Jim Colvin, CEO, Serious Labs. "We're pleased to make our technology available to the North American industry as part of United Academy's best-in-class training methodologies."
For more info on Serious Labs, click this link. Do it!