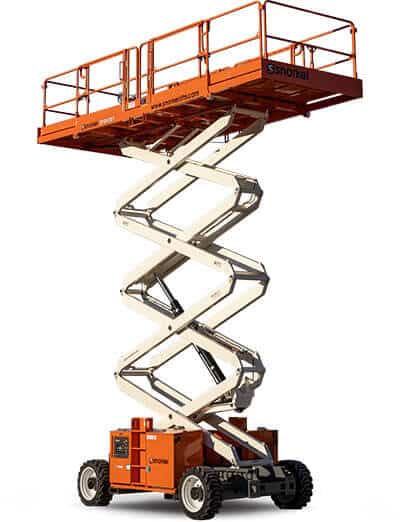 Entering the large deck construction scissor lift market for the first time, Snorkel introduced the first model in its new family of three heavy-duty, rough terrain construction scissor lifts at CONEXPO-CON/AGG 2020 a few weeks back.
The new Snorkel S9043RT, which is the mid-size model in the new family, reaches a maximum working height of up to 49 ft. (15.1m), with a platform capacity of 1,500 lbs. (680kg). The smaller S9033RT has a maximum working height of 39 ft. (11.8m) and a lifting capacity of 2,500 lbs. (1,134kg), and the largest model in the range has a 59 ft. (17.9m) maximum working height and a 1,500 lbs. (380kg) lifting capacity.
Equipped with powerful four-wheel drive and a 24.9-hp Kubota diesel engine, the new scissor lift family can handle the toughest jobsites with high grip foam filled tires and 50% gradeability. The S9033RT and S9043RT can both be driven at full height, and the S9053RT can be driven at up to 30 ft. (9.1m), and comes with four hydraulic stabilizers with automatic levelling as standard.
The spacious 11 ft. 9 in. (3.58m) x 7 ft. 6 in. (2.28m) platform includes a single 4 ft. 6 in. (1.37m) manual roll-out deck extension as standard, that increases the working area to 16 ft. 3 in. (4.95m) x 7 ft. 6 in. (2.28m). The working area can be increased further to 22 ft. (6.7m) x 7 ft. 6 in. (2.28m) with the dual extension deck option, which is available either as manual or powered roll-out.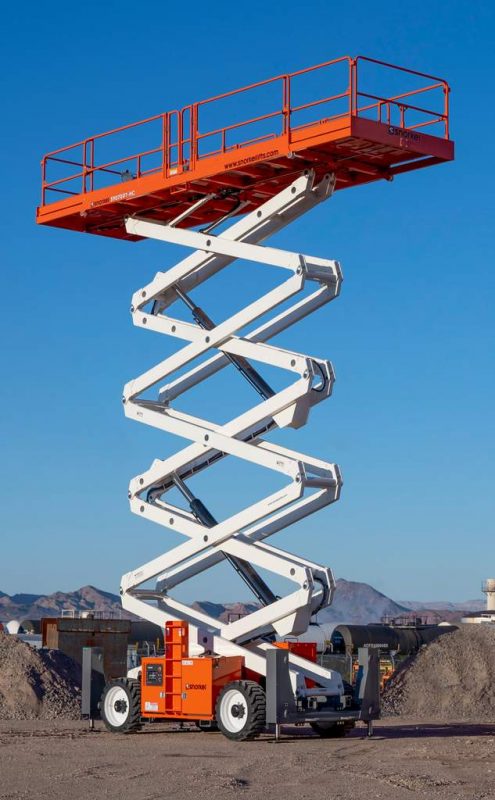 Designed primarily for use on construction projects, the large deck scissor lifts can be customized with a range of accessory packages, including a cold weather package and a choice of 2kW or 12kW hydraulic generators.
Weighing 12,000 lbs. (5,443kg), 14,000 lbs. (6,350kg), and 16,500 lbs. (7,484kg) respectively, the new Snorkel construction scissor lift family is designed with ease of serviceability in mind. A side mounted engine with a swing-out tray provides easy access for service and maintenance, and the lifts are fitted with the same on-board diagnostics system as many other Snorkel models, as well as commonality of spare parts with Snorkel's mid-size telescopic boom lift family.