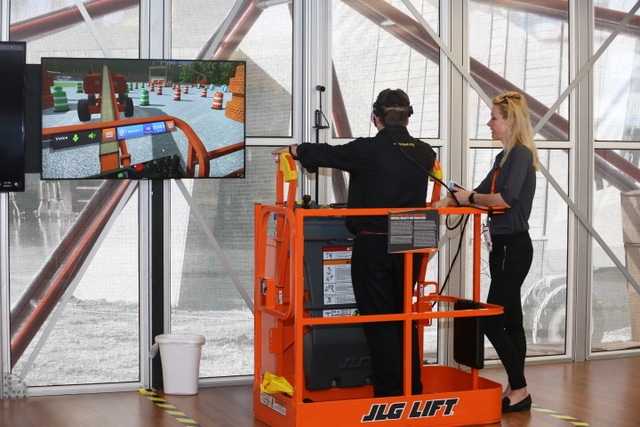 JLG Industries Inc., an Oshkosh Corporation company and a leading global manufacturer of aerial work platforms and telehandlers, showcased the future of virtual equipment training with its lift and access equipment simulator at CONEXPO-CON/AGG 2017. The virtual experience was created in partnership with ForgeFX Training Simulations and proved popular among show attendees. As a result, it will be featured May 1, 2017 (today!), at the Unity Vision Summit in Los Angeles.
The Unity Vision Summit is a popular exhibition attended by nearly 1,400 market leaders in the VR, AR and gaming development world. This two-day event features demonstrations and discussions, that cover enterprise, entertainment, film, art, commercial and interactive experiences. The summit will examine how these verticals can, and will, converge utilizing new VR and AR technology, such as that used by the JLG lift and access equipment training simulator.
The JLG equipment simulator will be part of the Vision Summit Showcase, and available for all attendees to experience throughout the entire summit. Featuring 6 degrees of freedom VR, hand tracking, real-world controls, and multi-user interaction, attendees will find themselves behind the controls of a fully functional, yet virtual, JLG 800S telescoping boom lift. The JLG equipment simulator provides VR-based training for operators of all skill levels, everything from controls familiarization, to machine operation, to advanced spatial awareness challenges.
The JLG equipment simulator employs advanced gamification learning principles, similar to those employed by video game experiences, to familiarize operators with the controls and operation techniques of boom lifts and telehandlers. A multi-player version of the simulator enables two operators to interact with each other in real-time, while experiencing true-to-life job site scenarios as they maneuver equipment on mixed terrain, completing specific tasks in the same virtual environment.
"JLG has long been focused on providing industry-leading field-based or classroom style product and service training courses at our dedicated Training Center and Proving Grounds in McConnellsburg, Pennsylvania. Our virtual 3D equipment-training simulator is a next level development for our training program," says Rick Smith, Senior Director, Global Product Training for JLG Industries, Inc.
"Virtual experiences such as those offered by the JLG equipment simulator, engage users, transforming them from passive audience members in a classroom setting to active participants in the training process. It trains them to operate JLG access equipment through a hands-on, life-like experience, allowing them to become familiar with equipment controls, master operational skills, and hone their ability to make decisions while on the job."
The JLG virtual training simulator will be available to customers for purchase to train equipment operators in late 2017.
For more info on JLG, click this link. We promise quality content.
Tags:
CONEXPO-CON/AGG
,
ForgeFX Training Simulations
,
JLG
,
JLG Industries
,
Unity Vision Summit