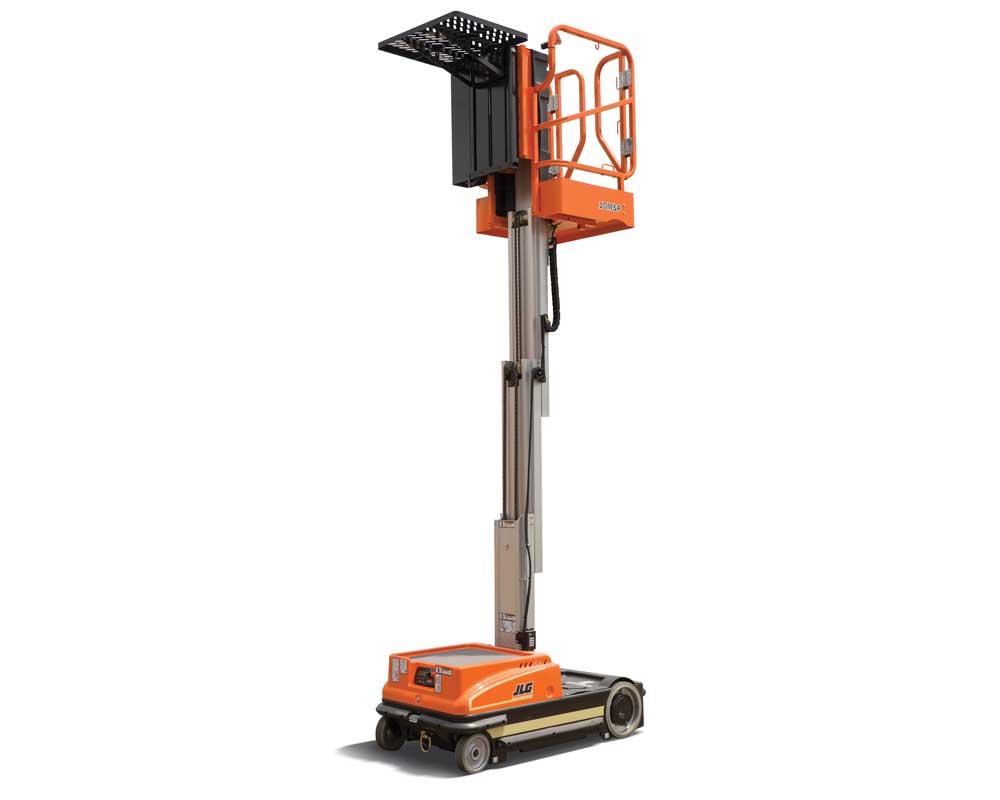 Mobile. Small. Tall. Many compact machines boast the first two characteristics, but doing "tall" work often comes at the expense of compactness. Not so for vertical mast lifts, the mobile elevators of the compact equipment world. They are a popular rental machine. The lifts have narrow, short footprints so they can be maneuvered in cramped interior alleyways. Their compact work platforms are designed to transport a person upward to a working area 10 or 20 or 40 ft overhead. Common applications include construction work at a second-story level, warehouse stocking and retrieval tasks and maintenance routines such as checking commercial ceiling-level lighting, sprinklers or HVAC systems.
Mast lifts typically are rented rather than owned by an end-user. They would be rented even more if people were more aware of them, says Jeff Stachowiak, director of safety training at Sunbelt Rentals. "It has had good success as a rental product, but not as good as it would be having if more customers knew about it. We bring customers into our locations for hands-on training with equipment and if there is a vertical mast lift sitting nearby, we get a lot of, 'What's that?'"
Apparently, the word is getting out, though. Scott Hill, an inside sales representative for United Rentals, says his company is finding it difficult to keep up with demand for the lifts. "The popularity of vertical lifts is rapidly growing. They have previously been more of a niche piece but now are very popular in all aspects of construction, with both contractors and homeowners. They are a very important asset in the United Rentals fleet."
In the Phoenix, Ariz., market with which Hill is most familiar, the GR-20 (20-ft) Genie Runabout self-propelled mast lift is United's most commonly rented model. The 2,400-lb machine is 6.5 ft tall when stowed and less than 32 in. wide. It can lift 350 lbs and fully extend itself upward in 24 seconds.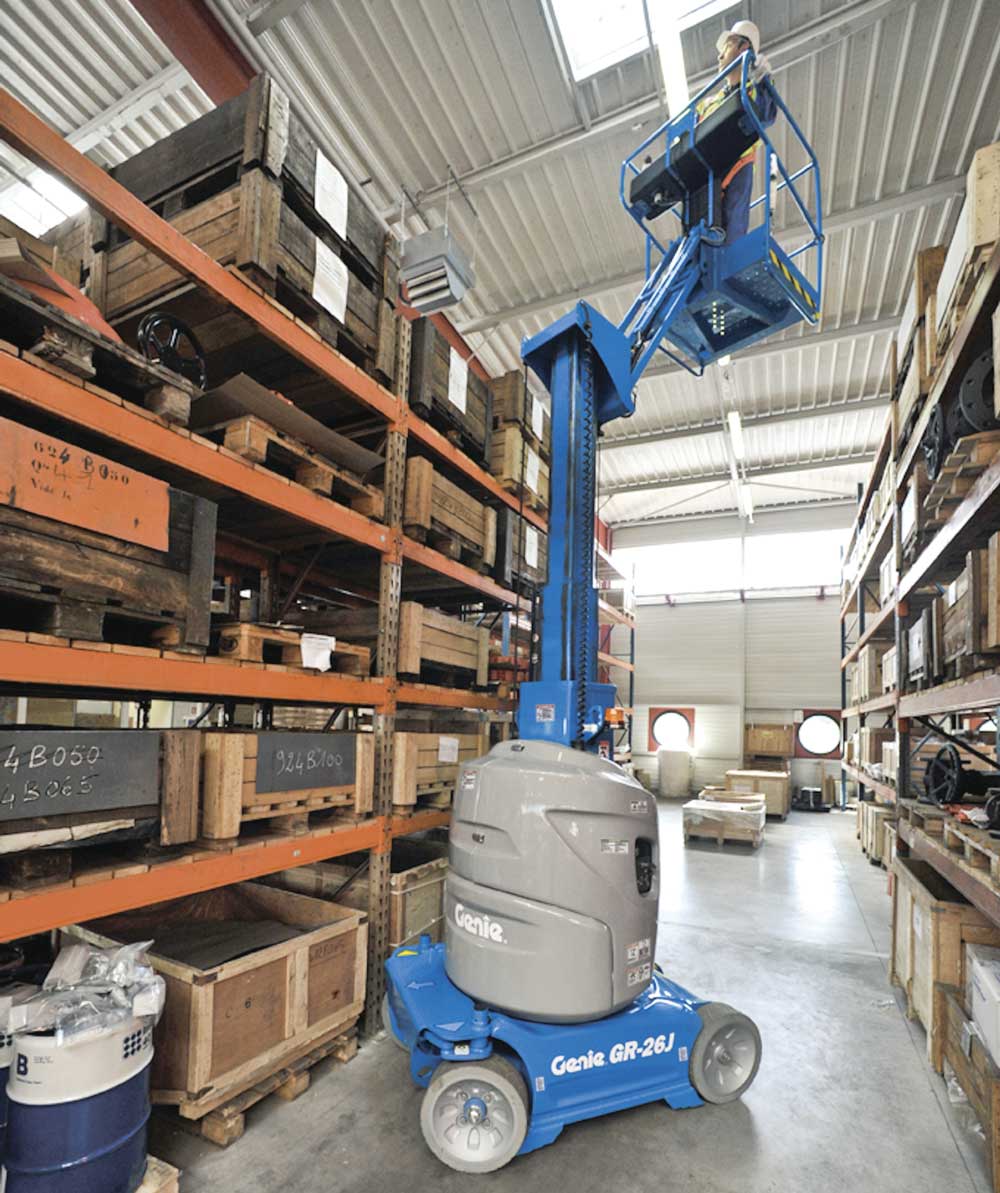 The comparable model in the JLG lineup is the 20MVL. It, too, will raise 350 lbs just under 20 ft in the air. Like the GR-20, the 20MVL is electric-powered for zero-emissions interior work. Twin electric drive motors move the machine, drawing juice from maintenance-free batteries. A built-in automatic recharger unit can restore depleted batteries in five hours.
The 20MVL will clip along at 3.5 mph with the work platform down or, for safety's sake, creep along at .6 mph with the platform fully extended. "Our machines are intelligent," says Rafael Nunez, JLG senior product manager for scissor and vertical lifts. "When the lift is raised to a certain height, the machine will automatically slow down."
The GR-20's top speed is a mile-per-hour less than the JLG model, but it boasts 30 percent "gradeability" versus the 20MVL's 20 percent. "Gradeability" refers to the slope that a vertical mast lift can climb during travel between work stations, according to Molly Frank, Genie product manager. "This rating is important because it lets the machine easily climb a tilted trailer for loading and unloading at a worksite." During actual operation, a vertical mast lift should be stationed on a firm, level surface with no more than a 2- to 3-percent grade. Outdoor slabs and interior floors easily meet this standard.
Vertical mast lifts come in two categories: driveable and push. Even the push models are full-fledged hydraulic work machines. The largest of JLG's six AccessMaster pushers is less than 5 ft long and just 29 in. wide — narrow enough to pass through many residential doorways — yet it raises a platform 41 ft into the air. No more ladders to paint that two-story ceiling in the foyer! The comparable Genie model, the AWP 40S, also is a battery-powered unit and weighs about 1,200 lbs.
The push-about lifts are extremely handy, in a word. Some models can be tipped backward while being moved for extra maneuverability. Others have optional power-assisted undercarriages for easier pushing. Outriggers are a common feature to extend a smaller lift's footprint and give it extra stability when the mast is extended. On the smallest JLG push-about models, platforms are raised and lowered manually for even greater self-sufficiency.
Perhaps the most impressive — certainly the most ungainly — positioning of the push models is in stairwells, church sanctuaries and theaters where either a stair-stepped or sloping base precludes usual lift operation. In those situations, a "straddle" framework can be extended out either end of the base of the lift with legs adjustable up to 6 in. to level the base. The legs are 4 ft long, high enough to straddle theater seating, pews or other obstacles. With the mast lift extending up another 30 to 40 ft above the straddling platform, it becomes a breath-taking work station.
Anyone contemplating renting a driveable mast lift is apt to find a suitable model because manufacturers have tailored specific lifts to marketplace needs. For example, JLG has three families of electric-powered self-propelled mast lifts. The 1230ES is a sturdily configured rig with a 12-ft-high platform and an inverted mast design to prevent construction debris from fouling the lift. It can raise 500 lbs. The company's MVL and Toucan models target warehouse and maintenance work and have a jib at the top of the mast for horizontal reach. The longest mast rises 32 ft.
JLG's MSP models are for stock pickers — the warehouse people handling inventory and filling orders. The vertical mast lifts for that work reach 20 ft in height, have a zero-turn radius, one-hand joystick operation and faster forward speeds. Genie's lineup is similarly categorized by application. The GR — Genie Runabout — line ranges up to a 26-ft-high model with a jib at the top that rotates 140 degrees and can lift 500 lbs. The GRC-12 targets construction jobsites with a sturdier mast design and a steel platform. The QS models are Genie's stock-picker and warehouse options, which range from 12- to 20-ft maximum height.
Vertical mast lifts are not complex, fast-moving machines, but their verticality does beg for careful handling. Driving one of these machines while standing atop the work platform 20 or 30 ft in the air is a unique experience. Frank says Genie designed its joystick control system to be intuitive. "Proportional controls allow the user to adjust speed of drive and rise-descent."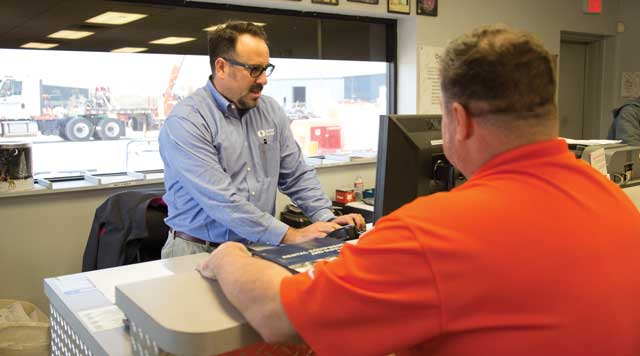 When it was suggested that vertical mast lifts look somewhat unstable, Nunez pushed back. "I would never agree with that," the JLG senior product manager said. "There is rigorous testing of weight loads, many calculations are made to ensure widths are stable and so on. Even if a lift hits a pothole, there are mechanisms to keep the lift stable. They may look unstable, but they can handle a lot."
Sunbelt Rentals' Stachowiak concurs. He remembers a demonstration in the 1990s when a Genie salesman set up a push model in his yard with outriggers in place. He raised himself 36 ft above ground and started rocking the lift back and forth in an effort to tip it over. The bold salesman actually "walked" the lift forward by rocking it, but the lift stayed upright. "He wanted to demonstrate just how stable they are."
For all the above reasons, end-users from several markets are spurning scaffolding and ladders in favor of renting vertical mast lifts for second-story work. The cost of renting one varies widely from market to market and from model to model, with daily rates ranging from $200 to $400 a day, $300 to $800 a week and up to $2,000 a month. Stachowiak says a typical Sunbelt customer rents one of the lifts for one or two months.
Giles Lambertson is a freelance writer for Compact Equipment.
---
New ANSI Standards for Vertical Mast Lifts
Mandated changes are coming for vertical mast lifts. The American National Standards Institute is requiring new safety and engineering features on single-person lifts. Essentially, the new ANSI standards play catch-up with European CE requirements to give the global industry uniform standards. The changes range from cosmetic to structural. The former includes renaming the lifts "mobile elevating work platforms" or MEWPs. Substantive changes include requiring gates instead of chains on platform entrances. Platform railings now must be at least 43.5 in. high, which is 4.5 in. higher than the old standard.
Engineering changes include the addition of load and tilt sensors so operators can be forewarned when a load exceeds a safe weight or a grade becomes too steep for safe operation. If operated outdoors, a wind sensor also is required to detect problematic wind gusts.
Molly Frank, Genie product manager, says the changes are relatively few for Genie lifts that already comply with Europe's CE standards. "The biggest changes to some machines involve the addition of a load sense system, like that used in our current CE-certified machines." The new regulations specify standards for indoor and outdoor use. Frank says Genie responded to that rule by incorporating both standards in its vertical mast lift system. "Rather than restricting the vertical masts to indoor operation only, Genie has implemented dual zone capability. That allows the operator to select indoor or outdoor on the controls and adjust the machine to the corresponding height ratings."
---
Hy-Brid Lifts by Custom Equipment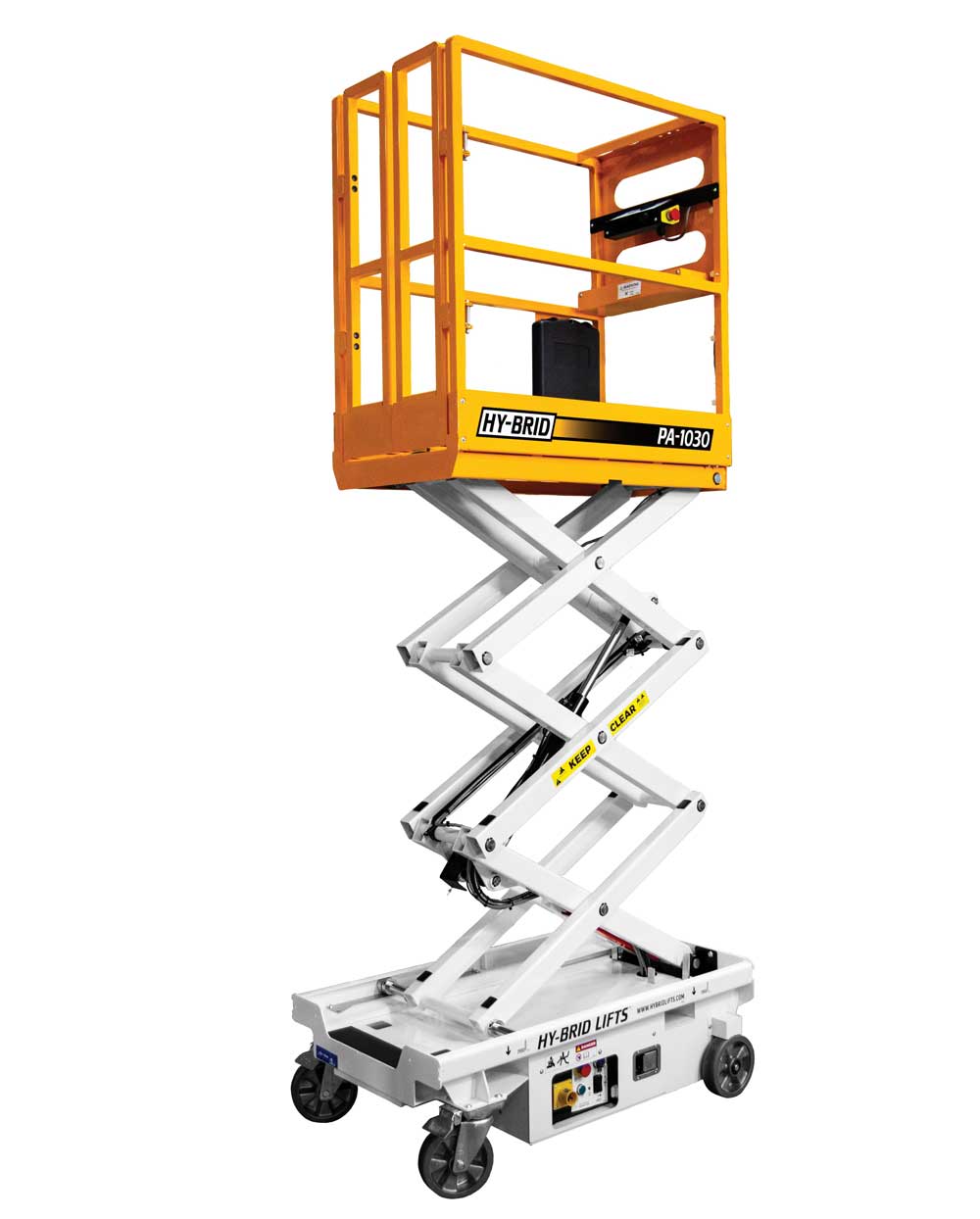 Custom Equipment LLC's all-new PA-1030 Hy-Brid Lift is billed as a safer and more productive alternative to ladders and scaffolding. The push-around PA-1030 easily enables users to manually maneuver the unit into place and hydraulically raise and lower to the desired work height. It can be used as an effective way to provide increased safety and productivity in applications where ladders and scaffolding are commonly used, such as general construction, facility maintenance and manufacturing. The PA-1030 features a 10-ft platform height and a 16-ft working height. The platform is 41 in. long by 20.5 in. wide, and the total stowed height is only 69 in. The PA-1030 features a tool tray, parts holder, USB ports, improved rear casters and a see-through front board for better visibility. For more info, visit hybridlifts.com.
Tags:
Genie
,
home
,
JLG
,
June 2019 Print Issue
,
Sunbelt Rentals
,
United Rentals