When the job to be done is overhead, and materials, tools and several workmen must be up there to do it, aerial work platforms are the solution. Scissor lift platforms in particular are often a first choice because of their capacity and stability when working in elevated environments. Here are four excellent scissors chosen by our CE editors.
JLG 3246R
JLG's 3246R scissor lift is built for rugged reliability and designed around affordability and serviceability. The 3246R is set apart from the competition as the lightest lift in its class. It's ANSI 92.20 compliant and ideal for applications that require a lightweight machine with a 32-ft platform height. The 3246R boasts exclusive variable tilt technology, which allows operators to elevate to limited heights when working on slight slopes, maximizing the work envelope. The 3246R also features a reliable and simple pothole protection system with a single limit switch and harness, along with fewer moving parts for reduced service requirements. Maintenance is further simplified thanks to easier access to internal machine components. An all-steel platform, steel component trays and recessed ground control panel ensure long-term machine durability. For more info, visit jlg.com.
Genie GS-1330m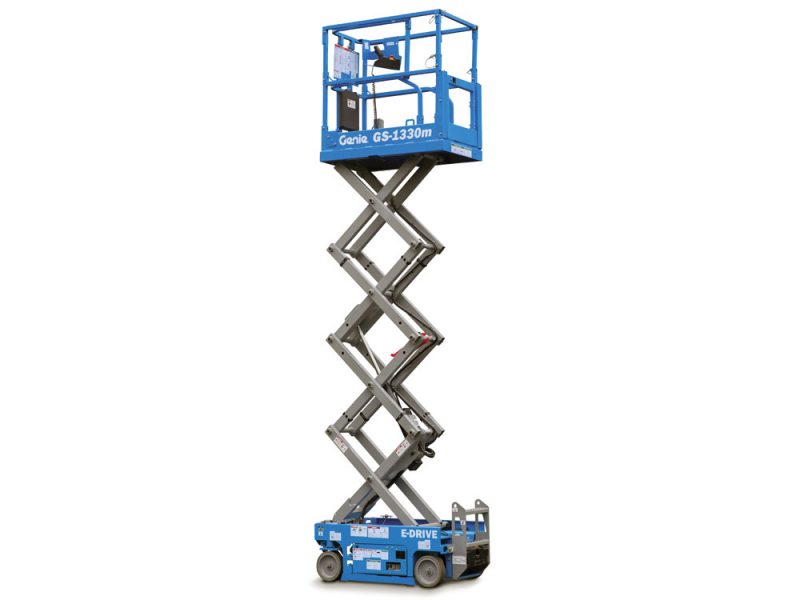 The Genie GS-1330m scissor lift offers a maximum platform height of 12.8 ft and a maximum working height of 18.8 ft, with a two-person, 500-lb capacity, and weighs in at only 1,950 lbs. Rental-ready, this new micro-sized scissor lift is well suited for construction applications in space restricted or congested locations, such as offices, high rises and retail spaces, as well as facility maintenance tasks. The GS-1330m scissor lift is equipped with an efficient, all-electric DC drive system that offers productive power for getting around indoor jobsites with quiet, zero-emissions operation. Industry-leading runtime ensures full day productivity in a compact package. Genie's GS-1330m scissor lift enables operators to drive at full height and is capable of climbing up to 25 percent grade slopes in the stowed position for good jobsite accessibility and transportability. For more info, visit genielift.com.
Hy-Brid Lifts PA-1030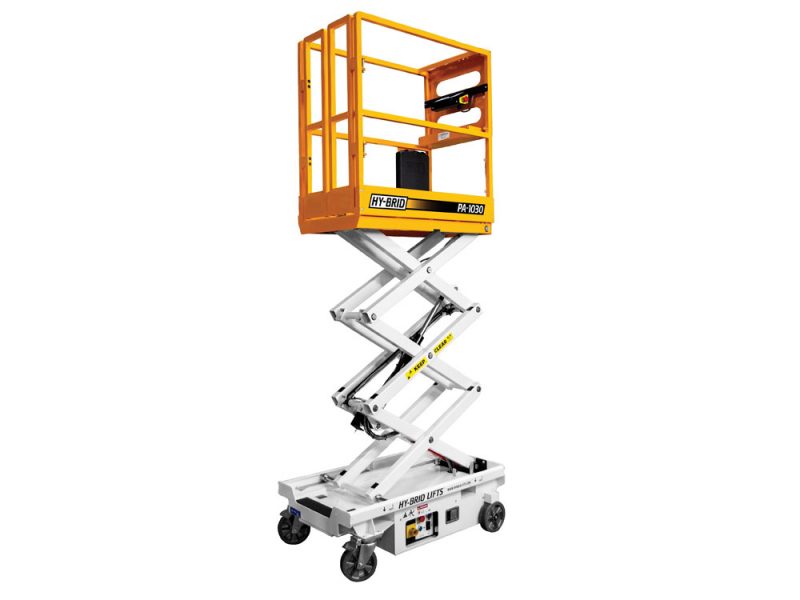 Hy-Brid Lifts' all-new PA-1030 is a safer and more productive alternative to ladders and scaffolding. The push-around PA-1030 easily enables users to manually maneuver the unit into place and hydraulically raise and lower to the desired work height. The PA-1030 features a 10-ft platform height and a 16-ft working height. The platform is 41 in. long by 20.5 in. wide, and the total stowed height is only 69 in. The PA-1030 features a tool tray, parts holder, USB ports, improved rear casters and a see-through front board for better visibility. All Hy-Brid Lifts, including the PA-1030, are heavy-duty, safe and lightweight, with low wheel loads that allow users to maneuver them over delicate floors and get onto green concrete sooner. For more info, visit hybridlifts.com.
Snorkel S3019E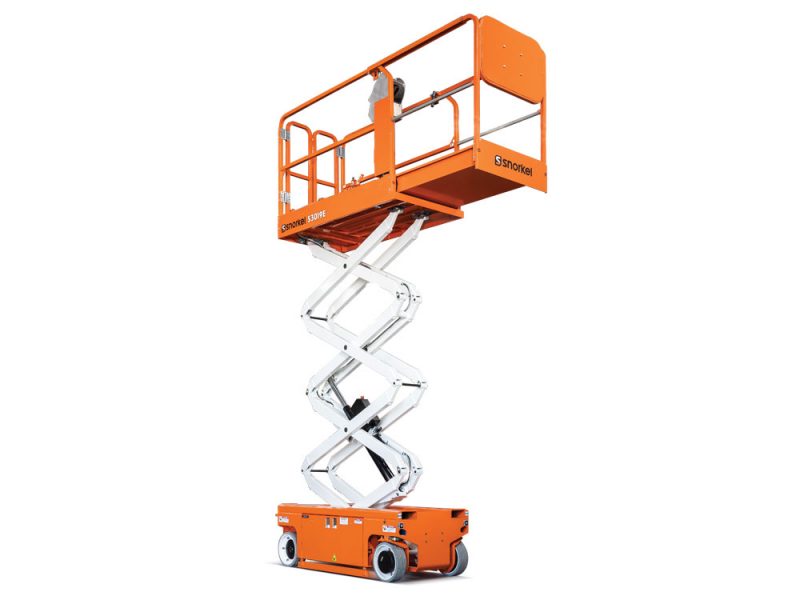 The Snorkel S3019E pushes the boundaries of electric scissor lift design with a patented sunken scissor stack that stows entirely inside the chassis. This design provides a low step-in height, which improves ease of platform ingress and egress and reduces operator fatigue. Its low stowed height of just 69.1 in. means it can be driven through standard doorways without folding guardrails, and it is already compliant with the upcoming ANSI A.92 standards. The Snorkel S3019E can lift up to 550 lbs to a maximum platform height of 19 ft. Measuring 30.5 in. wide, it is equipped with a 36-in. roll-out extension deck that expands the working area to 24 in. by 100.5 in. Weighing 3,485 lbs, the battery-powered S3019E is rated for one person plus tools for outdoor use. For more info, visit snorkellifts.com/s3019e.
Tags:
Genie Lift
,
home
,
Hy-Brid Lifts
,
January 2020 Print Issue
,
JLG
,
Snorkel