Scissor lifts are predominantly designed to safely reach working areas at height in confined spaces. Specifically, 19-ft electric scissor lifts are designed to be able to pass through a standard doorway, are easy to maneuver, have a good lifting capacity for taking materials to appropriate work heights and usually have an extendable platform to reach out over obstacles. They are also easily transported on lightweight trailers and vehicles. In fact, 19-ft scissors are the most popular size.
Snorkel S3019E
Measuring 30 in. wide, the Snorkel S3019E electric scissor lift was introduced in response to the new ANSI A92 standards, and features a patented, industry-first design in which the scissor stack stows entirely inside the chassis. This delivers a low stowed height, to pass through standard doorways without the need for the folding guardrails, and delivers a low step-in height that reduces the risk of trips or falls when accessing the platform, and reduces operator fatigue. The S3019E features electric drive and steering, eliminating hydraulic hoses and the risk of leaks in sensitive areas. For more info, visit snorkellifts.com.
Skyjack SJ3219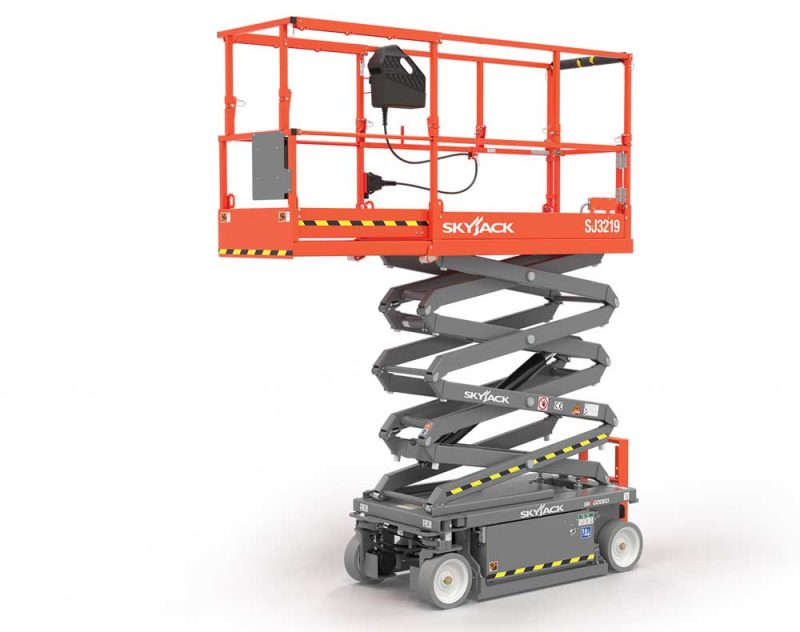 Skyjack's SJ3219, formerly the SJIII 3219, is an industry-leading machine in the 19-ft class, says the company. Featuring a zero turning radius and work height of 25.5 ft, the SJ3219 is an ideal scissor lift option for a variety of operators. Backed by Skyjack's reputation for being simply reliable, the SJ3219 offers owners and operators easily accessible service components, easy troubleshooting capabilities and off-the-shelf parts — providing rental companies and contractors with a hardworking, dependable machine. For more info, visit skyjack.com.
Hy-Brid Lifts PS-1930
Hy-Brid Lifts' PS-1930 is part of the company's Pro Series line of lifts which provides the lightest lifts in their class with low floor load pressure. The PS-1930 offers operators a lightweight design, proportional drive and high lift capacity. The unit also features LeakGuard, Hy-Brid Lifts' hydraulic fluid containment system. This system is proving to be a favorite for users who want to protect delicate flooring and eliminate the need for diapers or cumbersome containment systems. LeakGuard provides a safe way to handle hydraulic fluid and prevents leaks from dripping on ground surfaces and internal components. For more info, visit hybridlifts.com.

JLG R1932i
JLG's R1932i indoor-only scissor lift is a lightweight machine ideal for work on sensitive flooring. It boasts a weight of 2,549 lbs with a maximum capacity of 500 lbs. The new ANSI 92.20 compliant R1932i is 32 in. wide and has a platform height of 19 ft. Rated for indoor use only, it is best suited for jobsites with sensitive floor load requirements such as multi-story construction, schools and hospitals. This new R1932i model includes a fold-down rail system or optional QuikFold rails for use when working or moving the lift in and through tight spaces. For more info, visit jlg.com.