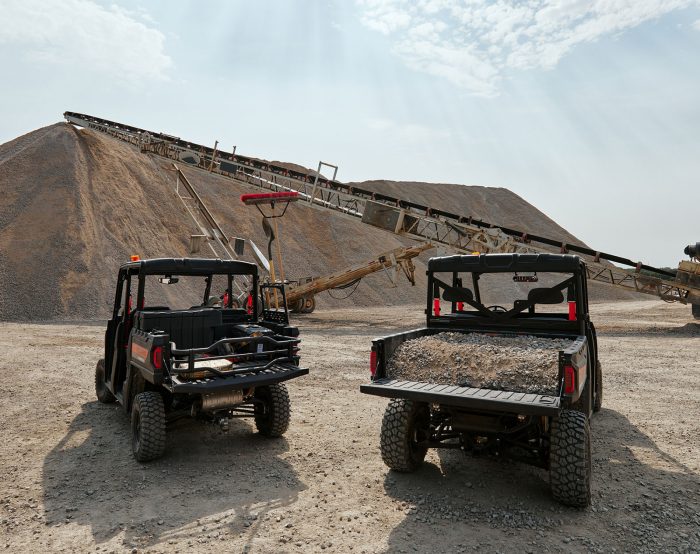 No matter the industry, safety is crucial on any jobsite. A safe workplace helps protect workers from injury, increases productivity and improves work quality. For tangible results and an immediate impact to the safety of your jobsite, start by leveraging the appropriate tools and vehicles specifically designed for the work at hand.
Utility Task Vehicles (UTVs) can be found virtually anywhere, with the ability to tackle key tasks efficiently while combining the benefits of multiple vehicles into a single solution — from grounds maintenance and emergency response to sporting events and construction sites. The compact design, offroad capabilities and rugged durability of UTVs make them valuable assets in driving productivity. UTVs designed for work also include standard safety features to meet jobsite compliance.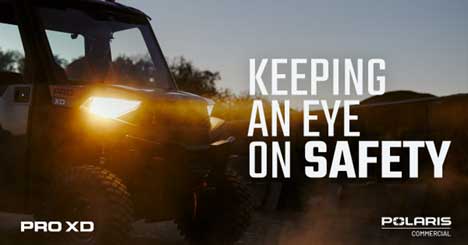 Meet Jobsite Compliance
The Polaris Pro XD UTV comes standard with safety features that help meet jobsite compliance, while safeguarding operators and surrounding crew members. High-visibility, three-point seat belts keep drivers secure and their proper use provides visibility to surrounding crew and vehicles. Auditory indicators like backup alarms and horn increase vehicle awareness through worksites.
Work UTVs like the Pro XD also incorporate speed limiting capabilities that are engineered for slower acceleration and default top speeds. For example, while the Pro XD can run at a max speed of 40 mph when needed, speed limiting provides a default top speed of 26 mph all the way down to 15 mph – helping site managers make sure driving requirements are always met.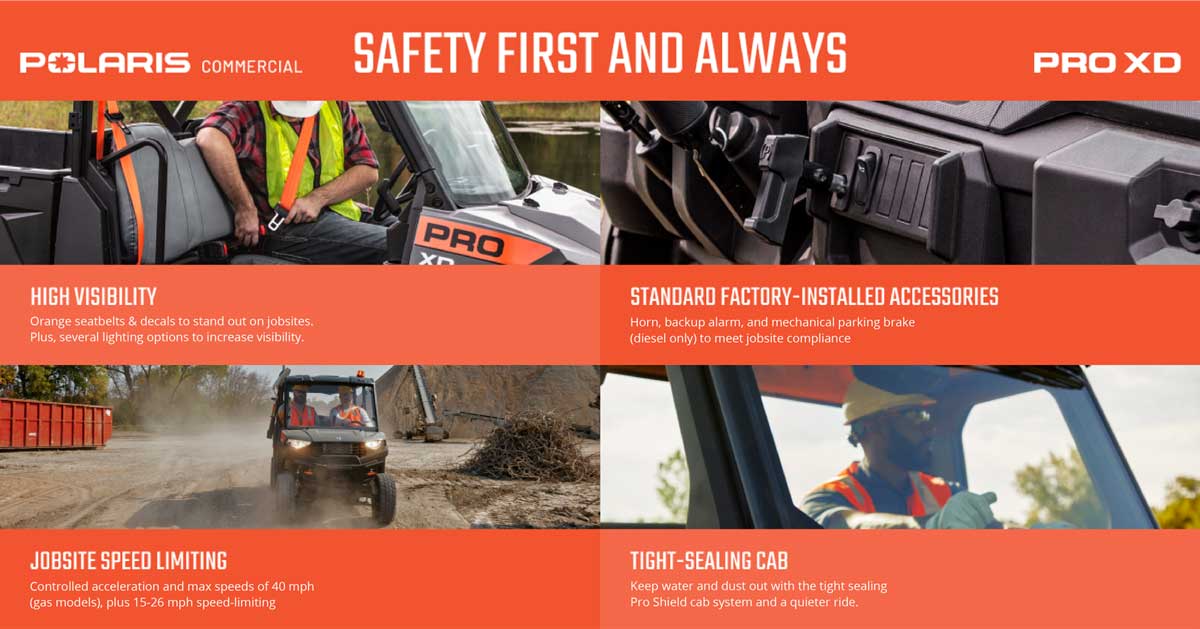 Customize for Jobsite Needs
Depending on jobsite requirements, work UTVs can be equipped with additional accessories to go a step further in increasing visibility. Lighting, for example, is a highly effective addition for increasing visibility, especially in areas with low visibility or when working past sundown. Customized lighting, such as strobe lights call attention to the vehicle, while LED floodlights, spotlights and lightbars provide increased jobsite lighting and navigation visibility for the operator. Adjustable rear and side mirrors provide an option to further aid in operator awareness of their surroundings.
Adding cab components such as doors, windshields and rear panels allow operation through dust, wind, rain and snow — without sacrificing UTV performance or operator health. Vehicles with heat and defrost kits keep crews warm year-round and windshields clear no matter the elements.
Minimize Vehicle-Related Accidents and Injuries
Work zones are full of moving objects, making it imperative for operations across industries to focus on reducing accidents and injuries, avoiding mishaps and enhancing situational awareness. The compact footprint, agility and hauling capabilities of work UTVs take away unnecessary walking, while providing secure equipment and transportation of goods across jobsites.
Reliability also contributes to smooth and productive operations. Work UTVs are often engineered with long-lasting robust components that stand up against tough environments — reducing the potential for vehicle breakdowns. For example, the Polaris Pro XD comes standard with heavy-duty, nondirectional tires providing peace of mind when traveling over rough surfaces, while heavy-duty suspension provides smooth handling and increases operator confidence across unpredictable bumps and turns. Additionally, The Polaris Pro XD Full-Size UTV provides industry-leading payload of up to 2,075 pounds and towing of up to 2,500 pounds allowing virtually all materials to be hauled efficiently.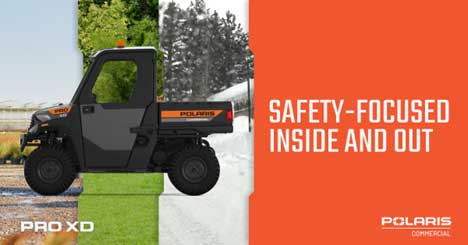 When adding a UTV to an operation's fleet, it's important to first consider the size of the crew alongside the power, payload and towing needed to efficiently get the job done. Next, consider the elements crews will be in to make sure the vehicle can work through the conditions while providing a comfortable environment for operators. With the right UTV in tow, operations across industries can promote a safer and productive work environment.
To learn more about the Polaris Pro XD Line of UTVs, visit: https://commercial.polaris.com. Build a Pro XD and get an online quote at https://bit.ly/ProXD-Build.
Brady Lafrinere is a product manager for Polaris Commercial.
Sponsored by: