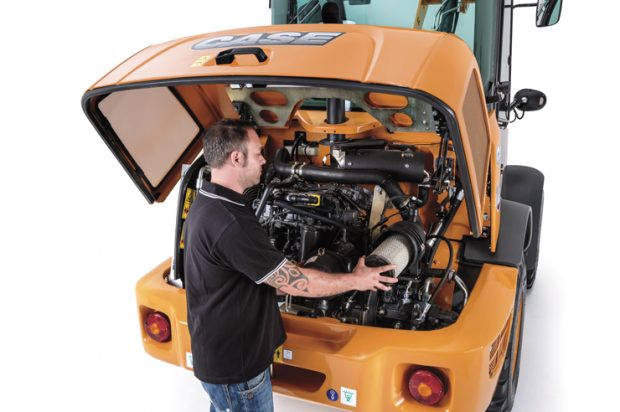 With their rugged design, high travel speeds and fuel-efficient engines, running a compact wheel loader can provide several operating advantages in many applications. However, these competitive advantages can be lost if a compact wheel loader isn't running at peak performance, and there are several things that equipment owners can do to improve productivity and extend service life. Here are some tips for reducing downtime and maximizing productivity wmmith compact wheel loaders.
Daily Inspections: Pre- and Post-Operation
Daily walk-around inspections of any piece of equipment, both before and after operation, are an important part of every workday — but consistency is absolutely critical. On busy jobsites with multiple operators and myriad operational tasks, daily maintenance can sometimes lose priority, but it is critical to the health and longevity of a compact wheel loader that daily maintenance procedures not be ignored.
Operators should do a basic visual walk-around inspection every day before work begins, checking the engine oil, brake fluid, hydraulic oil and other fluid levels and topping off as needed. Operators should also be on the lookout for fluid variations — it's an easy way to check for any red flags that may indicate that the machine is not performing as it should be. Also, be sure to check oil seals, hydraulic cylinders and any other fittings for signs of wear.
Pay close attention to features of the machine that contribute to safety. Make sure the operator's visibility is not impaired by any unnecessary obstructions, and check for chips and cracks in the windows. The glass should be cleared of dirt and debris, and wiper blades and windshield cleaning fluid levels need to be maintained. Other safety components to check include running lights, rear-view cameras, backup alarms and safety belts. Be sure to check that the steps and handrails are clear of mud and debris in order to prevent slipping. Also, check ground-engaging tools and buckets for signs of cracking or wear. In addition to the morning pre-operation check, make it a top priority at the end of the shift as well — that's often the best time to spot fresh cracks, leaks or other damage that might have occurred throughout the day.
At the end of the workday, it's important that the machine is properly cleaned in order to remove any accumulated dirt, dust and debris. Hose off the tires and undercarriage, and be sure to clear any debris from the coolers. Also, if the machine has a turbocharged engine, it is important for the longevity of modern emissions systems to allow a short cool-down period before a machine is fully shut down, so let the machine idle for a few minutes until the engine reaches a lower temperature before you turn the key.
The Basics
Service intervals for fluids are typically set at 50-hour increments, and there are several items that need to be checked weekly. Check the operator's manual for service intervals, and be sure to use the manufacturer-recommended filters and other service items. Check the engine oil, brake fluid and hydraulic oil and replenish as needed. Care and maintenance of the hydraulic system is critical for compact wheel loaders because they utilize hydrostatic transmissions, and the hydraulic fluids take more service pressures than other types of machines.
•    Clean the air-filter housing, and inspect the hydraulic and engine oil coolers for contaminates.
•    Clean or replace the fuel pump filter. Be sure to use the manufacturer-recommended replacement filter.
•    Lubricate all joints and bearings.
•    Check belts for wear and proper tension.
•    Check the lights and other electrical components, as well as the steering system and brakes to make sure that they are in good operating condition.
•    Check tires for cuts and abrasions, adequate tread depth and proper inflation. Poorly inflated tires can drain power and waste fuel.
Maintenance for Newer Engines
As the needs and requirements of modern diesel engines have evolved, oils and other fluids are chemically engineered and highly specialized. Today's engine oil has been designed to provide longer life and extend maintenance intervals, so always be sure to check the operator's manual and follow manufacturer recommendations when servicing fluids and filters. Today's high-pressure common rail engines operate at extraordinarily high pressures, and in order to operate at such high pressure, these fuel systems and their components need to be extremely precise. While these high-precision systems run clean and produce much less harmful emissions than ever before, their component tolerances are not forgiving, and even low levels of contamination can cause serious problems. That's why it is more important than ever to be sure to use the manufacturer-recommended fluids and filters. Saving a few bucks on a non-OEM filter is simply not worth the possibility of causing a catastrophic engine failure.
Attachment Considerations
Compact wheel loaders are often utilized more like a compact track loader or a skid loader than a full size loader in that they are constantly changing attachments. While this is great for productivity on jobsites of all sizes, this also means that the hydraulic connectors are being exposed to dust, debris and other possible contaminates. Whenever changing attachments, operators should be sure to check that all hydraulic connections are clean and cleared of any debris. It is also important to make sure that the connections are properly lubricated and to check for any wear on the connectors — on both the compact wheel loader and the attachment. Remember, if an attachment has not been properly maintained, contractors run the risk of contaminating the hydraulic system of their compact wheel loader every time the attachment is used.
Proper Maintenance = Profit
Equipment manufacturers have introduced several innovations over the years to simplify maintenance procedures and extend the service life of compact wheel loaders. However, the overall health and longevity of a machine often comes down to daily and weekly maintenance procedures. The operator and other jobsite personnel are often the first line of defense against costly equipment downtime, so it is critical for owners and operators to follow maintenance best practices to ensure that their compact wheel loaders contribute to a safe and productive operation and a strong bottom line.
Ernie Rebicek is a sales training manager of wheel loaders with Case Construction Equipment.