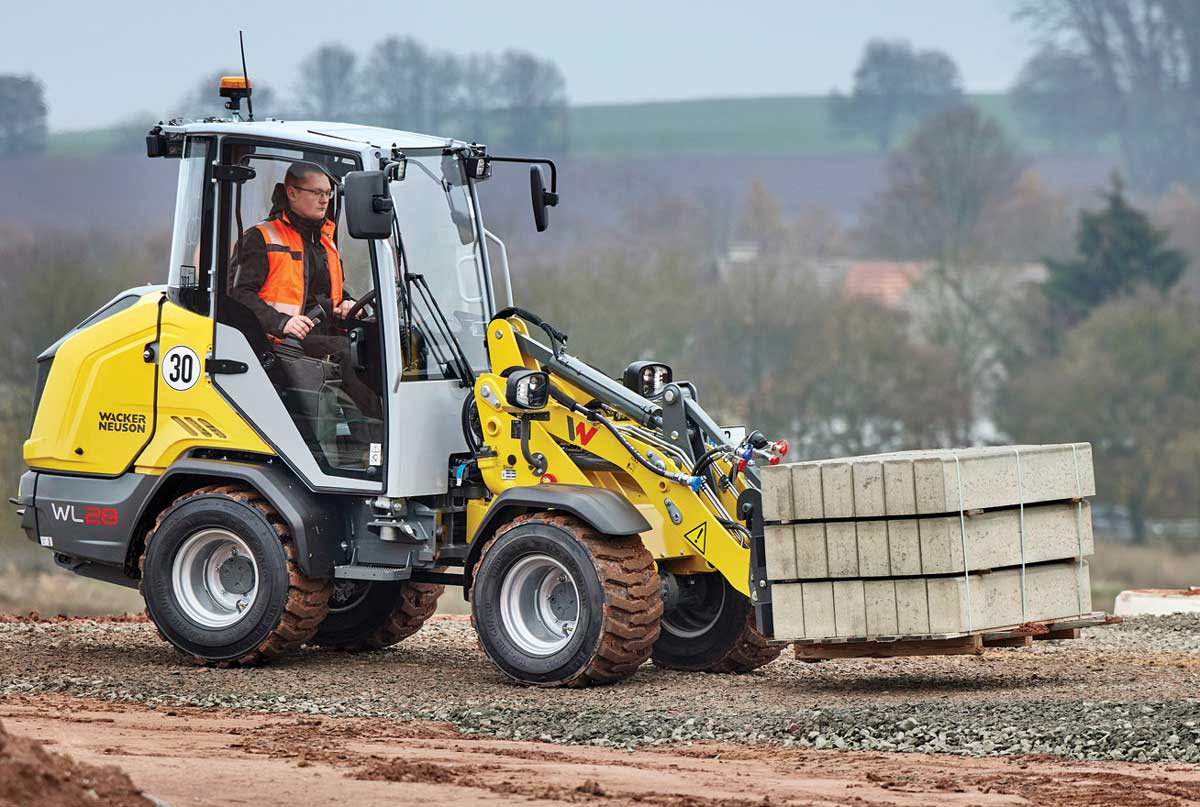 A Versatile Wheel Loader Line to Move and Place Material
This post is a part of Compact Equipment's annual Spec Guide. View other brands' product and spec info by clicking this link. View the magazine version of these summaries by clicking right here. Sign up for the print edition right here. Now enjoy!
Wacker Neuson first introduced wheel loaders to the North American market in 2007, after the machines experienced popularity in the European construction and agriculture segments. These versatile material handling products were a natural extension to Wacker Neuson's widely known compaction, concrete and jobsite light equipment products. The offering began with a couple of smaller articulated models and today the company offers a range of articulated, all-wheel steer and telescopic wheel loaders that work in a variety of industries including construction, agriculture, landscape, snow removal and recycling.
Wacker Neuson's newest wheel loader is the articulated WL28. This 3-ton, 0.5 cu-yd loader offers modern technology, superb visibility and a comfortable cab with a user-friendly control layout. The compact design includes minimized tail swing and optimized steering angle that allows the machine to be navigated in tight places.
The WL28, WL34, WL38, WL52, WL60 and WL95 are designed with an articulated joint, allowing the machine to pivot. When working in confined areas with tight turns and uneven terrain, these articulated wheel loaders are an excellent choice. The articulation joint allows the machine to access and operate in areas such as residential spaces, greenhouses and barns. The high degree of maneuverability and stability allow materials to be transported efficiently.
The all-wheel steer wheel loaders, the 5055, 8085 and 8085T, are designed with a rigid one-piece chassis that prevents shifts in the center of gravity at full turn. This ensures unparalleled stability, even when working on uneven ground and maintains a constant payload.
The AWS has a 40-degree steering angle on each axle that allows a high degree of maneuverability which helps to reduce transit and cycle times. Most AWS models feature three steering modes; four-wheel, two-wheel and crab, which provide maximum maneuverability on the job. The 8085T offers additional reach for stacking and dumping with a telescopic boom, providing added versatility and greater productivity.
Operator comfort is the foundation of Wacker Neuson's wheel loader design. Plenty of legroom, adjustable seats, ergonomically positioned controls at the operators' fingertips and excellent visibility all contribute to longer, productive operation.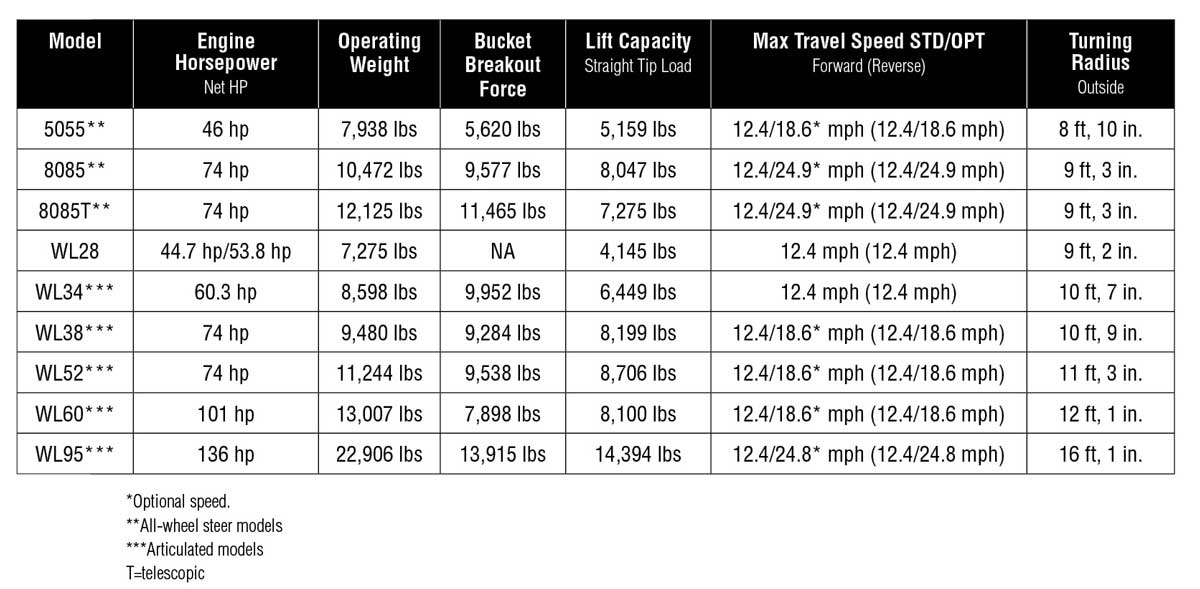 Advice to Buyers
"Newer wheel loader models bring features to the market that are designed for productivity and convenience that can help the purchasing decision," says Jay Quatro, commercial product manager at Wacker Neuson. "An example might be an electronically regulated drive system. This allows for multiple drive modes, including a dedicated attachment mode which is especially useful for snowblowers. The electric park brake also adds additional safety and convenience with automatic and hill-hold functions."
Tags:
July August 2022 Print Issue
,
Spec Guide
,
Spec Guide 2022
,
Wacker Neuson