All-Wheel, Articulated and Telescopic Loaders Set This Brand Apart
Wacker Neuson is not new to the wheel loader market. For more than 80 years, the company has been developing and producing wheel loaders for the farm and construction industry in Europe. In 2007, wheel loaders were the first material handling products Wacker Neuson started to market in North America. Widely known for its compaction equipment line, Wacker Neuson embraced the wheel loader market and continues to expand the line and industries it serves. Wacker Neuson wheel loaders can be found in a variety of industries, including but not limited to construction, agriculture, landscape, forestry, municipal, snow removal and recycling.
Wacker Neuson offers three types of wheel loaders in North America: all-wheel steer, articulated and telescopic. All have the power, performance and operator comfort to tackle any job and quickly and precisely manage all types of loads, says the company.
All-wheel steer loaders (AWS) are designed with a ridged one-piece chassis that prevents shifts in the center of gravity at full turn. This ensures stability, even when working on uneven ground and maintains constant payload. The AWS has a 40-degree steering angle on each axle that allows a high degree of maneuverability which helps to reduce transit and cycle times. Most AWS models feature three steering modes, four-wheel, two-wheel and crab, which provide maximum maneuverability on the job.
Articulated wheel loaders are designed with an articulation joint, allowing the machine to pivot. When working in confined areas with tight turns and uneven terrain, the articulated wheel loaders maneuver well. The articulation joint allows the machine to access and operate in areas such as residential spaces, greenhouses and barns. The high degree of maneuverability and stability allow materials to be transported more efficiently. Telescopic wheel loaders offer a two-in-one machine concept with additional reach for stacking and dumping with a telescopic boom, plus ground engaging capabilities, providing added versatility and greater productivity.
All Wacker Neuson wheel loaders come with a hydraulically operated universal attachment plate allowing operators to go beyond the bucket. All attachments (new or current) can be quickly and easily changed, making wheel loaders the perfect year-round jobsite solution.
Advice to Buyers
"Because of their excellent visibility, reduced operating costs and higher travel speed, wheel loaders can be a viable alternative to skid steers in some applications such as agriculture, municipal and nursery," says Jay Quatro, field application and training specialist with Wacker Neuson. "And because of the universal skid steer plate, it allows you to use any of your current skid steer attachments."
Click on table to enlarge
[prettyPhoto title="Wacker Neuson Specs" link="https://compactequip.com/wp-content/uploads/2018/08/wacker-neuson-wheel-loader-specs.png" type="link" ]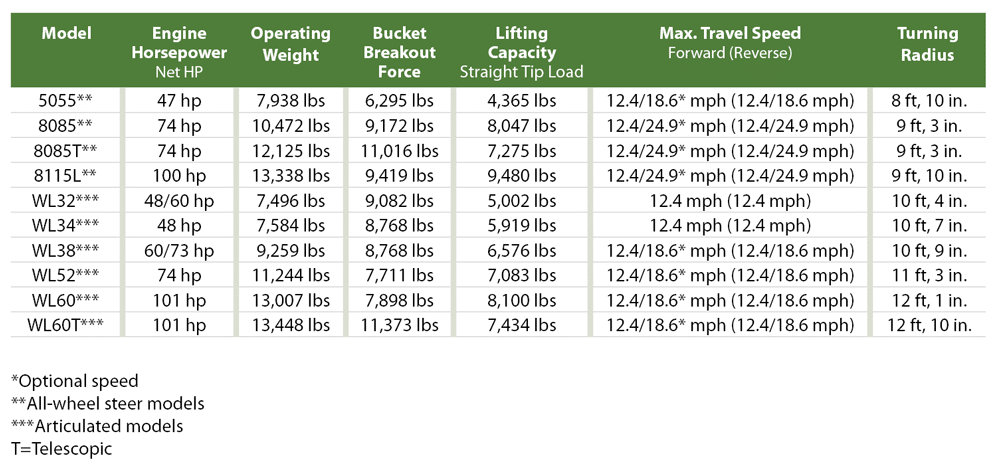 [/prettyPhoto]
For more info on Wacker Neuson, click this link. Hurry! Before it's too late! 
Tags:
2018 Spec Guide- Wheel Loaders
,
July/August 2018 Print Issue
,
Wacker Neuson