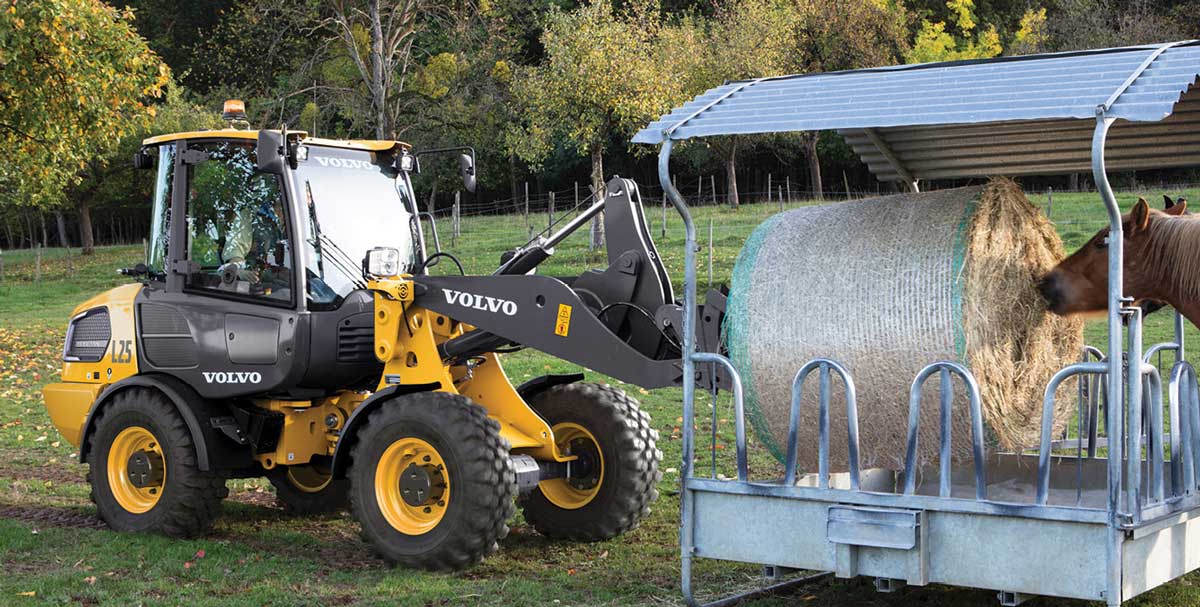 Countless Options for Maximum Versatility
This post is a part of Compact Equipment's annual Spec Guide. View other brands' product and spec info by clicking this link. View the magazine version of these summaries by clicking right here. Sign up for the print edition right here. Now enjoy!
The first Volvo Construction Equipment wheel loader — one of the first wheel loaders in the world — was created in 1954. Compact models were added to the lineup in 1990. In 2019, Volvo announced the L25 Electric compact wheel loader and stated that all models developed going forward would be electric.
Volvo compact wheel loaders are designed to reduce cycle times and operating costs. All six conventional models — the L20, L25, L30, L35, L45 and L50 — and the fully electric L20 and L25 models are designed with the operator in mind, including ergonomic controls and a spacious cab for easy operation and reduced operator fatigue. The machines range from 9,800 to 21,000 lbs with bucket capacities from 0.9 to 2.1 cu yds and 64 to 114 hp.
The L20 and L25 diesel models offer impressive fuel efficiency and cycle times and can reach maximum speeds of 18.6 mph. They offer excellent maneuverability, even in the most confined spaces. An articulated oscillating joint increases traction and stability on rough terrains. A single joystick lever offers control of four functions, including the hydraulic attachments, multi-purpose buckets, sweepers and augers. The loaders are fitted with a single inching brake pedal, allowing operators to work at a creeping pace.
The L25 and L20 Electric offer similar, or in some instances enhanced, power and performance compared to their diesel counterparts but with less noise and vibration and zero emissions. This makes them ideal for work near wildlife or livestock, indoor or high-dust environments and so much more.
The L30 and L35 provide operators with high ground clearances — a huge advantage in applications such as recycling, brush clearing and agriculture. These models possess the versatility and breakout and lifting forces expected from larger machines and feature fuel-efficient Volvo engines that meet the demanding emissions requirements of Tier 4 Final regulations without any aftertreatment to the exhaust.
The L45 and L50 machines feature a high-speed driveline option that more than doubles top speeds, providing faster cycle times and allowing the machines to travel quickly between jobsites. The three driveline speeds include the standard 12 mph, an option of 19 mph or the top-speed option of 31.2 mph. This allows customers to choose a max speed that best suits their needs and applications. This higher travel speed also improves productivity in applications like load and carry and clearing snow.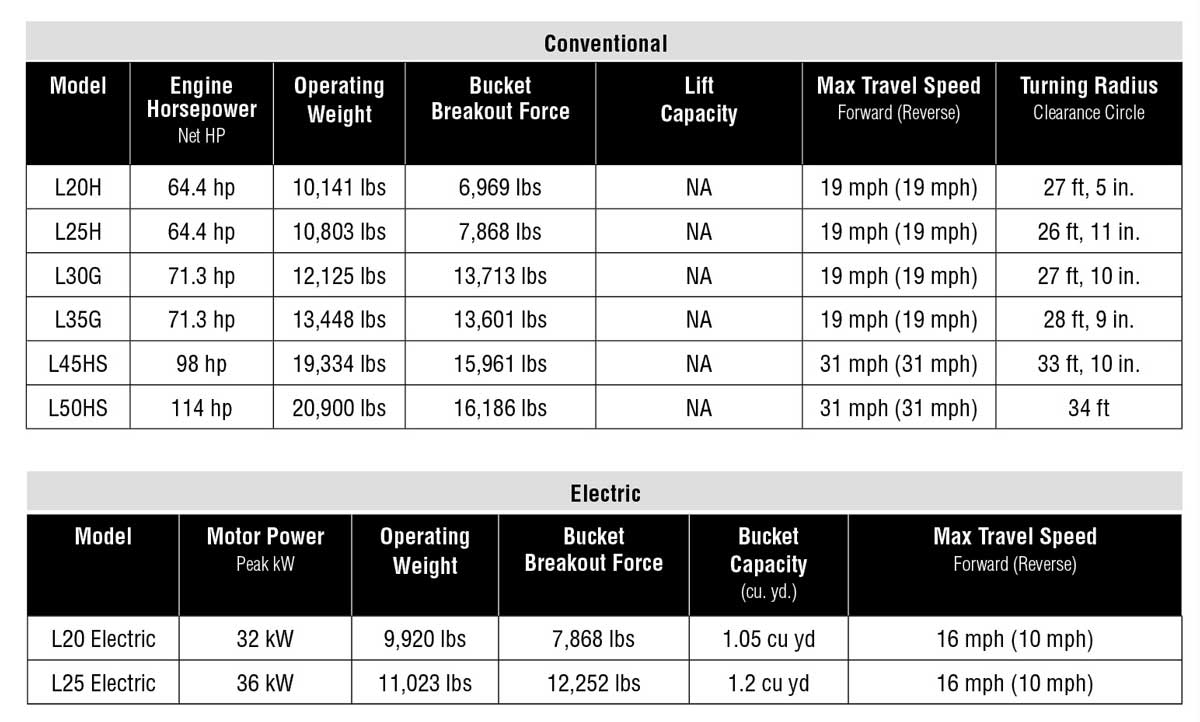 Advice to Buyers
"Some people only picture CWLs utilizing buckets or forks, but their main advantage is their versatility, including the number of attachments they can support," says Darren Ashton, product manager, Volvo Construction Equipment. "Their longer service life, all-around visibility, comfortable ride and higher travel speeds make them an operator favorite too. Compact wheel loaders have a lot of advantages that skid steers and CTLs just don't." Tags: July August 2022 Print Issue, Spec Guide, Spec Guide 2022, Volvo Construction Equipment