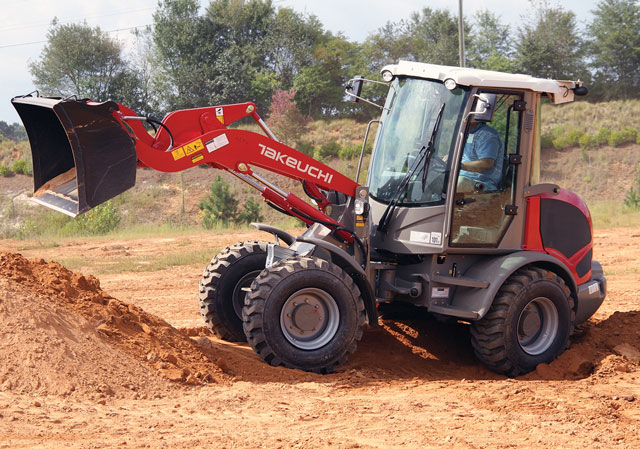 Three CWLs from the Japanese Equipment Innovator
Takeuchi manufacturing began in 1963 and has been a pioneer in the compact equipment industry ever since. Takeuchi developed one of the world's first compact excavators in 1970, and the company's innovation continued again in the mid-'80s with the introduction of one of the first compact track loaders. Today, Takeuchi is a world leader in the manufacture and service of compact construction equipment, including track loaders, wheel loaders, conventional excavators and zero tail swing excavators.
According to Takeuchi, its compact wheel loaders are designed and engineered to be powerful, efficient and durable, providing a high level of quality and performance. Takeuchi says its products are the result of extensive research, testing and refinement and feature a standard two-year, 2,000-hour full machine warranty. Takeuchi compact wheel loaders are reliable to own, comfortable to operate and provide unsurpassed performance on the job. The Takeuchi machines feature a compact design that allows them to easily maneuver in tight spaces with minimal damage to lawns, pavement or other sensitive surfaces. They provide reach and dump height for outstanding material handling, and the spacious operator's station is elevated giving the operator greater visibility and jobsite awareness.
These compact wheel loaders deliver power and precise control for increased productivity and lower operational and maintenance costs, which make them a great alternative to skid steer loaders. These machines are ideal for loading mulch and sod, removing snow, feeding hoppers or sorting and stockpiling material. The available road gear allows the TW65 and TW80 to travel speeds up to 25 mph, and the available high-flow hydraulics provides greater attachment versatility.
Advice to Buyers
"Compact wheel loaders are ideal for hard surface, landscape, tree removal, nursery and load-and-carry applications due to their higher travel speeds, articulation steer, high operating capacities, visibility and center pin," explains Michael Shebetka, product manager at Takeuchi-US. "Compact wheel loaders offer excellent dump height, reach and lifting capabilities along with high axle torque for pushing power. The machines usually come standard with their own style of hydraulic quick-coupler that is convenient for exchanging different attachments. Additionally, front auxiliary hydraulics are standard equipment and are perfect for running attachments."
Takeuchi-US
519 Bonnie Valentine Way | Pendergrass, GA 30567
706-693-3600 | takeuchi-us.com
Click on table to enlarge
[prettyPhoto title="Takeuchi Specs" link="https://compactequip.com/wp-content/uploads/2017/08/takeuchi-wheel-loader-specs.png" type="link" ]

[/prettyPhoto]
Tags:
2017 Spec Guide - Wheel Loaders
,
July/August 2017 Print Issue
,
Takeuchi-US