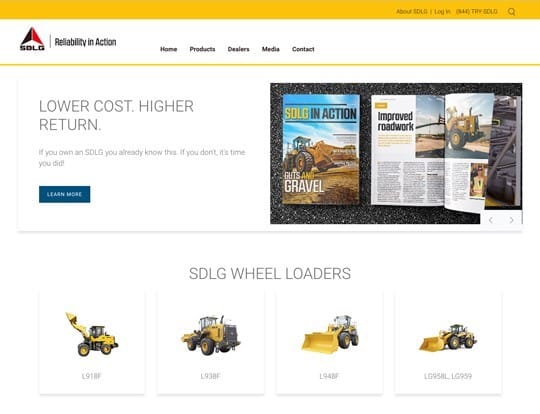 SDLG recently announced a new, North American website that will make it easier for dealers and customers to interact with the company. The new site is optimized for mobile devices, for example, and it will present well on desktops, tablet and smartphones. It also features a new, robust search function that makes finding information on the company's products and dealers more convenient than before.
"As the construction equipment industry adapts to an increasingly mobile world, it's important that companies like SDLG provide information on websites that work across myriad mobile devices," explained Nick Tullo, North American sales manager. "Now it will be easier for dealers and customers to get their SDLG information from wherever they may be working."
Other notable changes include an updated image gallery and news section, along with new case studies that illustrate how companies are using SDLG's wheel loaders across North America. The site's "Dealer Locator" functions have also been improved, with increased information on each dealer. The new site will be an ongoing project, with more features and functions added to it in coming months.
"Since launching in North America, a host of dealers and customers have come to equate SDLG with reliability, durability and value," Tullo said. "This new website will make it easier for dealers and customers to learn about SDLG and its products, as it will play better on the devices they're bringing with them to the job site."