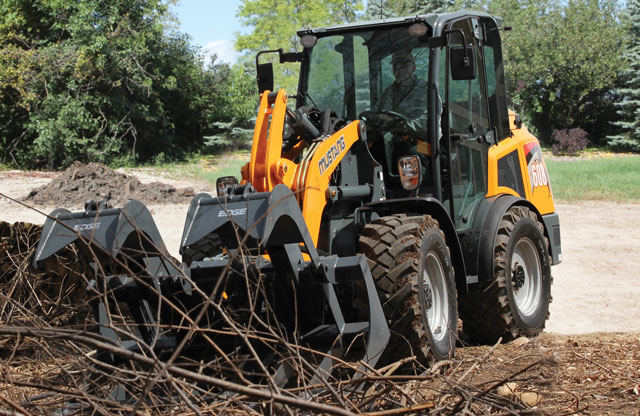 Articulated Loaders Are the Newest Addition to the Lineup
Mustang began in the 19th century as the Owatonna Mfg. Co. Starting as an agricultural implement manufacturer, Mustang has since grown into a 21st century compact equipment leader, building its first skid steer in 1965. Mustang has developed a new line of articulated loaders innovated with customer requests and feedback at the forefront of the design process. Made in America, Mustang wheel loaders are manufactured in Yankton, S.D., delivering the convenience and cost savings of a local manufacturer.
Mustang offers four articulated loader models and two of these units are the all-new telescopic models. The product line consists of the 608 and 708, as well as the all-new 608T and 708T. The ability to maneuver freely in tight places, while inflicting minimal ground damage, makes these units adaptive and ideal for multiple applications.
Powerful engines rated 65 and 74 gross hp, respectively, are at the core of these Mustang articulated loaders. These engines, in concert with industry leading horsepower management technology and planetary final drive, contribute to high tractive effort and fuel efficiency, says Mustang. Paired up with articulated steering and travel speeds up to 19 mph (30 km/hr), these powerhouses deliver excellent maneuverability and fast work cycles to boost productivity.
Weighing in at 4 to 5 metric tons, the 608 and 708 are built for heavy lifting, offering full bucket breakout forces in their respective class-size. The cabin is designed for comfort with a seven-way adjustable seat, fully-adjustable steering column, cup holder, adjustable armrest and wide openings that provide 360-degree operator views of job surroundings and bystanders. The Mustang wheel loaders also include standard features such as, a digital instrumentation display, Power-A-Tach Mounting System and a multi-function single joystick control. Adaptive for many markets, Mustang wheel loaders excel in construction, agriculture, municipalities and rental industries.
Advice to Buyers
"Mustang is committed to being a complete compact equipment solutions provider, and we recognize that wheel loaders have become a crucial piece of equipment in many industries," says Nathan Ryan, product manager for Mustang articulated loaders. "Look for loaders with four auxiliary hydraulic and four auxiliary electrical options to support nearly every imaginable attachment. Also check out optional three-speed and a cab enclosure with HVAC, allowing for efficient year-round use in the harshest environments."
Mustang
P.O. Box 179 | West Bend, WI 53090
262-334-9461 | info@mustangmfg.com | mustangmfg.com
Click on table to enlarge
[prettyPhoto title="Mustang Specs" link="https://compactequip.com/wp-content/uploads/2017/08/mustang-wheel-loader-specs.png" type="link" ]

[/prettyPhoto]
Tags:
2017 Spec Guide - Wheel Loaders
,
July/August 2017 Print Issue
,
Mustang