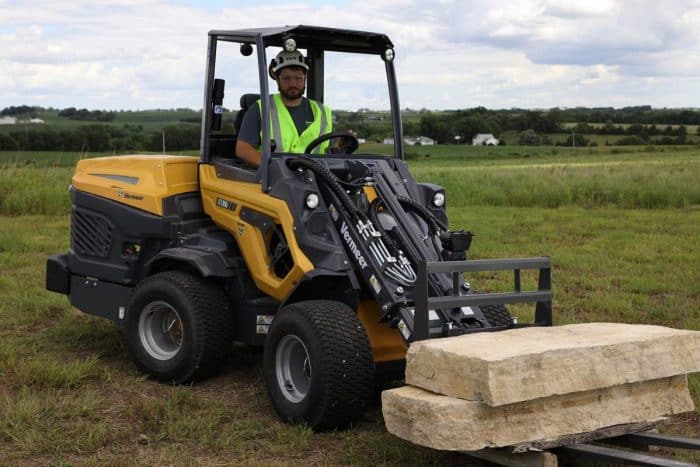 Wes Alseth's passion for nature, and particularly trees, led him to a career in landscaping. In 2017, he and his wife, Stephanie, combined his landscaping experience with her project management background and launched their own Minnesota-based landscaping business: Red Oak Landscaping & Design. Things really took off when the couple powered their vision with the versatile Vermeer ATX850 compact articulated loader.
The company is a one-stop-shop for landscaping services. "The way we start with customers is: they have a problem. We show up to solve that problem with landscaping," said Alseth. Their projects can encompass patios, front walks, boulder retaining walls, manufactured block retaining walls, plantings, plant and tree removal, and grade work. "The only things we don't do are new irrigation systems and lawn care," he added.
Red Oak Landscaping & Design hit the ground running. "We actually started off using contractors. We had a couple of small crews working. I was doing all of the design work," Alseth explained. That didn't work out as Wes had planned. "I was just managing people; I wasn't actually doing any of the work myself," he said.
Making a Mechanized Course Correction
It was time to change course to a more hands-on approach. "We decided to scrap the first plan," explained Alseth. Wes and Stephanie downsized their labor crew to themselves and two additional employees and began to mechanize their operation with a compact tractor. "That was my first introduction into the equipment world. It works great, but it was super limited as far as the attachments and its lifting capability. It was only able to move material," he said. The crew found the tractor was good for small trees and small patios, but its lack of attachments meant that most of the work had to be done by hand. "We were using ball carts to move heavy trees. We were digging holes by hand, and we were scooping mulch out to the street and wheelbarrowing it back and forth."
But as the company's reputation grew, so did the size of their jobs. "We were getting referrals, and those small jobs were turning into big jobs," recalled Alseth. "The equipment I had was not keeping up. I needed something different. I needed something more capable, more versatile and stronger. My first thought was I needed a skid loader or a track loader. It can lift a lot of weight and you can excavate for patios."
On closer examination, the size of the loaders was an issue. "It didn't make sense. They're enormous," said Alseth. "There is a lot of collateral damage associated with those as far as yards. People spend a lot of money making their yard look nice." Red Oak Landscape & Design wanted a piece of equipment that weighed less to minimize ground disturbance.
Alseth discovered a solution watching the YouTube video above. "I saw a video on YouTube that Vermeer posted for articulated loaders," recalled Alseth. "That piqued my interest and I started to do research. I research everything before I make a big purchase." He considered other brands, but the sturdy appearance of the Vermeer ATX850 compact articulated loader (ATX) won Alseth over.
The ATX850 provided an ideal solution. "The turf tires on the articulated loader, its turning radius, and all the different attachments just made sense," Alseth explained. Operator comfort also went into his decision. "I am on that machine sometimes for hours every day. Just having the ability to sit down was a nice feature."
Prior to purchasing, Alseth needed to try the ATX850 in person. He contacted his Vermeer dealer, Vermeer RDO for a demo. Alseth tested the ATX850 by moving snow and carrying a weight with the pallet forks. "I knew right then I needed to order one. I already knew the attachments I wanted and Pat Arnold from Vermeer RDO wrote it up," Alseth said.
Attachments Are a Game Changer
Red Oak Landscape & Design can complete a wide array of tasks because of the ATX850's versatile attachments. "That's one of the reasons I liked that loader," said Alseth. "It is very simple to bring all the attachments I need and just swap them out on the same piece of equipment." Alseth added that he's been able to greatly reduce the amount of manual labor his crew has to do since he added the attachments. "Not only has it increased efficiency, but we're not completely exhausted by the end of the day."
Alseth said the company currently has eight different attachments. "I have a grapple for large accent boulders. The light material bucket for mulch is used nonstop in the spring. It is amazing to be able to haul that much mulch and spread it or quickly load wheelbarrows. It makes a world of difference."
The crew also uses standard pallet forks to move materials and a recently purchased breaker to remove concrete blocks and patios so they can be replaced with new paver patios.
Designed to Tackle Tough Tasks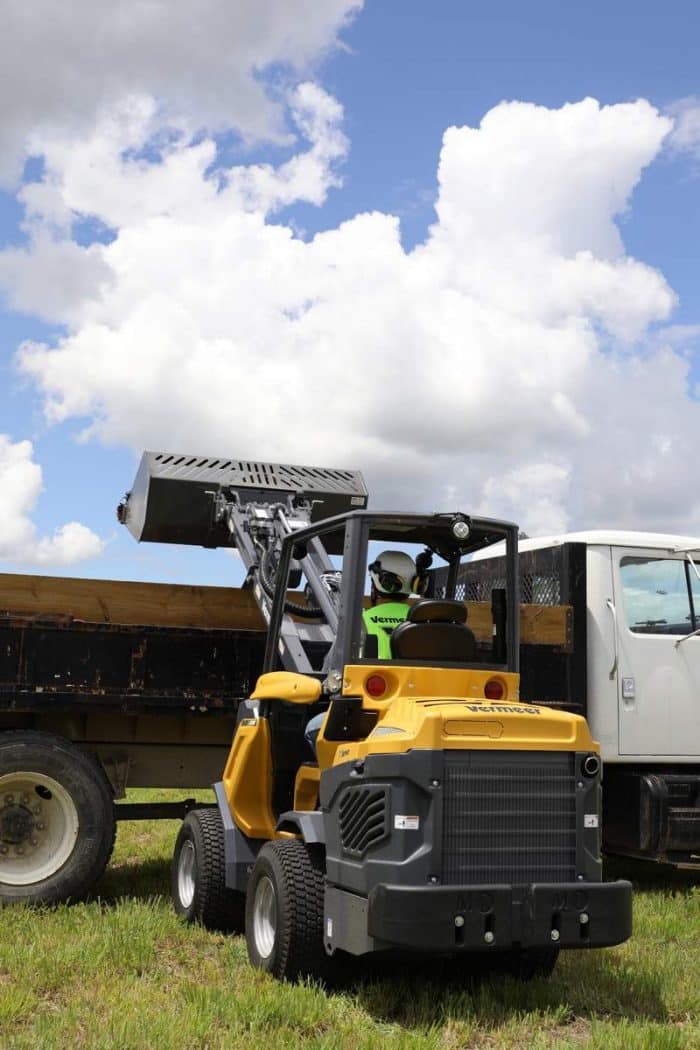 The Vermeer ATX850 compact articulated loader is designed with direct drive motors to help provide traction. The main frame design coupled with a low center of weight stability and integrated back weights gives the operator control and comfort while doing tough work. "The power that thing has is amazing," said Alseth.
A high lift-to-capacity weight ratio allows contractors to run a lighter machine while still being able to carry heavy materials on the jobsite. The ability to reach over creek beds and up and over retaining walls has proven useful. On a recent project, the crew used the ATX850 to reach on top of a berm that was surrounded by edging to drill a hole for a tree. "Just being able to do things like that is priceless when you are on a jobsite because the efficiency is so much better," said Alseth. "There is satisfaction showing up with the right piece of equipment. You have the confidence to get everything done and the efficiency is great."
Positioned for the Future
Red Oak Landscaping & Design has witnessed strong demand growth. "At the onset of the pandemic we were immediately panicked, thinking we're not going to have any work," recalled Alseth. "However, it ended up being just the opposite effect. It just exploded." People were investing in their backyard instead of vacations.
With the pandemic subsiding, Red Oak Landscaping & Design expected the business to drop off in 2022. But again, the market has defied expectations. "Demand has been really steady," Alseth said. "It's been controlled chaos."
With the current demand, Red Oak Landscaping & Design has taken a hard look at its business model. "We are getting so much work and so many calls," Alseth explained. But the company doesn't want to go back to adding crews and just managing people. "Then we would no longer be doing the work to some degree. We want to continue to do the work the way that we are going. But we're going to continue to add the right equipment that is going to help us succeed."
Red Oak Landscape & Design will continue to turn to Vermeer RDO for solutions. "I have a good relationship with Pat Arnold, who originally sold me the equipment," Alseth said. He added that Arnold is quick to respond when Alseth wants to try something new or price out equipment. Service and support are critical when a company depends on a specific piece of equipment. "Whenever we have had service, they have gone above and beyond my expectations."
Kennedy Phillips is the brand experience lead for Vermeer Corp.
We'd love to keep in touch! Check us out on Facebook, Twitter and LinkedIn!