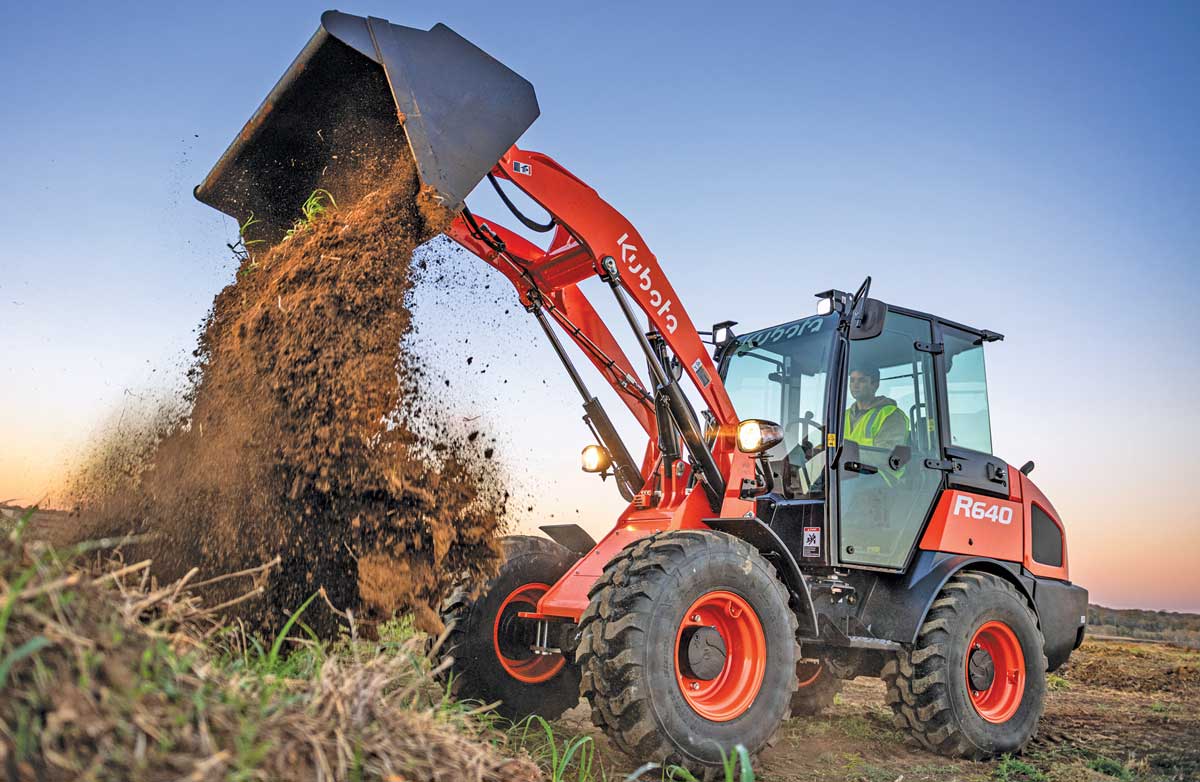 Two New Models with
Impressive Visibility and Maneuverability
Kubota's highly versatile R Series wheel loaders, which consist of the R430 as well as the recently announced R540 and R640, are all equipped with features to offer visibility, power and impressive productivity.
The next-generation R540 and R640 wheel loaders are available in both canopy and cab models and feature improved visibility, enhanced operator comfort and increased performance over the previous R30 Series models. Designed with landscape, residential and commercial construction operators in mind and engineered to meet the rigorous demands of the jobsite, both the R540 and R640 provide increased weight and improved lift performance over the previous generation.
Cab models for both the R540 and R640 offer a panoramic perspective of the environment with an enlarged front window and a new full-sized, all-glass right-side window that is the same size as the entrance door, providing 360-degree visibility around the machines. The new right-side window also allows greater visibility of the front-right tire for better maneuverability.
The arms of the R540 and R640 have been redesigned for better visibility when connecting attachments with the hydraulic coupler, enabling operators to connect attachments without getting out of the cab. New delta-shaped loader arms that run parallel and become narrow at the cab and widen at the end enhance operator visibility when the bucket is lifted at full height. The R540 and R640 also feature standard LED working lights, transitioning from halogen lights, making the equipment well-suited for low light operation.
The R540 and R640 wheel loaders include a wide range of comfort features designed to reduce operator fatigue and boost productivity. By moving the reconfigured console and switch layout to the right side of the cabin, operators have more foot and leg room, and all controls are just a finger touch away. The multi-function control lever, which comes standard on both the R540 and R640, controls forward, neutral, reverse, the differential lock and the wheel loader auxiliary port switch, making operation quicker and easier. All major loader functions and operational functions can be accomplished with one hand.
Kubota launched the KubotaNOW telematics platform for all Kubota construction equipment in January 2021. KubotaNOW telematics will provide real-time data for owner/operators including GPS location, fluid levels, machine diagnostics and fault codes.

Advice to Buyers
"Choosing the right wheel loader comes down to what work needs to be completed," says Patrick Baker, product manager, Kubota Construction Equipment. "Look for wheel loaders that are compact, productive and reliable. Some are ideal for landscaping and agricultural work, leaving a small footprint and being extremely productive. Some are slightly larger and more likely to be seen on residential and commercial jobsites, loading gravel into a tandem axle dump truck or moving pallets of granite."
For reprint and licensing requests for this article, please click here.
Tags:
July August 2021 print issue
,
Kubota
,
Spec Guide
,
Spec Guide 2021