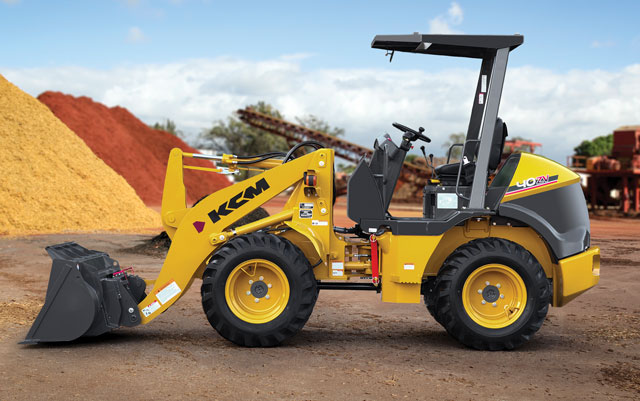 Four Compact Models that Roll Very Large
KCMA Corp., formerly known as Kawasaki Construction Machinery, came out with its first articulated loader in Japan in 1962. As the company introduced the wheel loader into the North American market in 1978, they found a positive reception for a productive, high-quality loader. The company's strong dealer network helped to propel the KCM loader to a prominent market position in North America. A joint venture with Hitachi Construction Machinery Group (HCMG) was entered into in 2010 to further develop the global scope of that wheel loader product. Today, the joint venture is called KCM-Hitachi Construction Machinery Group.
Currently, KCM-HCMG offers four cool wheel loader models in the compact realm. The KCM-HCMG models, the 30ZV-2, a .52-cu-yd loader, the 40ZV-2, a .65-cu-yd loader, the 42ZV-2, a .78-cu-yd loader, and the 45ZV-2, a 1.18-cu­-yd loader, are designed and engineered with all of the performance and reliability of the larger KCM-HCMG wheel loaders but in a smaller package. With standard features such as a hydraulic quick-coupler, third spool hydraulics and reliable Kubota engines, these loaders are small in size but big in value. With Tier 4 Interim emissions-compliant Kubota engines, heavy box frames and a well-balanced design, these compact KCM-HCMG wheel loaders provide stable, reliable operation, says the company. Innovative HN Bushing technology, easy access electrical relays and the side-by-side aluminum radiator and oil cooler provide easy access for maintenance.
KCM-HCMG also pioneered the Z-Link design to provide what it calls "unmatched" utility, high breakout force and efficiency in its loaders. The ZV-2 generation implements brand-new patented technology, industry-exclusive innovation and input from owners and operators all over the world. Each unit is engineer with a hydrostatic transmission (HST) that automatically adjusts tractive effort and loading force, providing smooth shifting operation. The HST also functions much like an autobrake, saving wear and tear on the wet-disc brakes.
KCM-HCMG is dedicated to keeping your wheel loader up and running, even in the most challenging situations. Starting with the KLEW (KCM-Hitachi Loader Early Warning) Oil Analysis System, designed to eliminate unnecessary maintenance and downtime, to its 24-hour parts shipment service and its extensive rebuild program, KCM-HCMG has the expertise and experience to respond quickly to your needs, says the company.
Advice to Buyers
"The compact wheel loader market continues to grow as skid steer owners realize the valuable features and benefits loaders bring to their worksite, application and operators." says Sam Shelton, marketing manager for KCM-Hitachi Construction Machinery Group. "Consider overall cost of operation for the life of the machine, operator safety, production output, and ease of maintenance when making this evaluation."
KCMA Corp.
2140 Barrett Park Dr., Ste. 101 | Kennesaw, GA 30144
770-499-7000 | kcmcorp.com
Click on table to enlarge