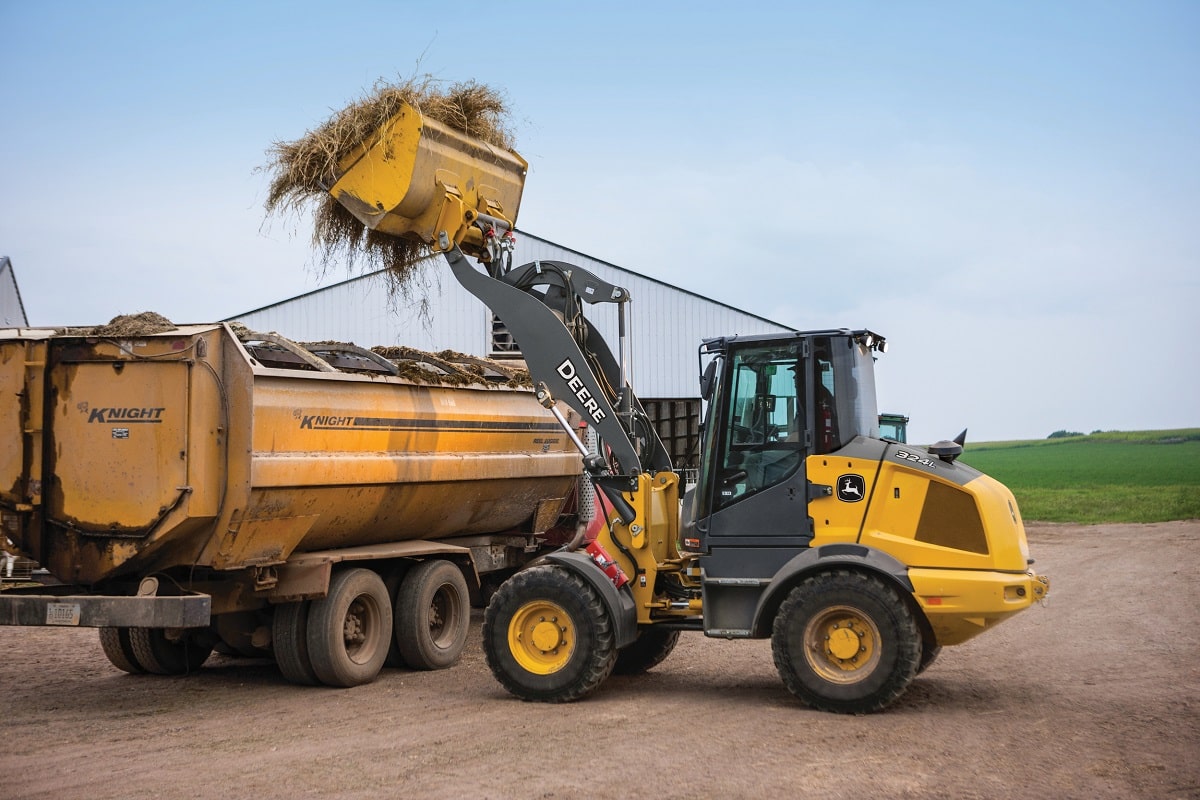 Five Versatile Loaders, Three with Articulation Plus Tech
This post is a part of Compact Equipment's annual Spec Guide. View other brands' product and spec info by clicking this link. View the magazine version of these summaries by clicking right here. Sign up for the print edition right here. Now enjoy!
John Deere has been offering compact wheel loaders to customers for more than 30 years, entering the compact wheel loader market in 1987. While the lineup has changed and evolved over time, John Deere still offers productive yet compact solutions to fit the ever-expanding compact construction customer's jobsites. The current lineup of L-Series compact loaders offer the latest features that enhance operator comfort, increase productivity and provide lower maintenance costs. John Deere currently offers five compact loaders within its lineup. There are two standard articulation loaders in the 204L and 304L and three Articulation Plus loaders in the 244L, 324L and 344L.
The 204L and 304L measure at or just below 8 ft in height. Customers that work in barns, buildings with low clearance or on tight jobsites appreciate the low profile and their tight turning radius. These units can also be equipped with an open air canopy or an enclosed cab to accommodate customers working in a range of geographies and climates. For enhanced versatility, they can be equipped with an ISO-style or skid steer quik-tatch-style coupler that enables them to run a series of attachments.
The 244L, 324L and 344L are what Deere considers Articulation Plus machines. Articulation Plus is an industry exclusive feature that adds rear wheel steer to increase full turn tipping load and overall maneuverability. When these machines were introduced to the market, they featured an array of cab updates that ensure operators are comfortable and productive all day long. The cab is both wider and longer compared to previous series machines and an improved air conditioning system increased overall airflow capabilities. The controls and machine display can be found on the right side of the machine for easy access to machine functions and key information. In addition, there is ample storage space within the cab to allow operators to keep personal items close and secure.
While they are truly compact machines, compact loaders offer many qualities of larger loaders, especially when it comes to overall visibility. Deere loaders are designed with features like tapered boom and rear sloping hood to provide excellent visibility for things like changing between attachments and viewing obstacles behind the machine. When compared to machines like skid steers or compact track loaders, the operator is positioned higher up in the cab and has an increased amount of glass in the front, sides and rear of the machine to look out of. When working at night or in the early hours of the morning, customers may also look to option up to LED lights, which illuminate surroundings better and are an overall more durable and reliable light source compared to halogen bulbs.

Advice to Buyers
"Look for compact loaders that offer ground level service to enable a more simple and straightforward daily maintenance routine," says Luke Gribble, solutions marketing manager at John Deere. "This is important to customers because it makes it much easier to keep the machine in a great working condition without cutting into precious working hours."
Tags:
John Deere
,
July August 2022 Print Issue
,
Spec Guide
,
Spec Guide 2022