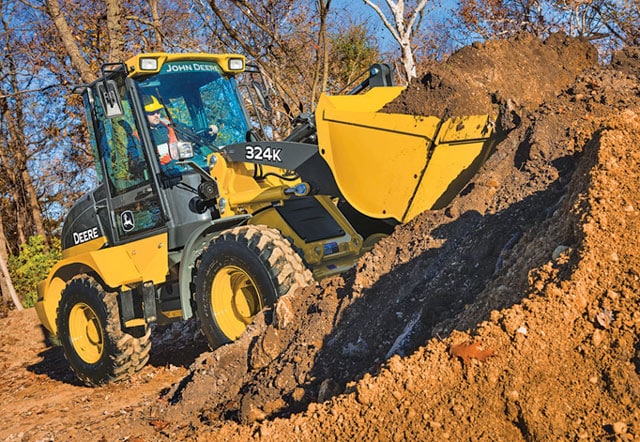 Five Small and Mighty Compact Wheel Loaders
For nearly 20 years, John Deere has been offering compact wheel loaders to handle a variety of jobsite conditions. Entering the compact wheel loader market in 1987, John Deere offers small but mighty machines that are an attractive alternative to skid steers for loading trucks or placing pallets on trailers. John Deere compact wheel loader offerings have recently grown with the addition of the 204K and 304K models, further expanding its portfolio of nimble machinery for multiple jobsite applications.
The K-Series lineup from John Deere offers five versatile models (204K, 244K-II, 304K, 324K and 344K) to increase productivity, visibility and lower daily operating costs for the landscape, agricultural material handling, rental and construction industries. Most models are compatible with almost 100 John Deere Worksite Pro attachments. An optional push-button activated skid steer-style coupler allows operators to connect and release attachments quickly, without leaving the seat.
Unique to the compact wheel loader lineup, the 204K and 304K models offer a standard-equipped canopy to provide quick entrance/exit to a weatherproof interior. A low machine profile enables easy access to close quarters. These highly-productive machines reach top speeds of 12 mph, offering great reach for loading and a height to hinge pin of 11 ft, 1 in. An oscillating front loader frame reduces operator station tilt for a more stable ride. Electrical systems are designed to minimize wires and connections to increase durability and uptime.
The market-exclusive oscillating stereo steering is the foundation of the 244K-II, 324K and 344K models, delivering a smooth turning radius that is up to 20 percent tighter than comparable loaders, says the company. This feature ensures faster cycle times and better material retention over rough terrain. These models offer high tipping load capacities, and the hydrostatic drivetrain's infinitely variable range allows the operator to precisely match travel speed. The wheel loaders' 100 percent front differential lock is easily activated through a pushbutton on the joystick. In addition, manual low-speed differential lock delivers the traction needed to go deeper into the pile for bigger bucket loads. The 324K offers the highest lift in its size-class, reaching a hinge pin height of 148 in. with a high-lift package option. Increased clearance-to-lift features are ideal for speed hoppers and agricultural material handling.
All K-Series cabs are comfortably equipped with gauge clusters positioned to the side to offer unobstructed views of attachments and the surrounding work area. To enhance operation, the boom, bucket and forward-neutral-reverse switch are on the same ergonomic, low-effort lever for convenient one-hand control. Other productivity-boosting features include multi-adjustable suspension seat, electronic monitor and convex mirrors.
Advice to Buyers
"If you need a versatile machine with almost 100 attachment options, a compact wheel loader may be your jobsite's perfect match," says Drew Miller, product marketing manager, John Deere Construction and Forestry. "Consider a compact wheel loader lineup that provides attachment visibility, ride height and operator comfort to help take on any application. Commonly used for landscape work in the warmer months and snow removal when it gets colder, these machines pack maximum profit. Compact wheel loaders are perfect for heavy bucket work and moving material across the landscape, agricultural, rental and construction industries."
John Deere Worldwide Construction and Forestry Div.
P.O. Box 8806 | Moline, IL 61266
johndeere.com
Click on table to enlarge