The Top Construction, Landscape and Rental Equipment Launched in 2022
Throughout 2022, the Compact Equipment crew traveled the countryside (tradeshows, product launches, zoom interviews, operation opportunities) to analyze and catalog every model of compact machinery released into the wild. Looking back, the last 12 months saw the introduction of an impressive array of off-highway construction equipment and OEM systems, but a certain set of equipment stood above the rest. We call them the Innovative Iron Award winners, and these particular units are, in our humble opinion, the best compact equipment released in 2022. Here comes a winner right now. See them all right here.
Mecalac's Precision Loaders Offer Three Steering Modes, High Speeds and Awesome Productivity
Mecalac's swing loaders are uniquely awesome. These loaders offer three steering modes that when combined with their swivel booms can perform a complete rotation on a footprint that is 20 percent smaller than a conventional loader, increasing overall efficiency. It's like a wheel loader/dedicated dumper combo. This past year, Mecalac launched the all-new AS750, AS850 and AS1000 swing loader models to North America. The unique loaders offer rigid chassis and three steering modes, travel speeds up to 25 mph and high engine power providing big lift and load capacities. The AS1000 has the option for high-flow hydraulics, which means gnarly attachments too.
With the addition of three new models, Mecalac offers a comprehensive swing loader series.
At just over 11,000 lbs, with a bucket capacity of 0.98 yd3, the AS750 is the second smallest swing loader model. Compared with the AS600, the new model is wider with a longer wheelbase (6 ft, 1 in.) for even greater stability while the higher engine power (61 hp) provides heightened lifting and loading capacity. The parallel, or P-bucket, offers outstanding precision during material handling operations, especially with the pallet forks or load hook. Finally, the AS750 is designed with a spacious cab and two doors to give the operator optimal visibility for a safer jobsite.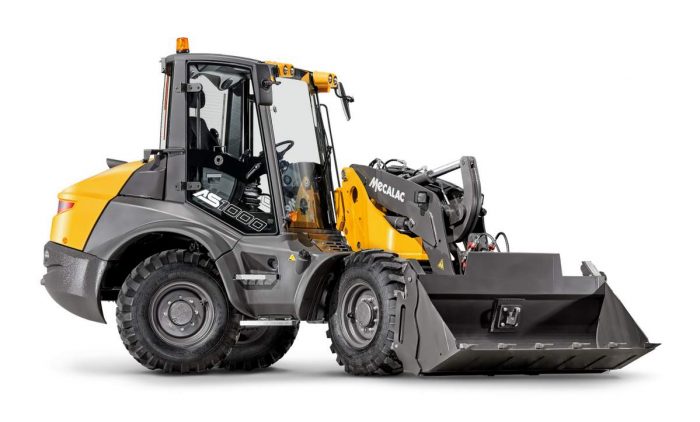 For those looking for even more productivity, the mid-size AS850, with an operating weight of 13,184 lbs and a bucket capacity of 1.1 yd3, is the answer. This model encapsulates all the benefits of the AS Series swing loaders with optional increased travel speed up to 25 mph.
A step up in power from the AS850, the AS1000 is also a mid-size model at 14,639 lbs and a bucket capacity of approximately 1.3 yd3. It offers unrivaled speed and efficiency with its four-cylinder, 75-hp high-torque engine. An optional high-flow hydraulic line offers up to 120 liters per minute, which is suitable for driving hydraulic attachments.
All the features of Mecalac's swing loaders outlined above make it an attractive machine for end-users. With the introduction of three new swing loader models to the North American market, Mecalac continues to offer innovative products for each unique job and customer, revolutionizing loading around the world.
Keith Gribbins is publisher of Compact Equipment.
We'd love to keep in touch! Check us out on Facebook, Twitter and LinkedIn!