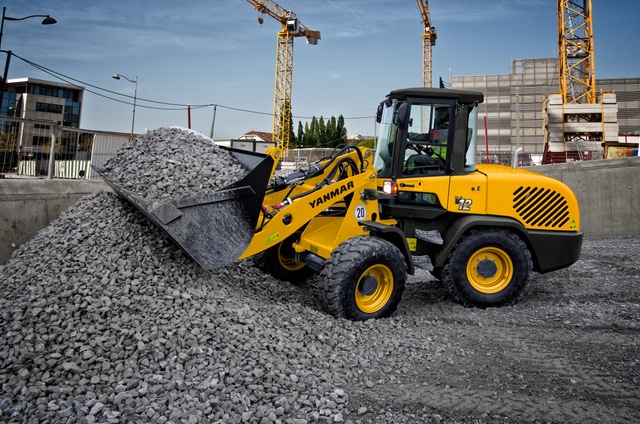 Yanmar America's Construction Equipment Division will be attending the ICUEE trade show in Louisville Oct. 3-5, and the company will promoting the addition of three new, larger wheel loaders. Yanmar has added the V8 (61 HP, 1.05 – 1.57 yd3 bucket), V10 (74 HP, 1.31 – 2.03 yd3 bucket) and V12 (100 HP, 1.57 – 2.35 yd3 bucket) sized wheel loaders to their product offering.
Jeff Pate, National Sales Manager for Yanmar America's Construction Equipment Division said, "We are excited to continue to expand our product line. The addition of these three models helps us provide a more complete offering to our dealer and their customers."
YANMAR America now carries four-wheel loader models, eight excavator models, four skid steer models, two track loader models and one tracked carrier model. Each model is purpose-built to overcome the most challenging conditions, work with unparalleled power, conserve fuel and provide exceptional flexibility.
Yanmar has been manufacturing wheel loaders since 1975 and introduced the V-series to the North American market in 1997. Yanmar's Construction facility in Germany has been manufacturing wheel loaders since 1971 and manufactures the three larger models.
Yanmar has a rich history in delivering firsts in the construction industry. Yanmar invented the first commercially viable small diesel engine in 1933, the world's first compact excavator in 1971 and the world's first true zero tail swing mini excavator.
For more info on Yanmar, click this link. It's totally clickable.