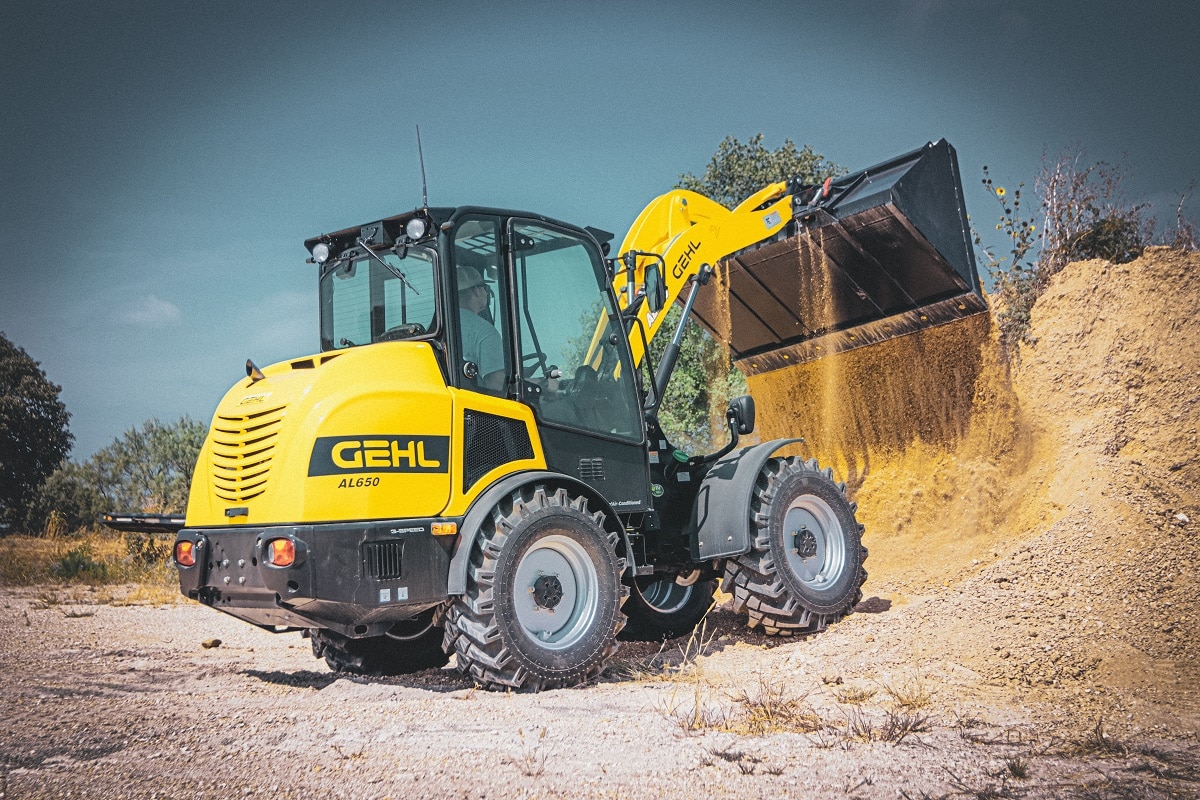 Four Units with Variants Including the Telescoping ALT750 and ALT950
This post is a part of Compact Equipment's annual Spec Guide. View other brands' product and spec info by clicking this link. View the magazine version of these summaries by clicking right here. Sign up for the print edition right here. Now enjoy!
Gehl began manufacturing agricultural implements out of West Bend, Wis., in 1859. From those humble beginnings in a blacksmith shop, the Gehl brand has become a major force in the compact equipment industry worldwide. Today, Gehl's leading edge research and design facility is still located in West Bend with North American manufacturing operations in Yankton, S.D., Madison, S.D., and a parts center in Belvidere, Ill.
The full Gehl articulated loader line includes four models, the AL 650, AL 750, telescoping ALT750 and telescoping ALT950. These machines deliver ultimate performance and maneuverability. With a heavy-duty oscillating articulation joint, they can turn up to 45 degrees to the left or right and oscillate 10 degrees in both directions. Front and rear locking differentials provide maximum tractive effort for pushing into the pile, and industry-leading bucket breakout forces that reach up to 15,129 lbs allow the bucket to be filled to the max with each scoop.
Gehl articulated loaders are ideal for agriculture, construction, rental or landscape applications. They have fast work cycles with travel speeds up to 25 mph and powerful engines from 64 to 143 hp. The Gehl ALT750 and ALT950 telescopic articulated loaders have the added benefit of a telescoping arm that gives an extra 44 in. of reach, bringing the hinge pin height up to 204 in. at full bucket extension on the ALT950. The ALT750 follows close behind with a hinge pin height up to 198 in. So definitely more reach when needed most.
Gehl designed the articulated loader cabin with operator comfort in mind, offering a seven-way adjustable seat, fully-adjustable steering column, cup holder, adjustable armrest and a multi-function single joystick for easy operation. Wide openings in the front and side of the machine provide 360-degree operator visibility of job surroundings and bystanders.
The Gehl 650, 750 and ALT750 articulated wheel loaders also include many standard features such as a digital instrumentation display, Power-A-Tach hydraulic attachment system, proportional auxiliary hydraulics and Z-bar-type linkage with mechanical self-leveling.
Compatible with most allied loader attachments, articulated loaders from Gehl provide loader functionality while minimizing damage to ground surfaces. A universal-type attachment bracket adapts to fit most skid steer/compact track loader attachments, expanding the work tool selection of these machines. Gehl works like you.

Advice to Buyers
"Different applications need different configurations. This is why travel speed options and different hydraulic possibilities are becoming increasingly important," says Frederik Crul, global product manager for Gehl wheel loaders. "These are rather expensive options but can improve the ROI of the overall investment drastically. Higher top speed will shorten the travel time while high-flow hydraulics or an additional set of hydraulic lines will open the list of available attachments specially built for your applications."
Tags:
Gehl
,
July August 2022 Print Issue
,
Spec Guide
,
Spec Guide 2022