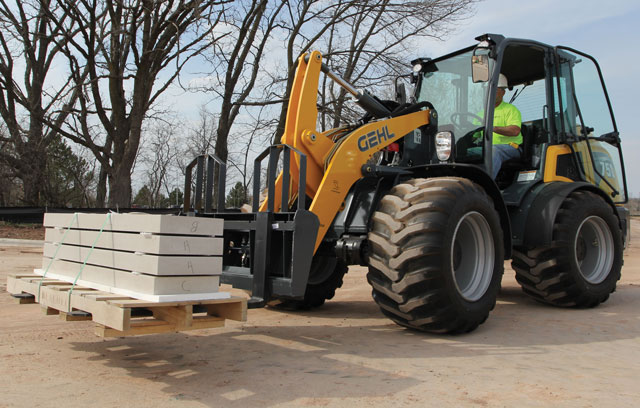 American Built Wheel Loaders Deliver Convenience and Cost Savings
Gehl began manufacturing agricultural implements in 1859, in West Bend, Wis. From those humble beginnings in a blacksmith shop, the Gehl brand has become a major force in the compact equipment industry worldwide. Today, Gehl's headquarters is located in West Bend with a state-of-the-art research and design facility. Answering the demand for larger wheel loaders, Gehl developed the 650 and 750 articulated loaders. In 2017, Gehl has expanded this line with the all-new T or telescopic models, 650T and 750T, offering extended lifting heights and forward reach for the North American market.
Gehl wheel loaders maneuver freely in tight places while inflicting minimal ground damage. Weighing in at 4 to 5 metric tons, the Gehl 650 and 750 are the largest in the product range, with engines rated at 65 and 74 gross hp, respectively. These engines, in concert with industry leading horsepower management technology and planetary final drive, contribute to high tractive effort and fuel efficiency, says Gehl.
A heavy-duty oscillated articulation joint offers 45-degree turning angels to the left and right, with 10 degrees of oscillation in both directions for optimal traction and maneuverability. This articulation paired with quick travel speeds up to 19 mph allow these powerhouses to perform fast work cycles, delivering more productivity. The operator cabin is designed for comfort with a seven-way adjustable seat, fully-adjustable steering column, cup holder, adjustable armrest and a multi-function single joystick for easy operation. Wide openings in the front and side of the machine provide 360-degree operator visibility of job surroundings and bystanders.
Digging and scraping performance is maximized for Gehl wheel loaders through some of the highest breakout forces in their respective classes and front and rear locking differentials, says the company. These units also include standard features such as a digital instrumentation display, Power-A-Tach Hydraulic Attachment System, proportional auxiliary hydraulics and Z bar-type linkage with mechanical self-leveling. Ideal for many markets, Gehl wheel loaders are positioned to excel in agriculture, construction, municipalities, landscaping, recycling and rental.
Advice to Buyers
"As North America's largest manufacturer of compact wheel loaders, Gehl customers benefit from the convenience of a local manufacturer," says Nathan Ryan, product manager for Gehl articulated loaders. "Look for more auxiliary hydraulics options, cab configurations and transmission options. Hydraulically-reversing cooling fan, disk brakes, steel hydraulic tubing and robust heavy-duty fenders are just a few of the standard features that should be included to withstand the harsh operating environments that customers are in every day."
Manitou Americas Inc.
One Gehl Way | West Bend, WI 53090
262-334-9461 | info@gehl.com | gehl.com
Click on table to enlarge