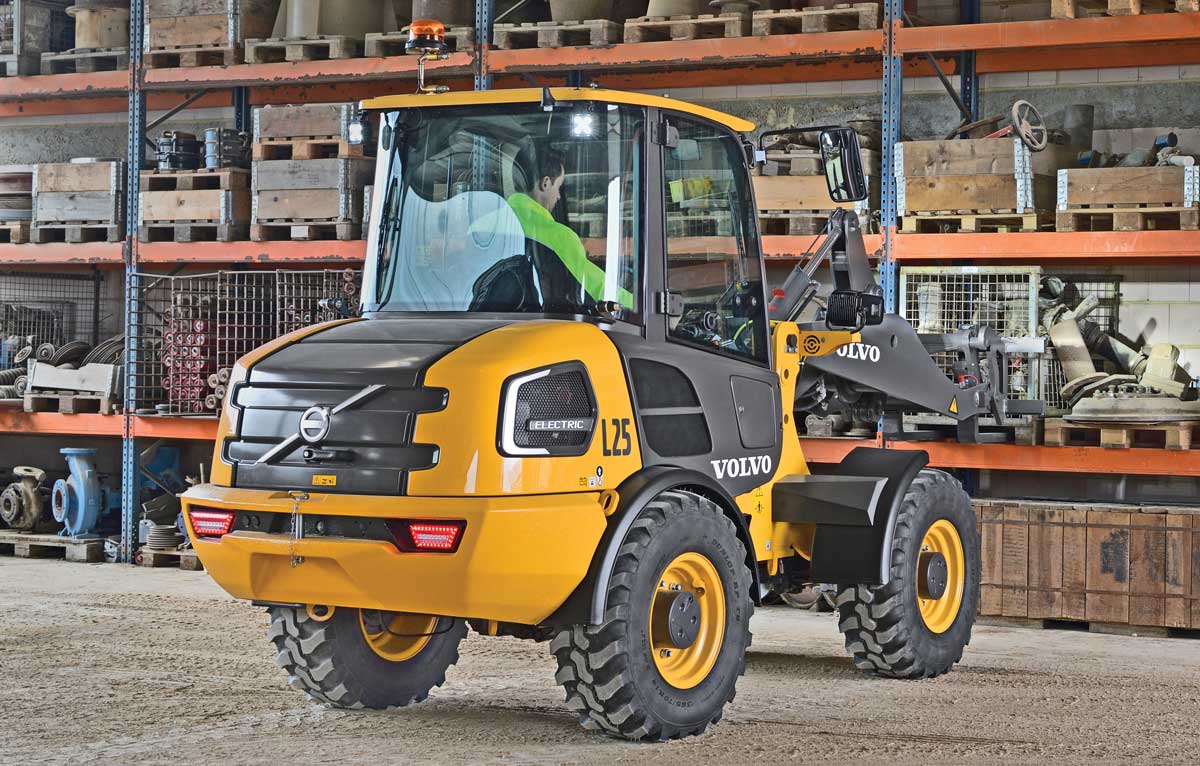 Compact wheel loaders are built to move all types of materials, from dirt to trees, and are sought after by operators working in a variety of applications. Whether you're in landscaping, general construction, site development or snow removal, these powerful machines can help you work in tight spaces while providing excellent visibility and high transport speeds.
"Their maneuverability, weight, horsepower and lifting performance make compact wheel loaders a versatile machine," says Darren Ashton, product manager — compact equipment, Volvo Construction Equipment. "Their size and all-around visibility also make them a great option for safely working in tight spaces. Another big factor in their versatility is the number of attachments they support. Sometimes when contractors picture a compact wheel loader, they only picture it utilizing buckets or forks, but they can also be designed to handle more robust attachments."
If you're in the market for a compact wheel loader, check out five things to consider during the purchase process.
1. Find the Right Size and Speed. Compact wheel loaders are the perfect size for operators who need to work safely in tight spaces but need more power and higher reach than a skid steer or track loader can provide. These hard-working machines can move a lot of material quickly while minimizing damage thanks to their articulation. Their large tires can navigate over many different types of terrain and offer high travel speeds to move across jobsites quickly.
"Compact wheel loaders traditionally have a much higher rated operating capacity than skid steers," says Ashton. "This, plus their comfortable ride at higher travel speeds, makes them better suited for bigger jobs on expansive jobsites. The higher ground clearance helps where jobsites are rough. When off-loading a trailer, the higher seating position gives the operator a better site line to the fork attachment. Typically, a wheel loader also has a longer service life."
Speaking of speed, wheel loaders have the ability to travel across jobsites a lot faster than a traditional skid steer or track loader. For example, three of Yanmar's models — the V8, V10 and V12 — all have speeds up to 22 mph. In 2020, Volvo introduced the option of a high-speed driveline for its L45H and L50H models. This option more than doubles top speeds from 12 to 31 mph, allowing the machines to travel more quickly between jobsites and reducing cycle times.
Speed aside, size is perhaps the most important consideration when purchasing a compact wheel loader. Buyers need to select a machine that's sized appropriately for the type of work they're performing, as well as the jobsite.
The compact wheel loader team at Hitachi Construction Machinery Americas Inc. says a buyer should ask these questions when sizing up a new unit: "Can the loader fit into the operational areas where work is being performed? Do its rated operating capacities exceed the weight of the material being lifted day-in and day-out? Does the unit's dump height meet a contractor's specific needs? If a contractor is going to be using hydraulic-powered attachments, does the wheel loader's auxiliary hydraulic capacities match the flow requirements of the attachment?"
2. Customize Your Cab. One of the biggest advantages of a compact wheel loader is the 360-degree visibility operators have when using the machine. This excellent visibility allows operators to see all around the wheel loader, jobsite and the attachment — leading to safer, more efficient work. Wheel loaders can also boast a more comfortable ride than a skid steer or track loader so buyers should focus on selecting a unit with extra creature comforts. We all know a comfy operator is a productive one.
"Models with a standard ROPS/FOPS may cost less to buy but can limit when and where a wheel loader can be used," says the Hitachi team. "So, if a contractor may be doing any kind of work in cold conditions or on hot summer days, a climate-controlled cab is likely worth the extra investment. It will also likely net them more on trade-in and resell value years down the road."
When spec'ing out a cab, consider one that minimizes noise and vibration, as well as offers a comfortable seat that provides lumbar support and an adjustable steering column. Having frequently used controls in easy-to-reach places is ideal in reducing operator fatigue. Work lights and heated, electrically adjustable rearview mirrors aid in a wheel loader's already impressive visibility.
"Lights can expand when and where a wheel loader can be used," says the Hitachi team. "Applications like snow removal don't always happen during the day, so lights are a must. Choosing the appropriate options and accessories will make wheel loaders more essential to a contractor's overall operation."
3. Expand Operations Through Attachments. The versatility of compact wheel loaders shines through their ability to take different attachments. Buckets and pallet forks are typically the most used attachments and should be purchased along with the machine. Other popular attachments are 4-in-1 multipurpose buckets and grapple buckets. Buyers should consider auxiliary hydraulics on the machine to expand their attachment-taking capabilities.
"If you are primarily moving bulk material, consider a larger bucket capacity," says Frank Gangi, product manager — compact wheel loaders, Yanmar Compact Equipment North America. "If you plan to move lots of pallets, consider a compact wheel loader with parallel kinematics or the option to keep the forks level during lifting. If you plan to do many different jobs with your compact wheel loader, consider a hydraulic skid steer-style coupler for quick change over and auxiliary hydraulics to power attachments. Things like hydraulic quick-couplers that work with skid steer attachments will continue to grow in popularity along with auxiliary hydraulics to operate attachments such as snowblowers, blades, grapples, brooms and rakes."
Thanks to their size, comfort, maneuverability and safety, compact wheel loaders are perfect in snow removal applications. The machine's added height of the cab and increased speed options allow for quicker, easier work when tackling tasks such as sweeping streets or moving snow. Therefore, snow removal contractors should look at snow pushers, snowblowers, sweepers and/or snow buckets, depending on the application.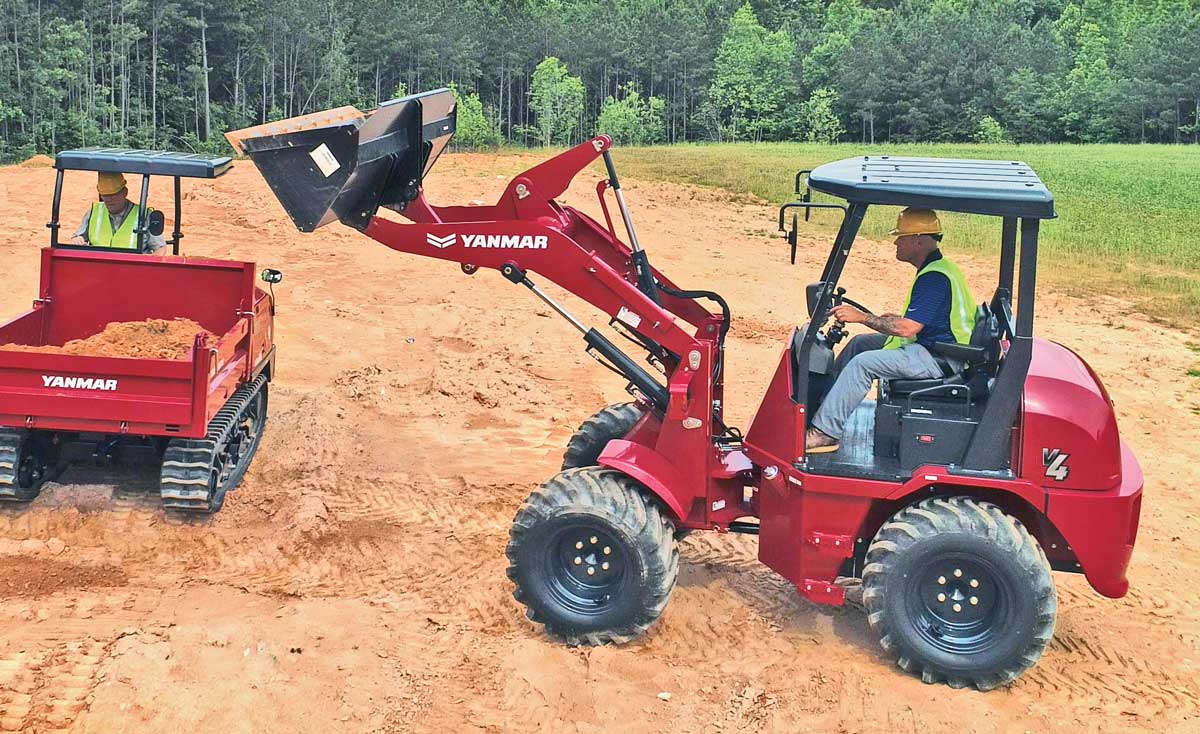 4. Examine Efficiency. When buying a wheel loader, scout out features that up the efficiency of the machine and your operations. One way to do that is through telematics. Hitachi says that having a machine equipped with telematics can help an operator keep track of maintenance needs and maximize uptime by simplifying the diagnosis process when there is an issue with the machine.
"Buyers need to ensure that the wheel loader being considered adheres to area emissions requirements and should evaluate how easy each unit is to perform routine maintenance," the company says. "They should also estimate their potential total cost of ownership and assess how well a manufacturer will be able to provide service, parts and support after the sale."
Another perk of compact wheel loaders is that they're designed to save on fuel expenses. Buyers should look at fuel efficiency functions, like the eco mode on the Yanmar V4-7, which effectively reduces the motor speed to allow for very low fuel consumption. Tier 4 engines are great for fuel efficiency by using less fuel to achieve higher horsepower levels and are now found on all new machines including those from Yanmar, Volvo, Hitachi, Takeuchi and Kubota.
Volvo's Ashton says that one emerging trend in compact wheel loader efficiency (and construction equipment as a whole) is sustainability — pushing machines toward being efficient while using less fuel and minimizing emissions. The company is exploring this with the development of electric machines, which includes the battery powered L25 Electric compact wheel loader.
"Outside of the push for electric, we've seen a lot of progress in lowering emissions in general with the wheel loader market," says Ashton. "For example, our L20H and L25H were added to the lineup a few years ago, and they are designed to meet emissions regulations while providing improved performance. They offer 5 percent greater fuel efficiency and 8 percent more horsepower than their predecessor models. With the increase in clean air regulations and growing pressure from project owners and the public to be more sustainable, our customers need solutions for working on tomorrow's jobsites."
5. Consider Dealer Support and Warranties. When buying a new piece of equipment, a dealer is your partner throughout the purchase and after. Therefore, be sure to select one that can support you while buying a compact wheel loader and is responsive and helpful throughout the life of the machine. This includes providing guidance on any maintenance or repairs, as well as supplying parts if needed.
Warranties are also important in protecting your investment. Buyers should look for a warranty program that covers all the most common parts compact wheel loader operators may encounter issues with. Yanmar offers a 3-year/3,000-hour warranty on all of its compact wheel loaders and Volvo's Lifetime Frame and Structure Warranty covers the frame, articulation joint and loader arm. Manufacturer warranties typically range between 1 to 3 years, but buyers can look into extended warranties.
"Depending on the type of work a contractor may be doing, they may also want to consider investing in an extended warranty," says Hitachi. "These types of warranties can vary greatly and include everything from extending the time and hours associated with a standard warranty to covering the costs of some preventative maintenance expenses. Many contractors choose to add an extended warranty package when financing to help reduce potential out-of-pocket maintenance expenses in the future."
Pam Kleineke is managing editor of Compact Equipment.
Want a Wheel Loader? Take a Look at These Options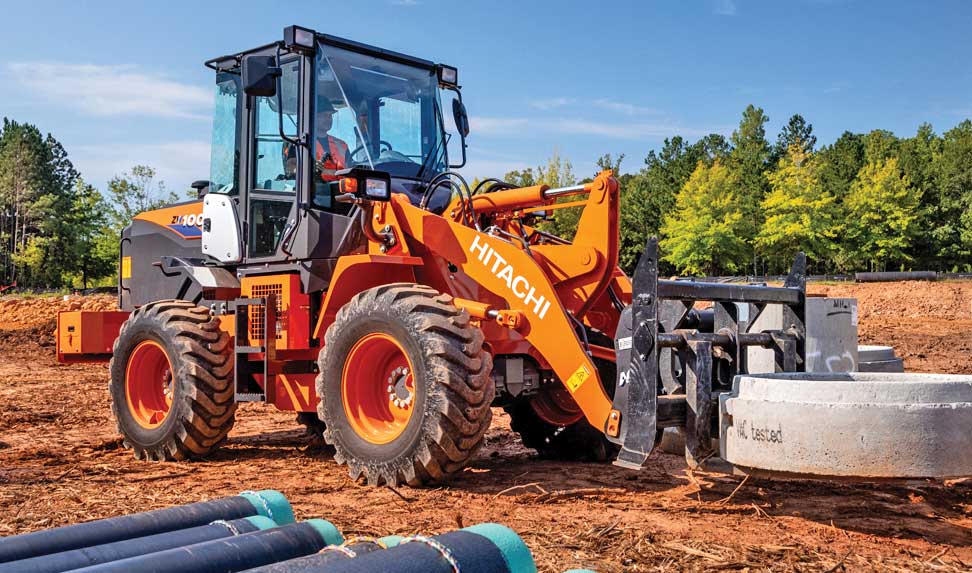 Hitachi's ZW100-6 Wheel Loader
The Hitachi ZW100-6 wheel loader is developed for use in landscaping, heavy construction, excavation, water, sewer and pipeline construction, highway and road construction and agricultural applications. The ZW100-6 is easy to maneuver and intuitive to the operator, thanks to its hydrostatic transmission control system, requiring minimal operator override for smooth operation. An oscillating rear axle gives this model more stability and traction, and its traction control system helps avoid tire slippage when working in sensitive ground conditions. The 360-degree panoramic visibility from the ZW100-6's cab creates a productive working environment, and an optional rearview camera also contributes to excellent all-round visibility.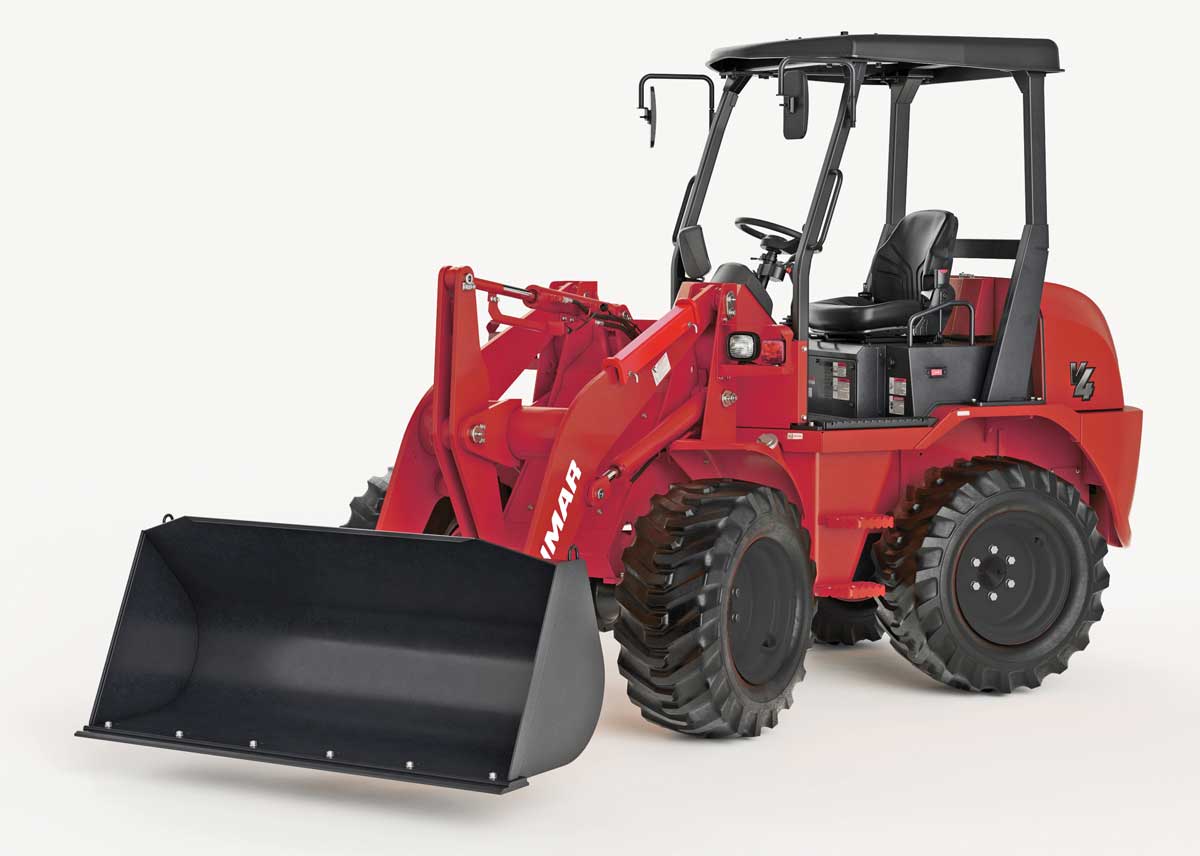 Yanmar's Wheel Loader Lineup
Yanmar Compact Equipment's compact wheel loaders are designed and built with the features of a thoroughbred and the capability of a workhorse. The overall lineup consists of the V4-7, V8, V10 and V12. All four models come standard with a 3-year/3,000-hour warranty, showcasing that legendary Yanmar reliability. Fully automatic accelerator mode, fixed travel speed mode and auxiliary hydraulics with proportional control improve ease of use. Yanmar compact wheel loaders are designed for ease of serviceability and operator comfort. Plus, Yanmar's SmartAssist Remote telematics on the V4-7 provides operators more control over their machines and is free for the first five years of ownership.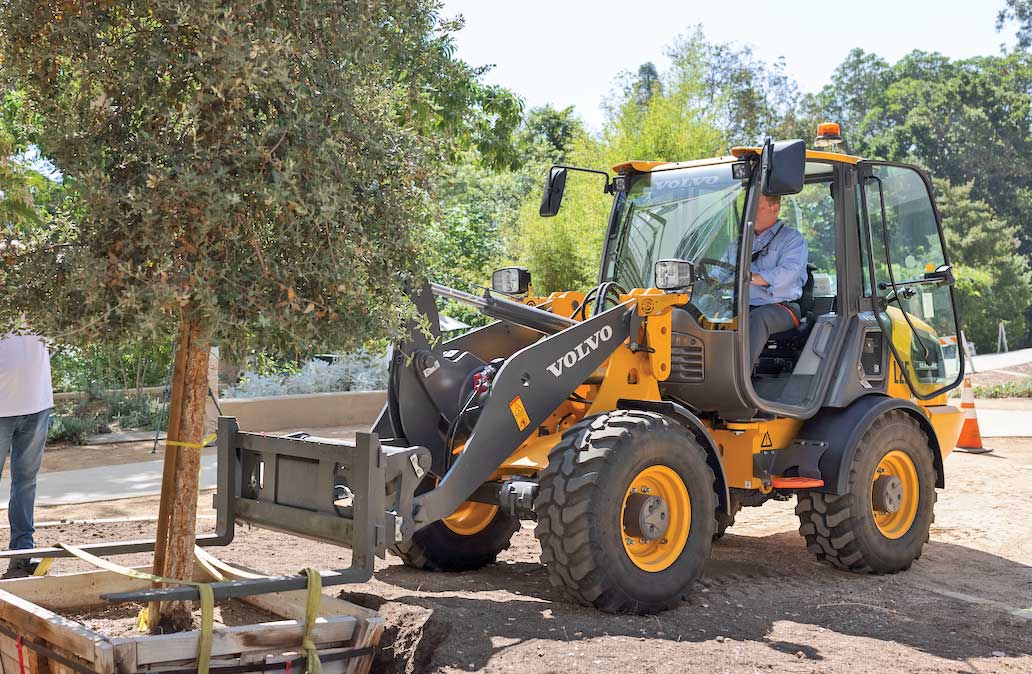 Volvo's L25 Electric Compact Wheel Loader
Volvo Construction Equipment's L25 Electric compact wheel loader offers significantly lower noise levels, reduced energy costs, improved efficiency and fewer maintenance requirements compared with its conventional counterparts. It uses lithium-ion batteries, which allow for four to six hours of operation in regular applications, including light infrastructure work, landscaping and agriculture. The L25 Electric also incorporates two dedicated electric motors — one for the drivetrain and one for the hydraulics. Prebooking of the L25 Electric compact wheel loader for North American customers is open for those who want to be among the first to own the machines when delivery begins in mid-2022.