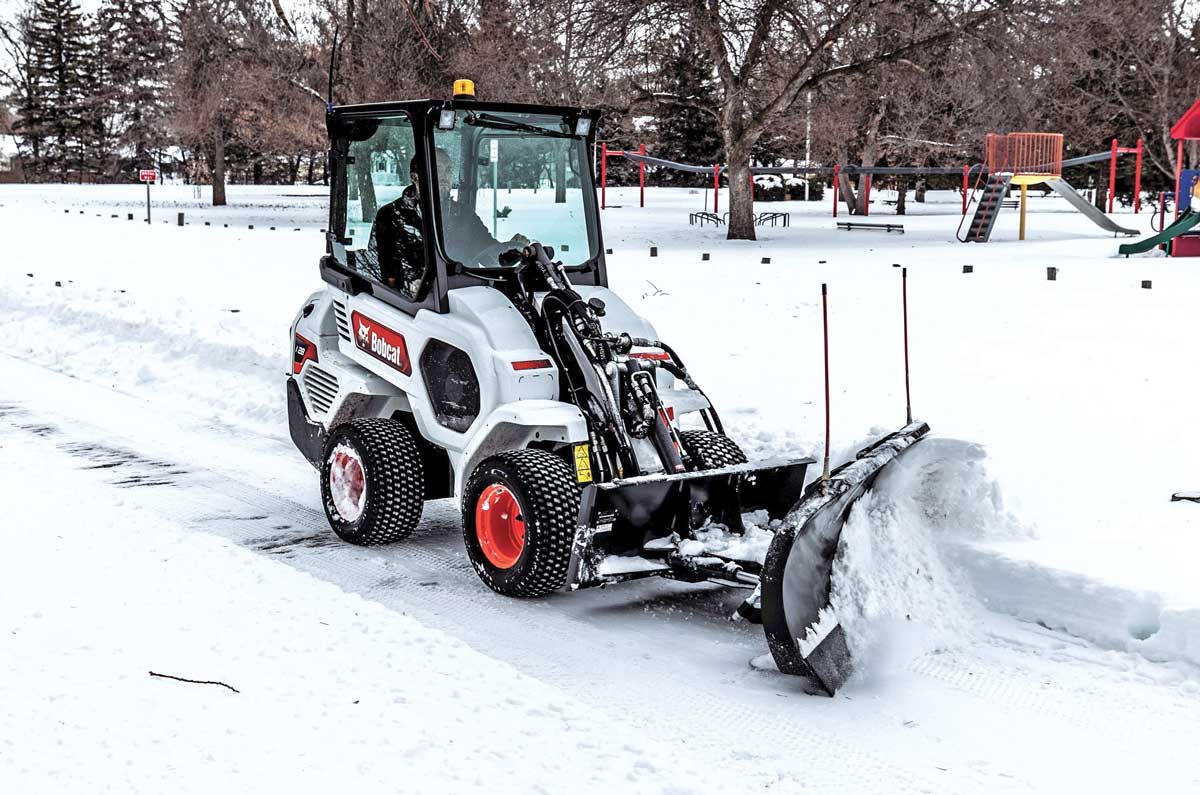 By design, small articulated loaders offer more unique capabilities than most other pieces of compact equipment including the unprecedented ability to leave minimal ground disturbance while providing relatively high rated operating capacity for their size. Most notably, their namesake central articulation joint provides maneuverability — Bobcat's L28 can articulate up to 43 degrees — allowing for a tight turning radius and ability to navigate around jobsite obstacles that fixed frame machines of the same size cannot. All in all, small articulated loaders are often underrated or even unidentified equipment solutions for compact areas or jobsites where turf or surface damage is a particular consideration.
With a light footprint, impressive lifting capability for their size and great maneuverability, you can see why this small loader becomes a fast favorite and go-to machine for operators on various jobsites. To prepare for the wear, tear and overtime you are sure to put on your small articulated loader, it is critical to implement a service plan. A variety of factors and best practices are needed to keep your small, but mighty, articulated loader running strong. Outside of having a day-to-day maintenance checklist, owners should think proactively about what longer-term maintenance intervals should entail.
Here's a look at how to thoroughly take care of your small articulated loader so it remains the VIP of your worksite.
Make Daily Walkarounds a Habit
New and seasoned operators alike sometimes neglect one of the easiest, most impactful maintenance considerations for their equipment — the daily walkaround. While it's important regardless of application, for operators working with various materials or in debris-ridden applications, taking a moment to perform a pre-work inspection can make the difference between having a productive day or making an expensive trip to the service shop. For a small articulated loader, here is what Bobcat recommends every 10 hours (before starting the machine):
Check operator interlock control system
Clean/replace filters (if needed)
Check indicators and lights
Check for damaged decals and safety treads, and replace any damaged or worn parts
Check fuel and oil levels
Lubricate grease fittings
Tighten any loose wheel nuts to correct torque
Check tire pressure, and inflate to maximum pressure shown on tire sidewall
Check engine cooling system
Ensure and Provide Proper Operator Training
Education is an important first step to keeping your crew safe and your equipment intact. For both new and seasoned operators, having formalized training and ongoing education should be considered a critical factor for supporting the longevity of your equipment. Training to properly operate the equipment is important, but how you train your crew on the ins and outs of routine service and maintenance is also significant.
Here Are Some Basic Training Aspects to Get Started:
All Bobcat equipment and attachments are supplied with safety signs, instructional decals and an Operation and Maintenance Manual that provide safety and instructional information vital for every operator to review and understand — don't disregard this information. Even if someone has been operating equipment for years, it's always important to know the details of the specific machine and attachment they're going to be operating.
Regularly meet as a team to review maintenance and training materials along with a hands-on learning component. This way, you attain consistency of information and expectations across all operators.
Plan for Hours-Based and Annual Service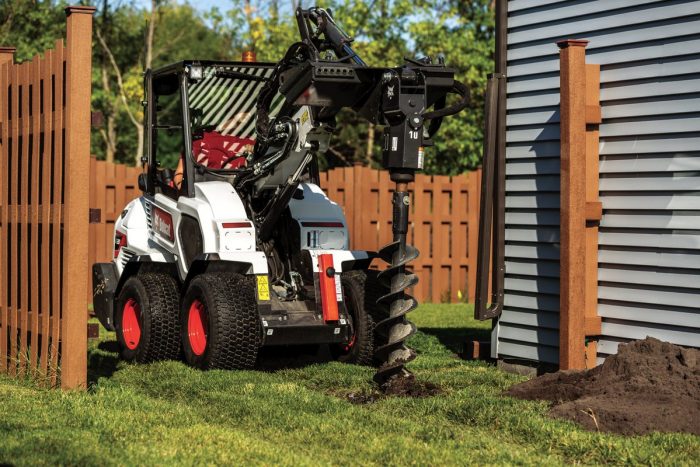 Intervals
In addition to daily maintenance checklist items, owners and operators should also pay attention to tasks that come up when the small articulated loader reaches 250, 500 and 1,000 hours (or every 12 months, whichever comes first):
250 hours:
Replace engine oil and fuel filters
Check and replace battery (if needed)
Check condition of drive belts (alternator and water pump)
Inspect and replace lift arm wear pads
500 hours:
Replace or change the engine air and hydraulic filter
Replace hydraulic reservoir breather cap
1,000 hours:
Drain and replace system coolant
Check and replace fuses
Replace hydraulic fluid
Adjust engine valve clearance
Use the Right Attachments for the Right Applications
Small articulated loader attachments range from general, all-purpose material-handling buckets to heavy-duty application specific or specialty attachments — like a stump grinder or log grapple. Some operators are surprised to learn that a small articulated loader can be fitted with a wide variety of attachments that can multiply their capability to serve different applications year-round, from trenching in summer to winter snow removal. In addition, it's notable that some small articulated loaders — like the Bobcat L28 — offer a telescoping lift arm, allowing select attachments to reach new heights — up to 104 in.
Each attachment will have carrier size and auxiliary flow spec requirements, which will ensure proper attachment to carrier model matching. Make sure each operator on your crew understands the logistics of the specific attachment operation and its approved capacity and use. Work with your local dealer to determine which attachment best fits your specific application and carrier model. Be open to their insight and work with them on identifying a solution that will best help you complete the job.
Have questions about protecting your crew during the current pandemic? Check out our COVID-19 microsite for more resources from cleaning equipment to wearing the proper PPE.
Pay Attention to Articulating Joints
The main design feature that sets a small articulated loader apart from other compact equipment is the articulation joint which allows for machine separation and offers especially tight turning radiuses. It's one of the reasons why a small articulated loader is so versatile and nimble in compact jobsites. The Bobcat small articulated loader offers an industry-first maintenance free joint, which doesn't require any grease and reduces time and effort when going through daily maintenance on the loader. Even without greasing, it is important to check wear in the articulation joint from time to time to ensure the pins and bushings aren't undergoing excessive wear.
Check the Machine's History
Whether you're looking at a small articulated loader on your dealer's lot, or one that's being sold by a prior owner, make sure you ask several questions about machine history and prior usage. You will want to know about any maintenance history or if there has been any service work done on the machine. Make sure to ask about common applications, prior maintenance intervals and warranty considerations. These maintenance records will give you the full story of the equipment because appearances can sometimes be misleading. If properly maintained, the unique capabilities of your small articulated loader will contribute significant ROI and profitability on your jobsites for years to come.
Sarah Peckskamp is the product marketing manager for Doosan Bobcat North America.
Tags:
Bobcat
,
Bobcat Co.
,
November December 2021 Print Issue