Why do certain models of compact wheel loaders outsell others in a manufacturer's lineup or in the overall market? The answer ranges from models offering market-leading performance to buyers changing direction in their preferences. It's a sort of dance — with compact wheel loader makers and buyers taking turns leading.
"The compact wheel loader world is evolving," says Scott Britton, Caterpillar wheel loader application specialist, "with customers demanding more and more out of the smaller machines. If someone had suggested to me that sealed, pressurized cabs would be a high priority in the compact market, I would have said that, clearly, they will remain an add-on. Now, everybody wants one. Really, it's the evolution of the customers that's driving us where we're headed."
For Cat, the model 908 is where customer traffic is flowing. The popular 7-ton machine comes configured with a 73-hp diesel engine, standard hydraulic flow, a 1.4-cu-yd general purpose bucket and a skid steer coupler. "The 908 really stands out as the shining star in our compact wheel loader segment," Britton says. "It has great hydraulic capacity and is right under the EPA horsepower requirement for diesel exhaust fluid [DEF]. Everyone wants more horsepower and more stability without the machine feeling heavy and sluggish. Horsepower per pound — the 908 shines in that space."
The core design of the 908 and other compact Cat models dates back a decade or more, which Britton says attests to the machines continuing to do what customers are asking them to do. "And we are constantly updating them. There were more software changes this year to further refine the machine's performance. So, if you ask how old the 908 is, the answer is somewhere between six months and 15 years."
Britton says a significant performance data point for Cat compact wheel loaders is cost of operation. "However long you are going to keep it, you want to know your machine's cost per load of material, your fuel burn cost and so on. We always come out ahead at less cost per hour."
New to the U.S. market are two Hitachi compact wheel loaders — the ZW50 and ZW80. The first is a 46-hp loader and the latter a 63-hp model. Both machines were introduced to North America this year. "However, they have been successfully offered in the domestic Japanese market for some time now," says Sam Shelton, North America marketing manager. The two models share top billing as most popular Hitachi compact model this sales year, their numbers virtually the same. Some landscapers — a big market for the machines — opt to have one of each, the larger for capacity, the smaller for maneuverability while others prefer one over the other. Why are the two models so popular?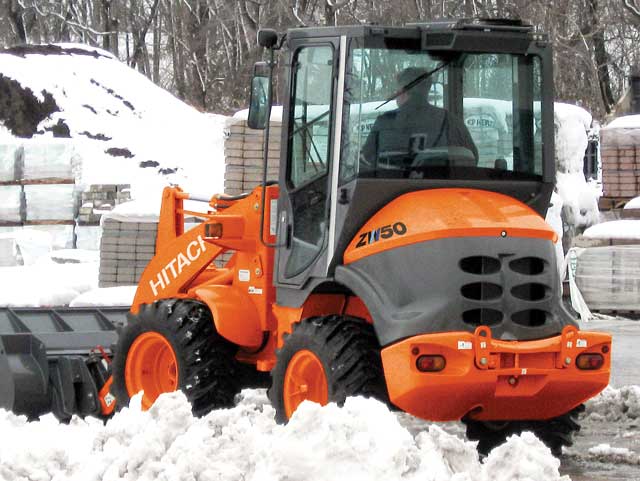 "Simplicity," says Brad Belvin, a Hitachi regional business manager. "Simple machine operation with minimal control settings. Too many settings tend to confuse operators. I always hear when visiting both customers and dealers how simple our machines are to operate. Operators can jump in the machine and get straight to work. This simplicity is something owners should appreciate even more as finding good, experienced operators seems to be a challenge."
Kubota has three compact wheel loader models — R430, R530 and R630 — with bucket capacities ranging from a .5 cu yds to 1 yd and horsepower starting at 47.6. The R430 is the newest, a higher-powered version of the R420 it replaced last year. The largest of the trio, the 64-hp R630, is the top seller and exclusively offers a feature that controls engine rpm and ground speed separately so the machine can "creep" at full power and fully utilize its auxiliary hydraulics. Jeff Jacobsmeyer, Kubota product manager for compact wheel loaders, says Kubota's lower-than-usual profile appeals to buyers, but reliability is the recurring reason buyers give for opting for Kubota over rival machines.
"Kubota reliability and engine performance are very high on the list of reasons for why customers choose Kubota," he says. "Sometimes they have previously owned Kubota products, or machines that have Kubota engines, and recognize the quality and longevity that is engineered into everything we build."
An interesting new feature in Kubota's lineup is the option to mount a backhoe on the smaller R430 loader. "The counterweight is designed for easy removal and the installation of a backhoe with the capability of digging 7 ft deep," Jacobsmeyer says. "For trenching, buckets up to 24 in. wide are available."
New Holland has three compact loaders: the 70-hp W80C HS (high-speed) and two versions of the 55-hp W50C. The W80C HS is "by far" the best-selling compact wheel loader in the lineup. It boasts a 14-ft lift height, which is important in some agriculture barnyard and field work, offers 34 gpm of high-flow hydraulics and has a fast travel speed of 21 mph. Because New Holland is an agriculture-focused brand, the ag sector is where most of its customers work, though it crosses over into material-handling, landscape, rental and construction markets too. The C Series of loaders is only five years old and attracts customers with high horsepower, good visibility, low center of gravity and easy access to maintenance points.
The newest feature introduced in the New Holland machines is electrohydraulic loader controls. "They have the same feel as hydraulic over hydraulic," says Joe Boufford, New Holland product marketing specialist for North America. "The operator has the ability to separately adjust the control response of the tilt and bucket functions between low, medium and high. For instance, they may choose to run a bucket with high responsiveness or switch to a fork where low or fine control is preferred."
As of January, John Deere offers five compact wheel loaders. Two models — 204L and 304L — are 7-ft-high and 8-ft-high machines designed for tight work areas, vertically and horizontally. The other three are 71-hp 244L and 324L and 103-hp 344L loaders (the 324L and 344L are available with a high-lift option). Deere declines to say which of the lower-horsepower models is the top seller. Grant Van Tine, Deere Construction and Forestry product marketing manager for compact wheel loaders, says part of the appeal of the 244L, 324L and 344L models is the machines' ease of steering. "The models come with the industry-exclusive Articulation Plus steering system that provides tighter turns and improved stability."
But other features plump up the appeal of the smaller loaders. "The 244L, 324L and 344L now offer smooth Auto Shift technology, which is a new offering for this size class," Van Tine says. The result is top transport speeds of 23 or 25 mph. Even as the market evolves, construction remains the biggest segment of compact wheel loader sales, though agriculture is close behind in popularity with an estimated 10 to 20 percent of the market. That's why manufacturers often preconfigure certain models with ag use in mind. The market is there and still growing.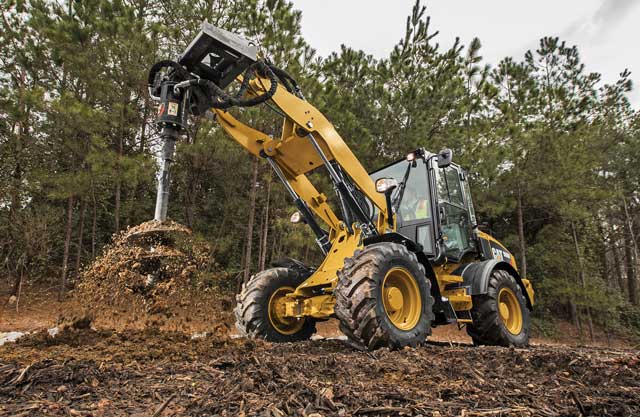 "We talk to a lot of hobby farmers," says Caterpillar's Britton, "and that's some of the conversation we have. The smaller livestock operations are crossing over into working with 500 head of cattle and need a dedicated loader, something bigger than a tractor loader. It frees up the tractor for other uses. Then there are the mega livestock operators and farmers who use our loader as a small utility machine. The loaders are so diversified in what you can do with them."
Giles Lambertson is a freelance writer for Compact Equipment.
---
Sharing Features Across the Lineup
Manufacturers that produce a full range of wheel loaders — compact, small and large — have different development and marketing schedules for each segment. Model changes are keyed to regulatory issues and market demands and, consequently, the segments more-or-less operate independently of each other. Yet machines are machines and sometimes what is good for one size loader is good for them all. Scott Britton, wheel loader specialist for Caterpillar, was asked if a pattern exists for the introduction of new features and models. Does change start with the larger models and move down across the lineup or vice versa?
"It really depends," he says. "Sometimes we really learn and borrow from our bigger brothers. If you go back to the 2009/10 time frame, our bigger loaders were required to meet emissions standards first. Some of the things we learned about engine emissions on the larger engines were incorporated as we came down the product line."
But that isn't always the pattern, he adds. "Some features have started low and small and gone up. Some have started high and come down. We borrow from each other. We are pretty integrated at Caterpillar." At John Deere, sharing winning features also is common. Furthermore, Grant Van Tine, product marketing manager for compact wheel loaders in the Deere Construction and Forestry division, notes that sharing also occurs within the compact segment.
"Features from the larger 344L cab were carried through to the smaller models, such as the 244L and 324L," he says. "The idea was to improve operator comfort when using a smaller compact wheel loader. This includes air-ride seats and a ride-control function, which have become more popular with operators." After all, operators of all sizes of wheel loaders should be made as comfortable as possible.
Daily Visual Checks
Prior to starting your compact wheel loader, do these quick visual checks every day.
Make sure the machine is free from debris in vital areas like the radiator, AC condenser and exhaust. If there is a large accumulation of debris, the operator should use compressed air or high-pressure water to remove the debris prior to operation.
Search for visible oil leaks.
If applicable, drain the fuel and water separator.
Look at tire pressure and condition. Punctures or gouges, metal showing or inadequate tread depths are all signs of poor tire condition.
All vital fluid levels should be checked and refilled if necessary, including engine oil, engine coolant, hydraulic oil, fuel and windshield washer fluid.
See if all driving and warning lights are functional.
Tags:
Cat
,
Caterpillar
,
Hitachi
,
home
,
Kubota
,
New Holland
,
September 2019 Print Issue