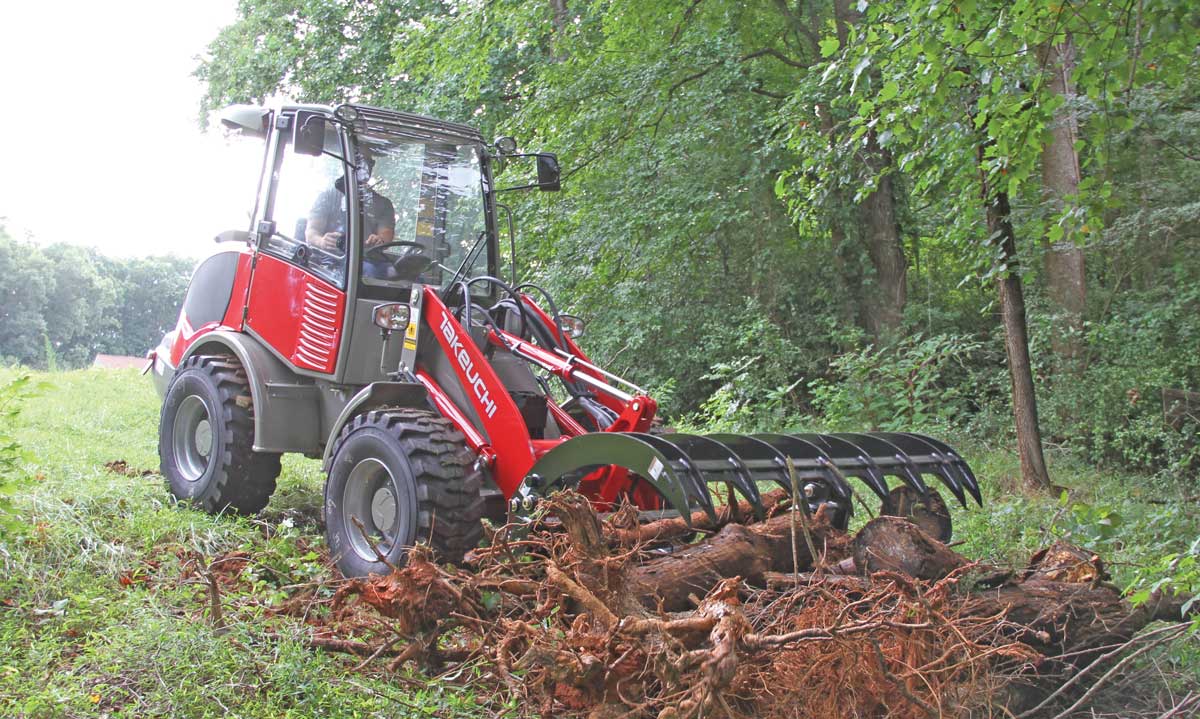 Now more than ever, it's important to save some money. With basic everyday items rising in price, it may seem impossible to purchase something big like a compact wheel loader without paying top dollar. But I'm here to tell you there's hope and finding a cost-effective model is possible. Before diving into money-saving tips, you'll first need to know what jobs you're doing and where because buying a machine beyond what you need will cost more in the end.
"When it comes to choosing a compact wheel loader, the key factors are your applications and your jobsite," says Lee Padgett, product manager at Takeuchi-US. "The application will drive the machine requirements, such as its lifting capability, rated operating capacity [ROC], hydraulic horsepower and available attachments. As far as the jobsite, you need to consider what type of surface you'll be working on, the distance you'll need to cover and the amount of space available to manipulate and turn the machine. Be sure to find a model that's the right size and speed for your application. How big is your worksite? Would having a faster wheel loader help you get more done, or is it not an issue? If you'll be working in a small area, having a model with high-speed road gear may not be worth the additional expenditure."
We all know that compact wheel loaders are a great addition to any fleet given their ability to move heavy loads in tight spaces while providing the operator with excellent visibility and high transport speeds. Thanks to attachments, they can complete many of the same tasks as a compact track loader or skid steer with higher ROCs and lift arm forces. All great stuff, huh? Now let's save some money on one.
Ways to Save
By nature, compact wheel loaders are cost-effective machines. They not only take on work that multiple machines may be used for, but they're also packed with features and technologies designed to save on fuel, tire and maintenance expenses. For example, compact wheel loaders are not operated at full throttle like a skid steer or compact track loader, making them more fuel efficient. Tier 4 engines also help with fuel savings.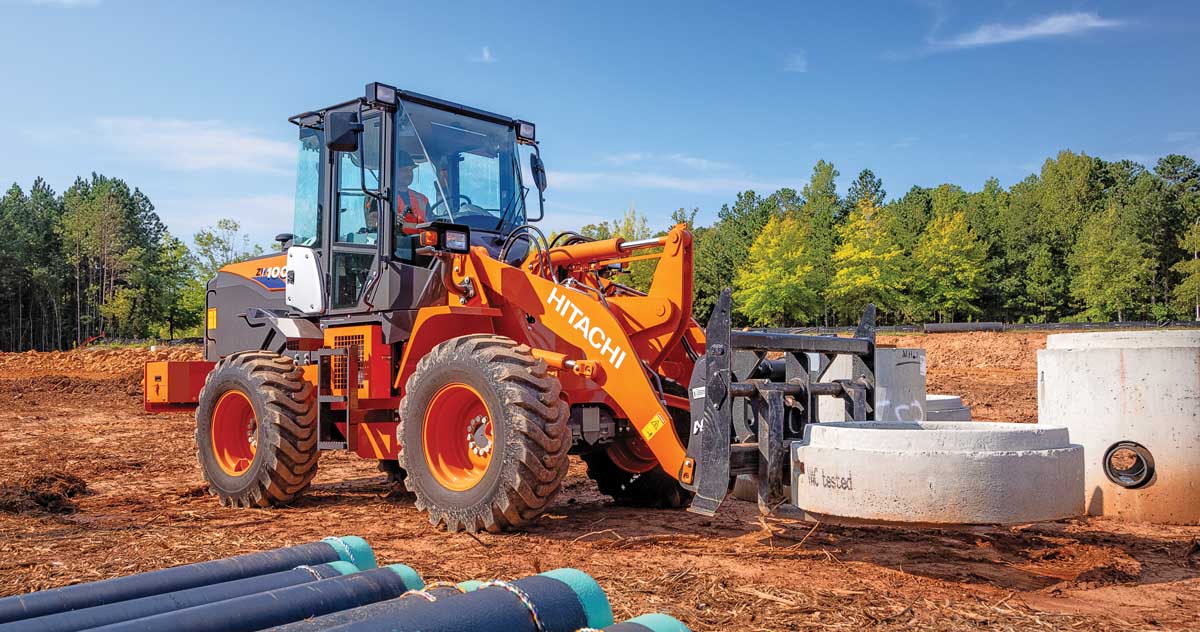 "With fuel prices continuing to escalate, fuel efficiency will continue to gain prominence," says Dustin Hoogeveen, regional business manager, Hitachi Construction Machinery Americas Inc. (HCMA). "Features such as Eco Mode and auto-idle shutdown can help contractors conserve this resource. The new Tier 4 Final-certified engine [in Hitachi's models] does not require a diesel particulate filter, which further reduces fuel consumption and maintenance costs."
Yanmar product manager Frank Gangi adds that the company's V4-7, V8 and V10 loaders are equipped with electronically controlled, Tier 4 Final Yanmar diesel engines, which not only offer outstanding power but also minimize fuel consumption.
When it comes to tires, Padgett mentions that compact wheel loaders experience less tire wear than a skid steer with its fixed wheels so it's usually not necessary to replace wheel loader tires as often. He says that skid steers must execute "spin turns," which means their tires endure more pressure and friction.
To better manage tire wear when working in pile or pushing, John Deere's 244L, 324L and 344L models come standard with a feature called rimpull control. Luke Gribble, solutions marketing manager at John Deere, says this rimpull allows an owner to control how much drivetrain torque is available at the wheels, thus limiting excess tire spinning.
"Our compact wheel loader lineup is also built with the industry-exclusive Articulation Plus steering system that provides tighter turns and improved stability," he adds. "It accomplishes this feat through a unique steering system design that allows 30 degrees of articulation with an additional 10 degrees of steering capabilities realized from the rear wheels."
Finding a machine with easy maintenance points is also important. Maintenance is vital to your compact wheel loader so making the tasks easier results in quicker upkeep and less time sidelined.
"Easy access filters and drains, ground level access to daily check points and a convenient maintenance chart are just a few items that come to mind in this category," says Gribble. "All of this means that customers can quickly and cleanly keep their equipment in good working conditions without cutting into their working hours, increasing uptime."
Hoogeveen notes Hitachi's easy maintenance.
"Daily maintenance is simplified with the wide-open engine cover and low-profile counterweight," he says. "The engine cover can be opened at a touch and held with a gas damper for quick inspection, replacement and replenishment. A side-by-side aluminum radiator and aluminum oil cooler provide easy access for maintenance and cleaning. The use of Hitachi oil-impregnated HN bushings extends the lubrication period to 500 hours on linkage pins."
Don't Skimp
Although saving money is important, potential buyers should also look at some must-have features that can increase efficiency. While some of those features may come at a price, they will help an operator save time and money in the long run.
Creature Comforts
We all know a comfortable operator is a productive one. I've typed out that phrase more times than I can count. Naturally, buyers shouldn't cut corners and should look for features that enhance operator comfort and reduce fatigue.
"Seating, control placement, access to the operator station and noise all influence operator comfort," says Hoogeveen. "The suspension seat, provided as standard equipment on Hitachi compact wheel loaders, absorbs shocks and vibration during operation, reducing operator fatigue and increasing operator comfort. Also, depending on the climate, opting for a cab with air conditioning might pay dividends in the long run."
Yanmar's Gangi says ease of entry and a smooth ride are also features you won't want to skimp on. He encourages buyers to look for compact wheel loader models with two doors allowing operators to easily get in and out on either side. They should also consider an oscillating rear axle, which provides smooth and comfortable off-road operation.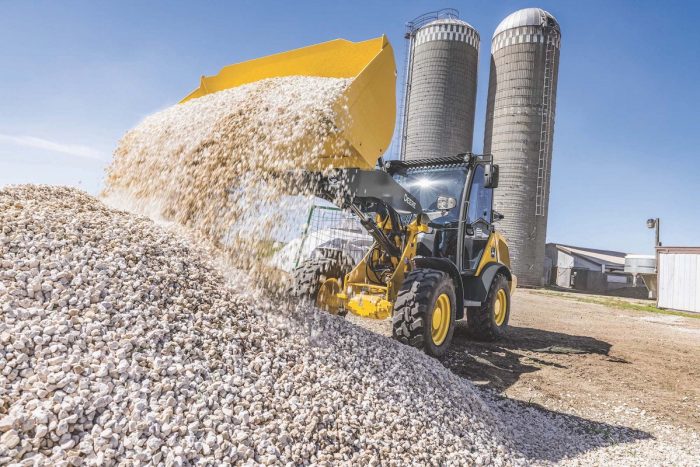 Speaking of smooth operation, Gribble points out John Deere's ride control as a way to increase operator comfort and machine production.
"Many productivity enhancing features and options come standard on John Deere compact loaders, but one item does stand out that price-conscious buyers should look at: Ride Control," says Gribble. "Ride control cushions boom movement during transport through the use of an accumulator that acts like a shock absorber. Ride control not only increases operator comfort but can also help increase productivity by minimizing material spillage from the bucket."
Attachments
A compact wheel loader's versatility is highlighted through its use of attachments, so a hydraulic coupler is something to definitely consider. This allows the machine to take on a variety of attachments and tackle a lot of different jobs.
"Hydraulic couplers might not seem like a necessary purchase if you don't plan to use one right away, but that doesn't mean you shouldn't get one from the start," says Gangi. "There's a growing selection of compact wheel loader attachments for a wide range of applications, and a hydraulic coupler allows you to quickly adapt to changing conditions and job types while minimizing downtime. Yanmar offers hydraulic couplers as an option on all compact wheel loaders."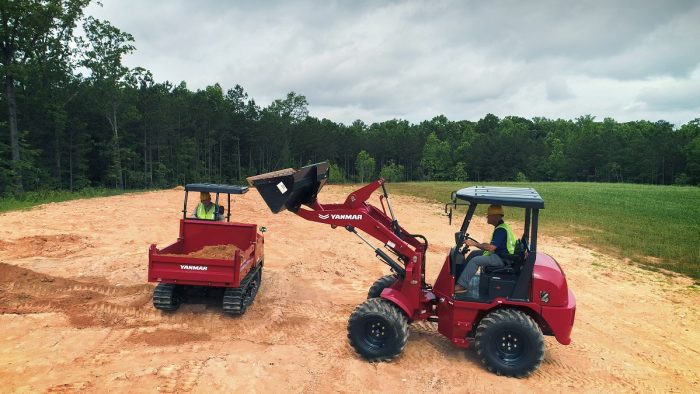 Padgett points out that Takeuchi's TW60 Series 2 compact wheel loaders feature a universal hydraulic skid steer coupler to utilize a wide range of skid steer attachments, making them incredibly versatile and able to handle more tasks. This allows buyers to "get more bang for their buck" with a single machine rather than having to invest in multiple machines.
"Compact wheel loaders can now be outfitted with tree spades for nursery work, power rakes for soil conditioning, mulchers or mowers for clearing large tracts of vegetation, trenchers for irrigation placement and hydraulic breakers/sheers/pulverizers for demolition," he says. "Snow blades, buckets and blowers are also attachment options that can greatly increase revenue, particularly for companies whose primary business takes place during the warmer months of the year."
Find a Support System
When buying a new piece of equipment, a dealer is your partner throughout the purchase and after. Therefore, be sure to select one that can support you while buying a compact wheel loader and is responsive and helpful throughout the life of the machine. This includes providing guidance on any maintenance or repairs, as well as supplying parts if needed.
"After sales support has a major influence on the total cost of ownership. This includes technical support, parts availability and extended warranty and service contracts," says Hoogeveen. "HCMA created the After Sales Solutions Program to ensure optimum efficiency with minimal downtime, reducing running costs and leading to high resale values."
Warranties are also important in protecting your investment. Buyers should look for a warranty program that covers all the most common parts compact wheel loader operators may encounter issues with.
"A compact wheel loader with a strong warranty is an indicator it's made to last," says Gangi. "For example, Yanmar offers a 3-year/3,000-hour warranty on all compact wheel loaders."
Pam Kleineke is managing editor of Compact Equipment.