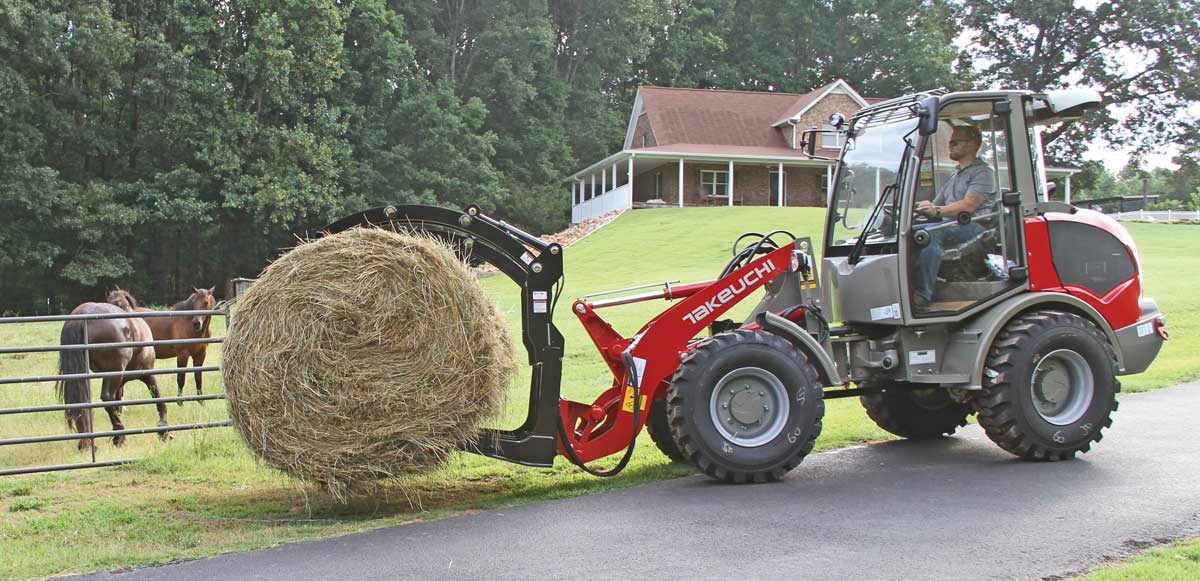 Compact wheel loaders have a great reputation among operators working in a variety of applications — from landscaping and general construction to site development and snow removal. These powerful machines can move heavy loads in tight spaces while providing the operator with excellent visibility and high transport speeds. They're also packed with features and technologies designed to save on fuel and tire expenses.
"When comparing a compact wheel loader to a machine like a skid steer, the horsepower offerings are similar yet typically compact wheel loaders come with larger capacity buckets and similar-to-greater rated operating capacities," says Ryan Ruhl, team lead, compact construction equipment training at John Deere. "What this means is compact wheel loaders are often more productive, which leads to better overall fuel efficiency per pass when compared to skid steer loaders in certain tasks. When considering tire wear, compact wheel loaders articulate to steer and navigate a jobsite. The articulation along with differential axles greatly reduce tire wear when compared to a skid steer."
Let's take a further look at how compact wheel loaders can cut costs on fuel and tires.
Fuel
Compact wheel loaders are designed to be efficient and provide an operator with the tools to achieve more in a shorter time — while also using less fuel in the process. For example, Lee Padgett, product manager for Takeuchi-US, says automation features like boom height kick out, return-to-dig and automatic bucket positioning can improve efficiency and performance.
"Generally, wheel loaders are not operated at full throttle like a compact track loader or skid steer loader, making wheel loaders more fuel efficient," he adds. "Furthermore, Tier 4 engines are also more fuel efficient because of how finely they are able to atomize their fuel. That means they require less fuel to achieve higher horsepower levels. Wheel loaders can feature optional high-speed road gear that allows them to travel more quickly across larger jobsites. That increases fuel economy by keeping the engine rpm lower at higher speeds, similar to how overdrive does for a car."
Speaking of Tier 4 engines and fuel efficiency, all three of Kubota's wheel loaders feature the company's Tier 4 engine.
"The new R540 and R640 wheel loaders feature a Kubota engine, hydrostatic transmission and a max speed of 12.4 mph. This allows operators to get the job done quicker and more efficiently — saving the owners time and money on the job," says Patrick Baker, Kubota construction equipment product manager.
Yanmar wheel loaders boast fuel-efficient, electronically controlled Tier 4 Final diesel engines that the company says maximize torque and minimize fuel use. Frank Gangi, Yanmar's product manager for compact wheel loaders and attachments, says the V4-7 wheel loader's ECO-mode effectively reduces the machine's motor speed to allow for very low fuel consumption. A large display also lets the operator see fuel consumption in real time.
Three of John Deere's compact wheel loaders — the 244L, 324L and 344L — incorporate a smooth shifting speed range gear box that allows the machine to shift between a low-speed, high-torque range to a top speed range (20 to 24 mph) automatically and seamlessly. Ruhl explains that the drive system allows the machine to downshift as the load increases without having to stop the machine — creating a very efficient operation.
Tires
Articulation is one of the most notable features of a compact wheel loader, giving the machine the ability to easily work in tight jobsites while protecting its tires.
"The articulating design of the machine helps reduce tire wear, allowing the tires to follow a smooth path," says Gangi. "The large tires allow them to roll over obstacles and debris better and reduce the likelihood of damage at the jobsite. It is important to note that both tire and fuel costs are highly impacted by how the operator uses the machine. For example, spinning the tires going into a pile, sharp turning at high speeds or static turning are more likely to accelerate wear and increase the chances of cuts on the tire."
Today's compact wheel loaders are packed with machine features and technologies that aid in tire longevity. For example, Gangi says that the Yanmar V8, V10 and V12 wheel loaders include automatic, limiting, self-locking differentials and rear oscillating axles to help maximize traction to reduce tire wear — while also providing the most power to the job at hand.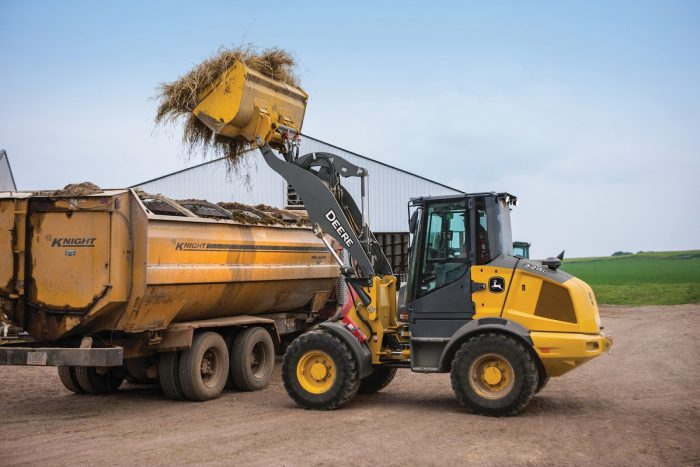 John Deere's 244L, 324L and 344L wheel loaders come standard with rimpull control to better manage tire wear when working in a pile or pushing. Ruhl says this feature allows an owner to control how much drivetrain torque is available at the wheels, thus limiting excess tire spinning.
Baker adds that Kubota wheel loaders feature premium tire options for long-lasting performance and a reduction in tire wear and tear, noting that articulated wheel loader tires do not "skid" on the ground as much, which means they do not wear as quickly as other types of tires.
"Selecting the right wheel loader tire can increase job productivity and tire longevity," he says. "Kubota wheel loaders feature radial tires. Radial tires have a number of key owner/operator benefits such as providing better surface traction and flotation, helping contribute to lower fuel consumption and helping lower the machine's total cost of ownership. Radial tires, as seen on Kubota wheel loaders, are ideal for wheel loader applications where traction, reduced tread wear and traveling distance are all factors."
What can we say? We love rental. So much so that we published a Digital Rental Guide covering everything you need to know when renting a machine. Check it out here!
John Deere's Ruhl points out that there are many tire options available on compact wheel loaders, but tire selection is easier once the terrain and tasks are identified.
"If the loader is primarily going to be used off-road [dirt, loose gravel, non-paved livestock yards, etc.] and needs traction to accomplish necessary tasks, a bar-style tire, like the Michelin XMCL, provides excellent traction and clean-out of tread," he says. "The downfall of a bar-style tread, when operating on hard surfaces [roadways] at high speeds, the operator may experience more vibration caused by the traction bars and accelerated wear of the tire."
Ruhl goes on to say that if the wheel loader is going to be used on hard surfaces, such as roadways, paved yards, etc., a more industrial tread — such as Mitas EM-01 or Firestone Duraforce — works very well.
"They provide a smooth ride while providing good horsepower to ground and long life," he says. "The industrial-style tread typically will lack traction in mud and snow. There are multi-terrain tires available that work well in all terrains, but they typically cost a bit more like the Michelin Bibload."
Pam Kleineke is managing editor of Compact Equipment.
Quick Tips: Manufacturers Offer Operational Advice to Up Fuel Efficiency and Protect Your Tires
Know Your Machine
The better the operator understands the wheel loader functions and features, the better chance the operator can take advantage of those features and functions to save time and money. Inexperienced operators are more likely to spin their wheels and have the tires improperly inflated resulting in a significant amount of unwarranted wear on the tires. — Patrick Baker, Kubota
Plan Ahead
Have a solid plan before starting your work. If you are loading trucks, look for the best area for loading and unloading. Avoid uneven terrain or slippery conditions that may hinder efficient operation. Always pick the best route with the fewest points of movement, using short forward and reverse travel movements and minimizing articulation. — Frank Gangi, Yanmar
Utilize Machine Features
Reducing wheel slippage, utilizing rimpull control and possibly differential lock when engaging the pile or load will extend the life of the tires. Compact wheel loaders are a two-foot operation. Operators who utilize both feet while operating and can maintain wheel slippage and throttle needs as loads change. This can also impact tire wear and conserve fuel. — Ryan Ruhl, John Deere
Pick the Right Tool
Choose the best attachment for your particular application. Sometimes, operators try using an attachment they have on hand or that's already attached to the machine, rather than one that is designed for a particular task to save time and money. In fact, the opposite can happen in that situation. Using the wrong attachment can cause additional stress on the machine, which leads to higher fuel consumption and tire wear. — Lee Padgett, Takeuchi-US
For reprint and licensing requests for this article, please click here.
Tags:
John Deere
,
Kubota
,
September 2021 Print Issue
,
Takeuchi-US
,
Yanmar