Compact wheel loaders are gaining popularity on more jobsites across North America, thanks to their comfort, maneuverability, visibility, efficiency and safety. Name any market, whether it's landscaping, agricultural, general construction or snow removal, and you can find a crew that could use a wheel loader. Let's take a look at seven models in the market.
John Deere
The new John Deere 184 G-tier compact wheel loader was designed for customers in need of a dependable machine to complete everyday tasks. This G-tier model is practically equipped, providing proven capabilities with the reliability and ruggedness customers expect from John Deere machines. The 184 G-tier compact wheel loader also offers lower maintenance costs without compromising on optimal performance. With convenience and productivity top of mind, this easy-to-operate model comes standard with a limited slip differential, which automatically engages if one wheel loses traction, providing enhanced safety for the operator and the machine. The optional ride-control feature helps navigating tough terrain, job site clean-up, and improves ride quality for the operator, which can also be set to engage and disengage at certain speeds.
Takeuchi-US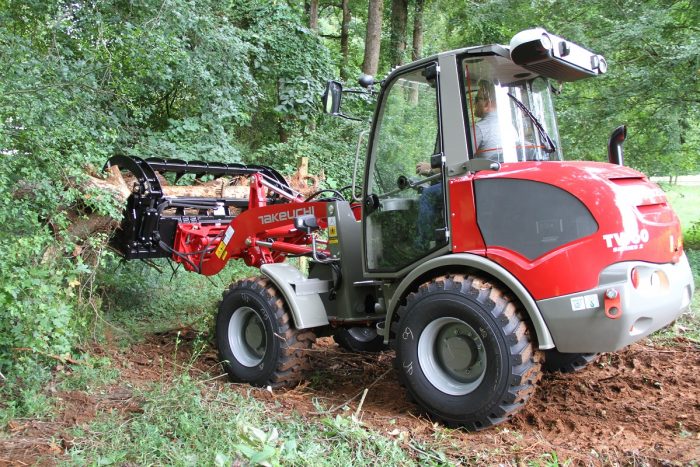 Compact and nimble, Takeuchi's TW60 Series 2 wheel loader is designed to handle a wide range of applications. Operators can use the machine's universal hydraulic skid steer coupler to connect with various Takeuchi attachments increasing its versatility. The TW60's quiet, turbo-charged, 61-hp Tier-4-Final engine delivers outstanding power and fuel efficiency. The machine's 100-percent differential lock can be engaged at low speeds on both the front and rear axles for outstanding traction even on the toughest terrains. A durable Z-bar loader linkage delivers powerful breakout forces and heavy-lifting capabilities, making the TW60 ideal for excavating and stockpile loading. An overhead-opening engine hood provides easy access to key maintenance points. Inside the cab, the multifunction dashboard keeps operators aware of machine performance and vitals, while a joystick with proportional thumb wheel for greater auxiliary hydraulic functionality controls all key loader and directional functions.
Caterpillar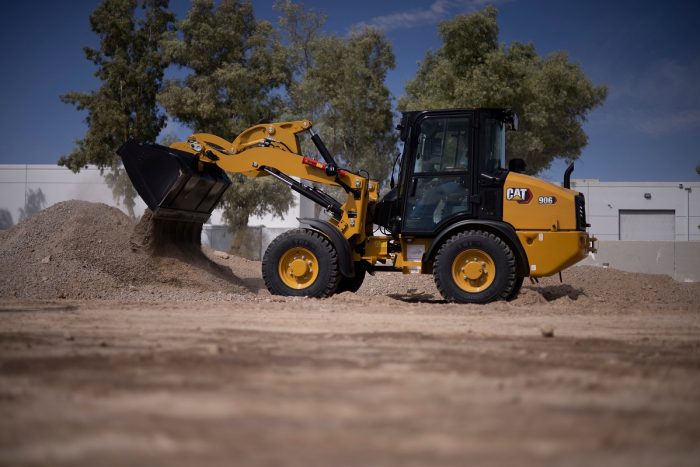 Building on the success of the Cat M-Series Compact Wheel Loaders, the new Next Generation Cat 906, 907 and 908 wheel loaders boast a reengineered operator's station, leveraging exclusive Cat technologies to improve operator experience and provide larger wheel loader model comfort on a smaller platform. Featuring the new Cat C2.8 engine, the upgraded drive and powertrain deliver faster roading speeds and drive train performance. The hydraulics and structures have gone through an overhaul, making these new models an optimal fit for many applications. The new sealed and pressurized cab improves the operator experience, while keeping previous design functional aspects like raised floor pedals and two doors to make cab cleaning easier. Optimum visibility is achieved with larger standard side mirrors, optional parabolic lens electric and heated mirrors, and front and rear camera options. New single-piece front and rear windshields offer 60 percent better wiper coverage.
Yanmar Compact Equipment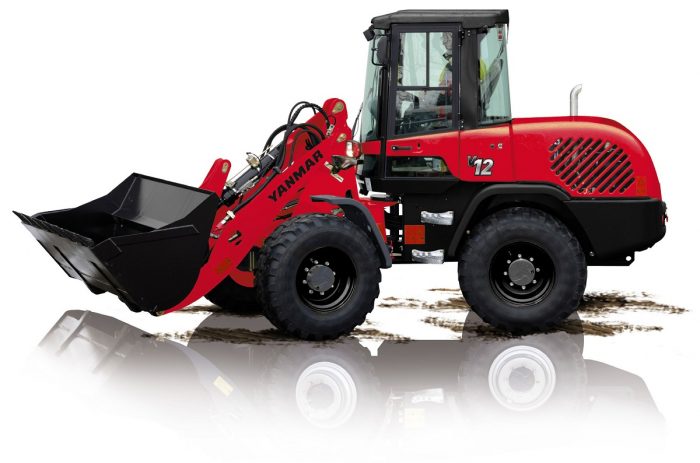 Yanmar Compact Equipment offers a line of reliable compact wheel loaders built for efficiency and ease of operation. The machines include comfort features across the line, including a comfortable, spacious cab and dual doors for easy entry from each side. Their combination of power, comfort and compactness make them ideal for applications that require fast travel speeds, high lift capacity and a small turning radius. The lineup includes the V4-7, V8, V10 and V12. All four models come with Yanmar's signature reliability standards and a 3-year/3,000-hour warranty. Yanmar Compact Equipment's wheel loaders are engineered for high performance in a compact package with operating weights ranging from 8,422 lbs to 15,432 lbs. The V4-7, V8 and V10 are equipped with electronically controlled, Tier 4 Final Yanmar diesel engines, which offer outstanding power with minimized fuel consumption. The V12 features a Deutz diesel engine that is also Tier 4 Final compliant.
Bobcat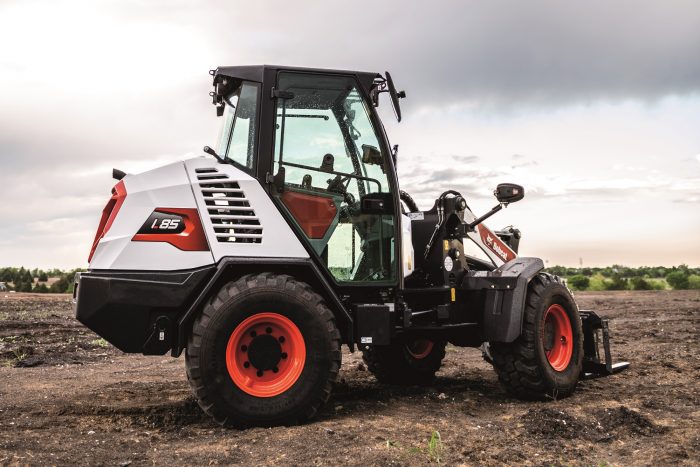 With a high bucket capacity, swift travel speeds and unmatched maneuverability, the all-new L65 and L85 compact wheel loaders from Bobcat deliver the performance to power through tough jobs with the legendary Bobcat versatility that helps owners get more use from their machine. Like Bobcat's lineup of industry-leading skid steer and compact track loaders, the new L65 and L85 compact wheel loaders offer owners and operators a multi-tool solution to complete a variety of projects. With their heavy lifting capacities and high lift height, Bobcat compact wheel loaders excel at lift-and-carry tasks in crowded work zones and other challenging environments. With standard bucket capacities of up to 1 cu yd, the L65 and L85 make fast work of tough material handling in landscaping, construction, agriculture and other industries.
Wacker Neuson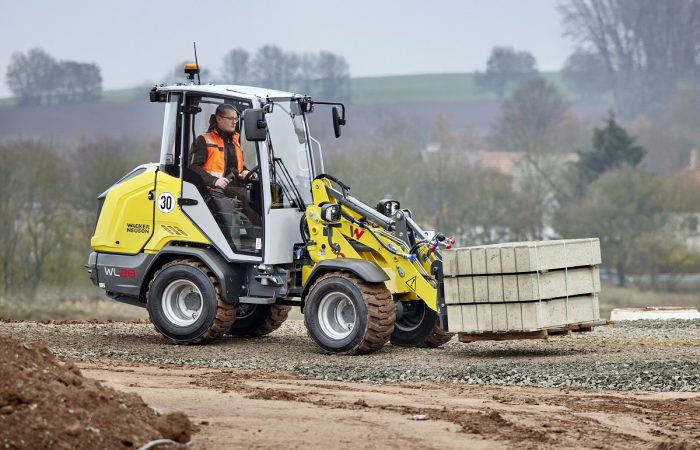 Wacker Neuson's new articulated wheel loader, the WL28, is a versatile material handling machine that is compact in size, but big on features. This 3-ton, 0.5-cu-yd loader is an excellent choice for construction, landscape and snow removal applications, the WL28 offers modern technology, superb visibility and a comfortable cab with a user-friendly control layout. The WL28 is making an impact in the global market for its ability to work efficiently in confined areas. The compact design includes minimized tail swing and optimized steering angle that allows the machine to be navigated in tight spaces such as residential areas, between cars in parking lots and in greenhouses and barns. Power and performance, combined with the compact design that includes excellent job site visibility, make the WL28 an ideal wheel loader for year-round applications. The Stage V Yanmar engine is available in two options, 45 hp and 54 hp.
Volvo CE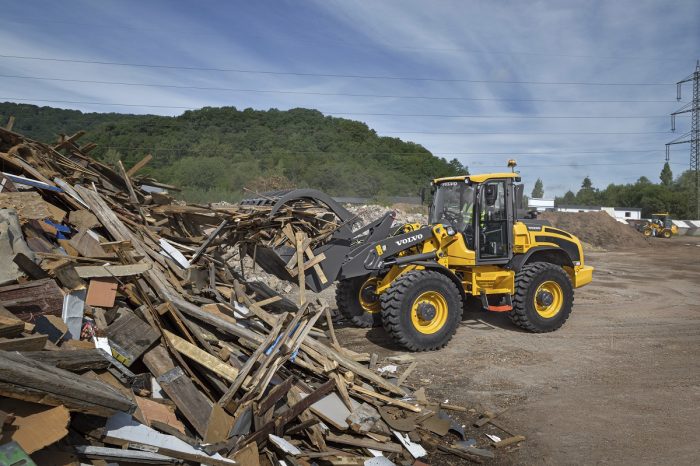 The Volvo Construction Equipment L50 compact wheel loader is built to reduce cycle times and lower operating costs without sacrificing an ounce of performance. Quality is built in, from the differential lock that transfers 100 percent power to all wheels, to the hydrostatic transmission that offers smooth speed increase. A high-speed driveline option offers speeds of up to 31 mph, allowing the loader to travel quickly between jobsites. Adding Volvo's advanced telematics, ActiveCare Direct, takes productivity up another level by providing the ability to spot utilization trends and make adjustments. The L50 is part of Volvo's CWL lineup that has received awards for its low cost of ownership thanks to outstanding uptime, easy maintenance and repairs, and impressive fuel efficiency. This 10-ton machine was also designed with the operator in mind, including ergonomic controls, a spacious cab and viscous dampers that isolate vibration and noise, reducing operator fatigue.
One of the best parts of small equipment is the variety of attachments. From buckets and breakers to mowers and plows, click here to see what's out there. Tags: Bobcat, Caterpillar, John Deere, Takeuchi-US, Volvo CE, Wacker Neuson, Yanmar Compact Equipment