Seven Models that Include Three Ag-Specific Units
Manufacturing of Caterpillar compact wheel loaders began with the introduction of the 910 model wheel loader in 1979 in Japan. Today, there are 15 compact wheel loader models manufactured by Caterpillar, with seven of those models offered in North America. The majority of these models are on the M-Series, and all models meet the U.S. EPA Tier 4 Final emissions requirements. Technology advancements have been the biggest change on these models. Items such as electro-hydraulic controls, which allow the operator to fine-tune the responsiveness of the machine, have made these machines more productive and efficient than ever before, says Cat.
The seven models currently offered in North America include the 903D, 906M, 907M, 908M, 910M, 914M and 918M. The 74-hp 906M, 907M and 908M size class represents the majority of the compact wheel loader industry and is one of the most popular compact categories in Germany due to its travel speed, versatility and low owning and operating cost. With options such as high speed, high flow and ground speed control (creep control), these machines can do just about anything.
Agricultural application specific models were introduced at the end of 2017, for the 906M, 907M and 908M size class. These Ag Handler models consist of standard equipment features such as high-speed transmissions, ag specific tires, an engine pre-cleaner and LED work lights.
The 903D model was released in 2018 with added features such as 25 percent increase in lift capacity and travel speed, ride control, a multi-function joystick and the ability to use a variety of hydro-mechanical attachments. The 903D is built to make the job easier. The fully opening rear hood allows easy access to the engine compartment featuring side-by-side coolers and transparent fuel/water separator with optional engine air precleaner and radiator screen for high debris applications. New rear tie-down locations under the machine allow for easier transport, while a new engine oil fill location allows for easier access during engine oil changes. Also new in 2018 was the introduction of several new options to the 918M model. New features such as a high lift linkage, fusion coupler, 20.5R25 tires and multiple guarding options to protect those critical components will make the 918M more versatile than ever.
The 100-hp 910M and 914M along with the 115-hp 918M are the newest models in the Cat compact wheel loader lineup. With features such as high lift, high flow (914M/918M), rearview camera and auto engine idle shutdown, these models are not only versatile but safe and fuel efficient as well.
Advice to Buyers
"Ensuring that you have the right features on your machine to maximize performance as well as comfort is key when buying or renting a wheel loader," says BJ Meier, Cat wheel loader product specialist. "In order to make this process easier, looks for application specific models. These models contain features best suited for applications such as high speed for getting from farm to field quickly."
[prettyPhoto title="Caterpillar Specs" link="https://compactequip.com/wp-content/uploads/2019/07/caterpillar-wheel-loader-specs.png" type="link" ]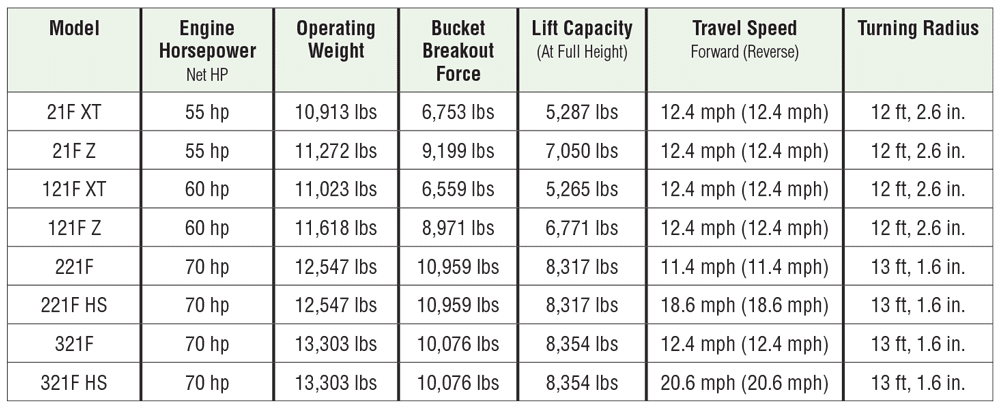 [/prettyPhoto]
Tags:
2019 Spec Guide
,
2019 Spec Guide- Wheel Loaders
,
Caterpillar
,
July/August Print Issue
,
Spec Guide 2019