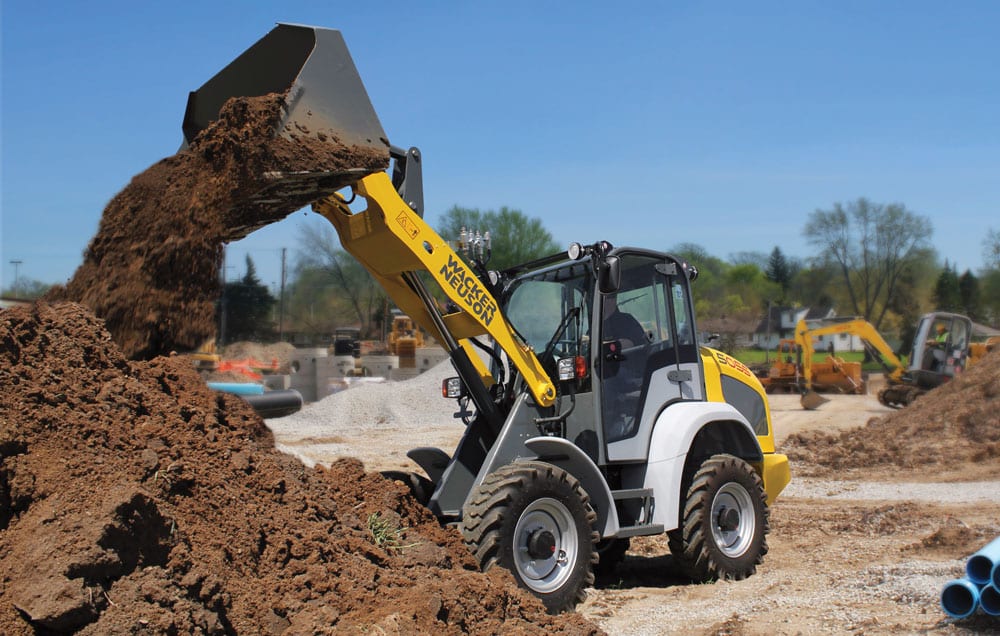 Buckets and compact wheel loaders are made for each other. Literally. Yes, grapples and forks can be affixed to the front end of wheel loaders, but they smack of hood ornaments on a VW bug. A bucket is the money-maker for a wheel loader. So, the real question is, which bucket?
The ready answer is a general-purpose bucket that is neither too deep, nor too shallow and is equipped with a bolt-on wear-resistant steel edge that can be turned around when the leading edge becomes dull. A good general purpose bucket either can be pinned to a machine's hydraulic arms or quick-attached with a coupler. It is ideal for rental fleets and will range in capacity from .5 cu yds on up.
After the general purpose version of a bucket, however, the choices become a little trickier. Going to dig into the ground? You need a bucket with teeth to engage the turf or rocky soil. Going to be scraping along a concrete surface to collect material or pushing the front edge of the bucket into mounded material to scoop out a load? A straight edge will do … but the shape of the bucket becomes a factor.
Wacker Neuson has shaped a bucket, for example, that specifically addresses the challenge of loading commercial fertilizer such as urea and potash. Fertilizer suppliers mound various bulk fertilizers in separate bays and wheel loaders repeatedly scoop and dump loads into a mixer to meet the chemical requirements of a particular customer. The problem comes in the slipperiness of the manufactured materials.
"Fertilizer is like picking up water," says Brent Coffey, Wacker Neuson's product manager for loaders. "It sloshes around and goes everywhere." To contain it and minimize spill, Wacker Neuson designed a custom-built bucket. "Once it rolls back, the bucket's angled edge is perfectly parallel with the ground. It is designed for our kinematics and sits flat and contains the material like the load area of a truck." To create the bucket, Wacker Neuson engineers worked with a leading attachment company to optimize the design to the specific demands of the fertilizer market. Coffey says the company tries to cater to the market by performing in-depth voice-of-customer sessions to ensure that the final product performs as the market intends.
Caterpillar actually patented its Performance Series wheel loader buckets, which feature flat floors, "open-throat" backs and rounded sides, all of which are designed to increase capacity and reduce spillage of materials. "This optimized shape is echoed across the general purpose, light material, sand and gravel and high-dump bucket families," says Amy Vincent, Cat work tools consultant. Vincent says all Cat buckets are designed in house.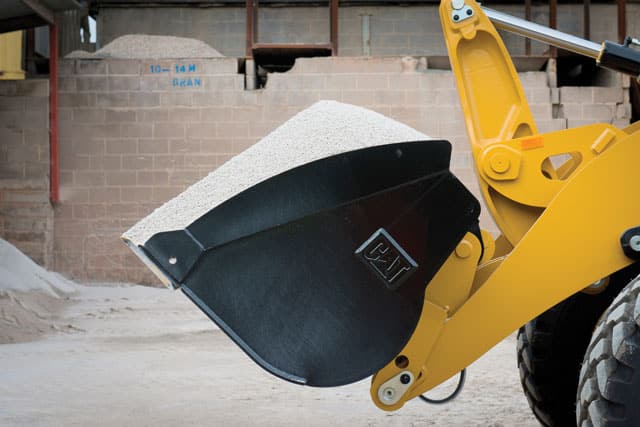 It should be noted that some bucket configurations are not especially relevant to smaller compact wheel loader applications. Massive spade nose buckets, for example, have toothy, protruding lower edges and reinforcement at critical points and usually are attached to 10-ton and larger loaders to dislodge heavy rock. Other buckets are specialized and infrequently attached to compact loaders, such as tree-scoop buckets sometimes employed in nurseries and side-dump buckets that are jacked left or right to spill material from an angled bucket side plate. Compact loaders more often utilize buckets with especially flat floors and straight edges at the rear to perform light grading or leveling tasks. Caterpillar incorporates the features into some of its general purpose buckets.
So, there is no shortage of bucket variations for compact loaders. We haven't even mentioned grapple and clam-shell models for coarser material or snow removal buckets that sometimes have screened upper backs for visibility. Spilled snow is of little consequence, after all: The stuff eventually melts.
Yet another variation — multi-purpose buckets, as opposed to general purpose buckets — are gaining popularity, according to Vincent. "They enable an operator to gain additional functionality out of one tool. They offer excellent versatility. They are ideal for handling, clamping, leveling and grasping irregularly shaped objects such as stumps and debris."
The Wacker Neuson 4-in-1 bucket functions as a scoop, grader, grapple and drag-leveler. Coffey says it is increasingly popular. "We see them growing rapidly in the skid steer and compact track loader market and expect to see the same for compact wheel loaders," he says. "And it isn't cheap. A general-purpose bucket is $1,000 or $1,200, but a 4-in-1 can cost three or four times more. People who use the value proposition in buying attachments find it way more practical to get a 4-in-1."
SDLG released the 74-hp L918F compact wheel loader in 2017, with a rated capacity of 4,000 lbs. The new model loader can be equipped with either an ISO skid steer coupler (with a 1.0 yd3 general purpose bucket) or an ISO compact loader coupler (with a 1.3 yd3 general purpose bucket). The choice of couplers enables end-users to select from a wide assortment of extra attachments. This is impressive, given that the L918F is available for the price of a large skid steer, but it also raises an important question for customers.
"When working in the compact loader range, you have two options," explains Nick Tullo, sales manager of SDLG North America. "You can either make your machine more versatile with skid steer attachments, or you can move up to an ISO compact wheel loader coupler for added lifting capacity, since the bigger coupler is stronger and can accommodate a larger bucket. The L918F enables end-users to go either route, but not all machines offer this versatility, so customers need to find out which couplers are available when choosing a machine."
Another factor in selecting a compact loader bucket is dimensions. Obviously, the lighter the material to be loaded, the larger a bucket can be employed. "We size our compact loader buckets the same way we do our larger loader buckets," says Sam Shelton, marketing manager for Hitachi Loaders America. "There is a rated or target payload that the machine is designed to handle. That determines what the bucket size should be based on the material being handled." Shelton offers a formula for calculating appropriate bucket size according to bucket capacity: Divide a rated load by material density.
Wacker Neuson has created a guide for its buckets to help shoppers match a bucket to a compact machine. Coffey says buyers should pay attention to it. "You can take a loader and stand it on its nose because you have too much bucket. You can't even back it up." He adds that a lot of people don't consider the weight of the bucket itself in calculating what a compact wheel loader can lift. That's a mistake. Coffey has seen a compact loader designed to use a 1.5-cu-yd bucket fitted with a 3-yd bucket. "The bucket was about as big as the machine, but what it was carrying didn't really weigh anything."
After properly fitting a bucket to a loader, manufacturers suggest operators follow some reasonable operating guidelines. Shelton observes that digging shot rock, loading out of a loose stockpile and dozing are different tasks calling for different techniques. "The main problem with dozing is that you cannot have the bucket fully rolled forward, or you can damage the linkage." She also notes that a compact loader is designed for cycling operations, not constant load work such as "long dozing pushes. Care should be taken not to overheat the machine."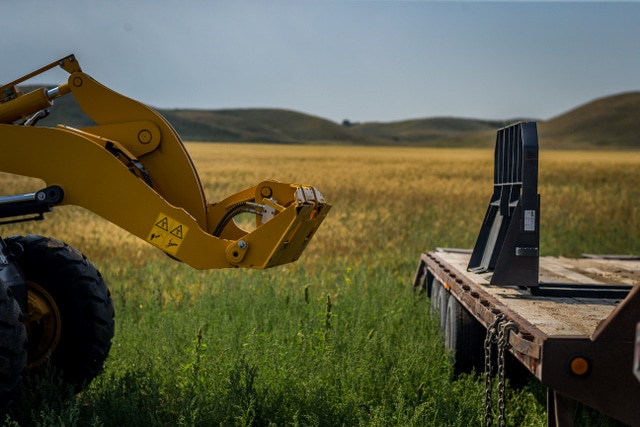 The usual procedure of loading a trailer or truck from the middle out can cause problems for an operator because of sight limitations, especially when a bucket has a long floor. After dumping material, Coffey says an operator should consciously roll a long-floored bucket back up into scooping position before starting to back away. If not, the still-vertical floor of the long bucket will bang into the side of the trailer or truck. That is, at the very least, embarrassing.
Caution should be the watchword when scraping or dozing paved surfaces with a bucket, according to Coffey. This is especially true in regard to speed. Low-profile obstructions in the path of a speeding bucket can rudely awaken an operator. "The general practice," says Coffey, "is to move along as quickly as possible to get the job done. There is no rule of thumb on appropriate speed, so people learn the hard way. You can tell something about an operator by how many grease spots are on the windshield where his forehead hit it."
Giles Lambertson is a freelance writer for Compact Equipment.
Kawasaki vs. Hitachi Buckets?
If you own a Kawasaki compact wheel loader, you might ask if a new bucket from Hitachi Loaders America will fit your older machine. There are two answers to that question: "Yes" and "soon." If the twin answers wedge some uncertainty into your mind, relax. The confusion is a consequence of an ownership change involving Hitachi Construction Machinery and Kawasaki Construction Machinery. In 2010, the two companies entered a joint venture to further develop wheel loader products. Six years later, Hitachi bought out Kawasaki. This year, Hitachi Loaders America will formally enter the North American market with its branded compact wheel loader line. Soon.
"The Hitachi brand compacts have not yet made it to the USA," says Sam Shelton, marketing manager for Hitachi Loaders America. She adds, "As a matter of fact, the new Hitachi brand compacts haven't been introduced anywhere else in the world."
A quick visit to their website (hitachicm.us/USAProducts.aspx) reveals the specifications and a quick glimpse of what is to come. But back to the original question: Can that ZW50 bucket be coupled to its counterpart in the Kawasaki line, the 42ZV-2? Yes, it can, Shelton confirms. "KCM buckets are interchangeable with the Hitachi loaders."
Didn't get enough compact wheel loaders? We have you covered here.