John Deere
Maureen McCormack, Go-To-Market Manager for Gator Utility Vehicles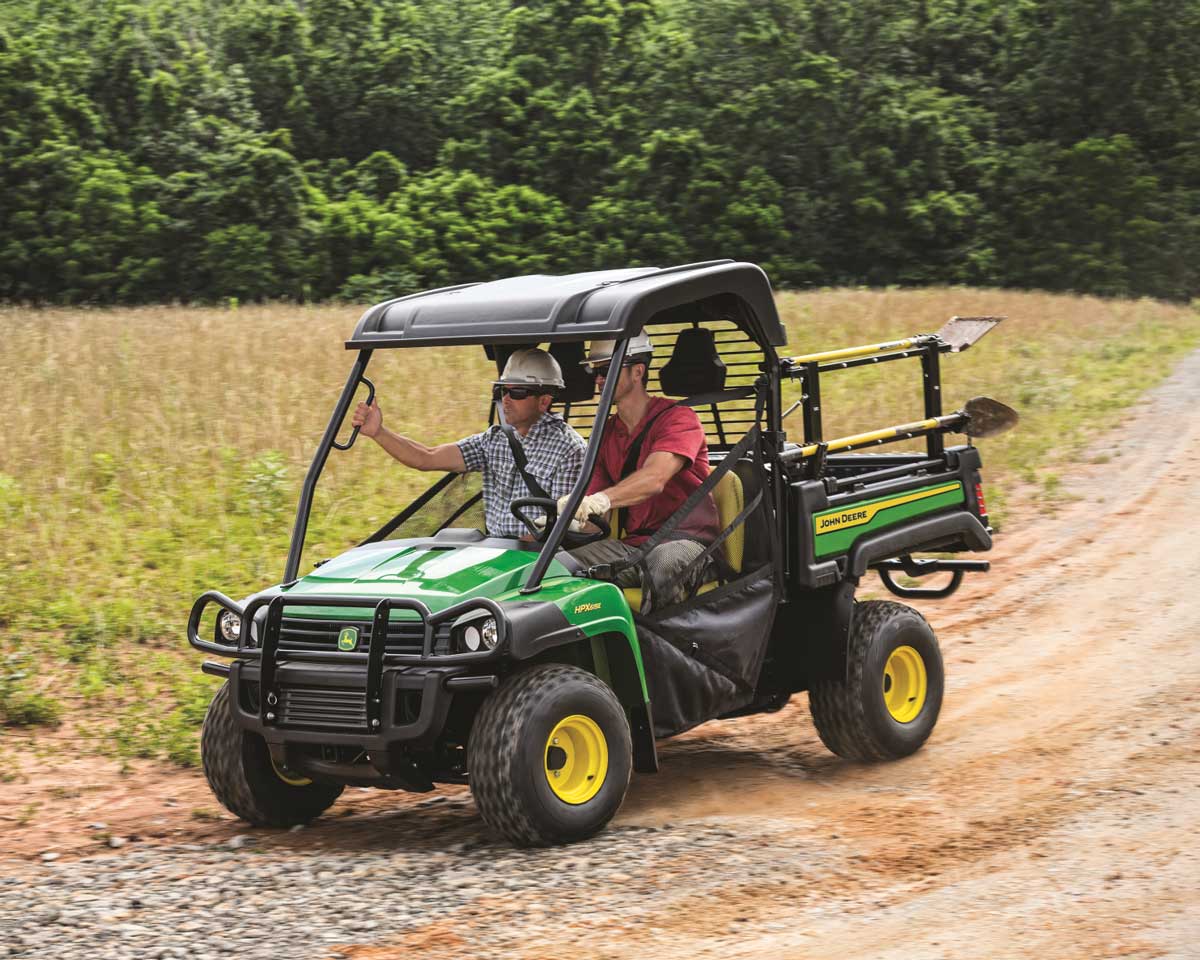 Advice: The versality of a UTV is its greatest value. It is that element that makes them so popular and continues to fuel demand across the construction industry. Construction professionals and other contractors want UTVs that are easier to operate and provide more automotive-like features such as instant engagement of four-wheel drive, enhanced digital displays and power steering. A UTV is a smart, more affordable substitution for larger vehicles that may be used on a jobsite. They are also strong and durable with large payload, towing and cargo capacities so crews can easily transport any tools and materials needed for the job, regardless of climate. From enhanced maneuverability to transporting crew members, equipment and materials, UTVs have the ability to increase efficiency and maximize productivity.
Product Spotlight: The diesel-powered Gator HPX815E model is equipped with heavy-duty suspension, delivering versatile hauling capabilities. The HPX815E was updated to offer integrated park position, improved shift pattern and instant four-wheel drive, providing more control when going downhill. The deluxe cargo box features removable sides and tailgate and is designed to last with durable composite construction that makes it resistant to dent, rattle and rust. The HPX815E can handle up to 16.4 cu ft in cargo volume, as well as a 1,000-lb cargo capacity, 1,300-lb towing capacity and 1,400-lb payload capacity.
Kubota
Jacob Mandoza, Sr. Manager, Product — RTV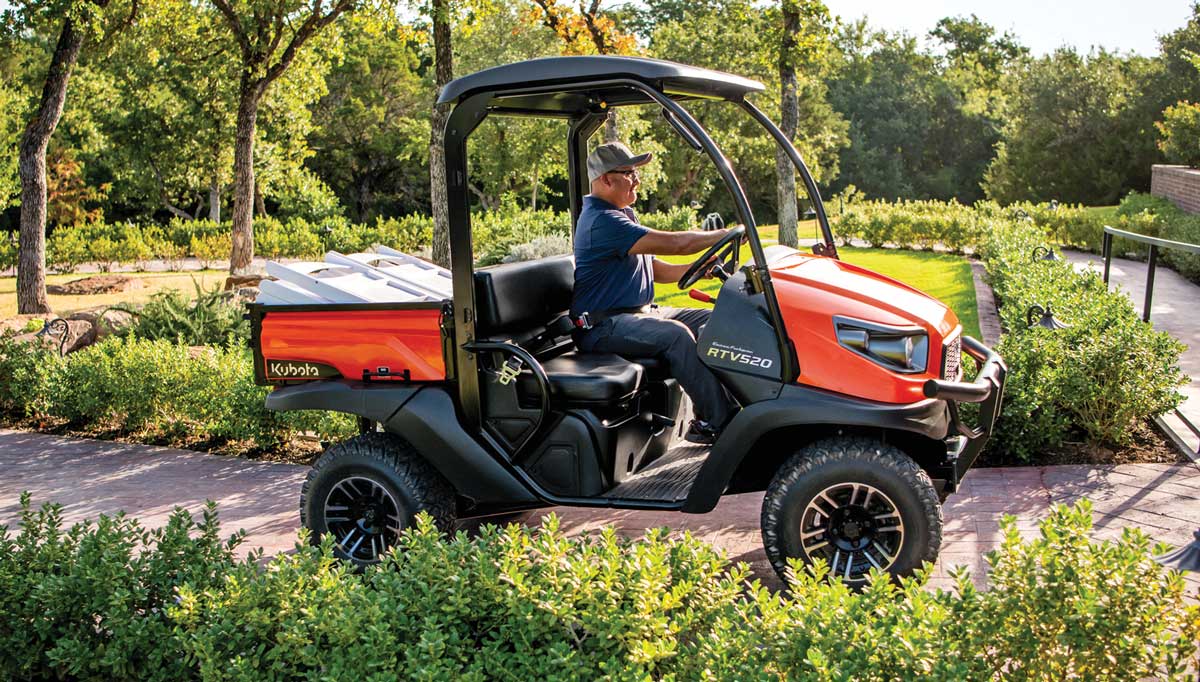 Advice: The first thing to consider when purchasing a UTV is what you will primarily use the unit for. If you are transporting along a road or driving miles between worksites, speed should be on your mind. On most worksites and fields, customers generally recommend a max speed of 20 mph, due to safety concerns. Commercial applications often request speed limiters for vehicles that can achieve a greater top end speed. While horsepower is important, other specifications like payload, towing capacity and cargo volume are also important to consider. To ensure the vehicle suits your needs, understanding how you'll use it primarily is necessary — more so than horsepower alone. Then, determine which vehicle has the right specs for the way you will use it.
Product Spotlight: Kubota updated its RTV lineup with the launch of the gas-powered RTV520 with a new look and updated features. The new RTV520 features a more powerful two-cylinder Kubota liquid-cooled EFI engine that provides more than 17 hp and gives instant power with greater throttle control. Equipped with a variable hydrostatic transmission that provides exceptional performance on any terrain, the RTV520 offers a smooth driving experience at low speeds, and dynamic braking allows for one-pedal operation, making jobs that require frequent stops easier. Offered in general purpose and deluxe configurations, the RTV520 is available now at Kubota dealerships nationwide.
Kioti
Joel Hicks, Product Development Manager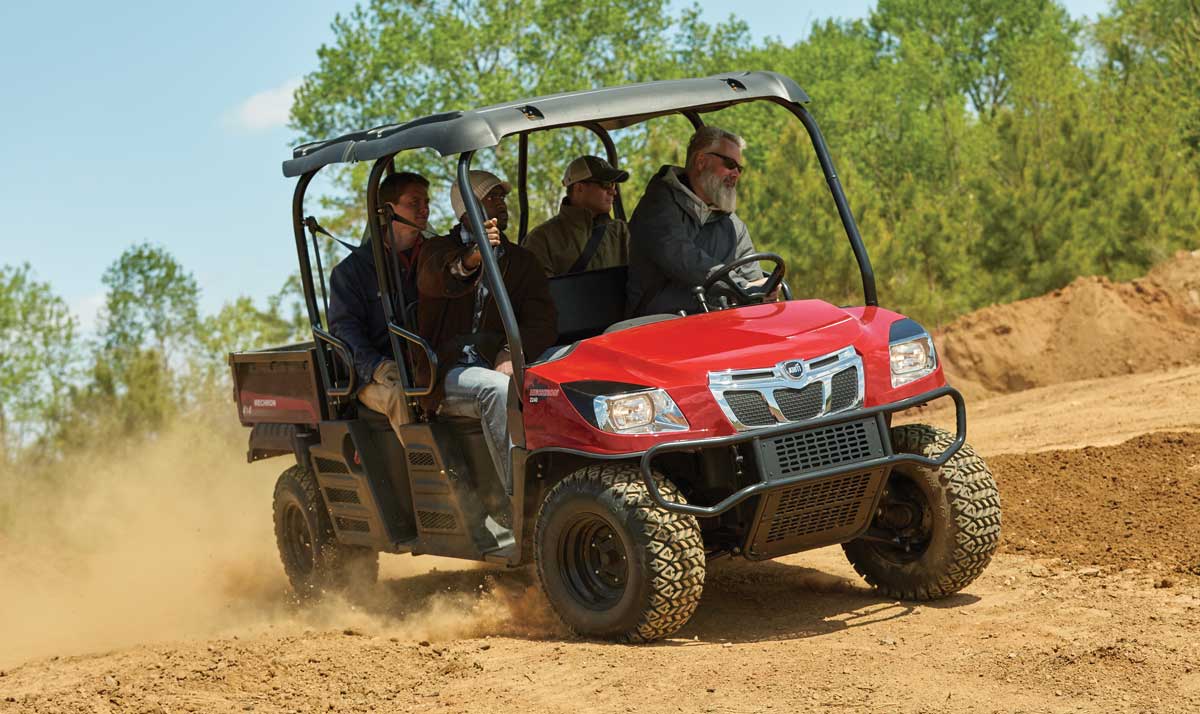 Advice: When it comes to UTV maintenance — or the maintenance of any outdoor power equipment, for that matter — your dealer is always your best resource. Be sure to consult your owner's manual first and seek out your dealer's advice if you are unsure about any aspects of your UTV's maintenance routine. Their knowledge of your product and personalized guidance will be hard to beat. Additionally, when considering what UTV is best for you and your business, think first and foremost about the type of tasks you plan to use it for. Talk to your dealer about what you anticipate on the jobsite — activities, hours of use, specialized landscapes you may encounter — and he or she can steer you in the right direction.
Product Spotlight: With standard four-wheel drive and a 22-hp, three-cylinder Daedong diesel engine, all three Mechron utility vehicles offer an unmatched combination of power and agility to tackle the toughest jobs. More than 55 in. of cargo bed space allow for over 1,100 lbs of bed capacity, making these UTVs the perfect vehicles for all types of tasks. The 12 in. of ground clearance offers precise maneuverability in most environments. With field cab add-ons available for the 2200 and two-row bench seating on the 2240 model, operators can choose the level of comfort and convenience that best suits their needs.
Polaris Commercial
Nick Snidarich, Product Manager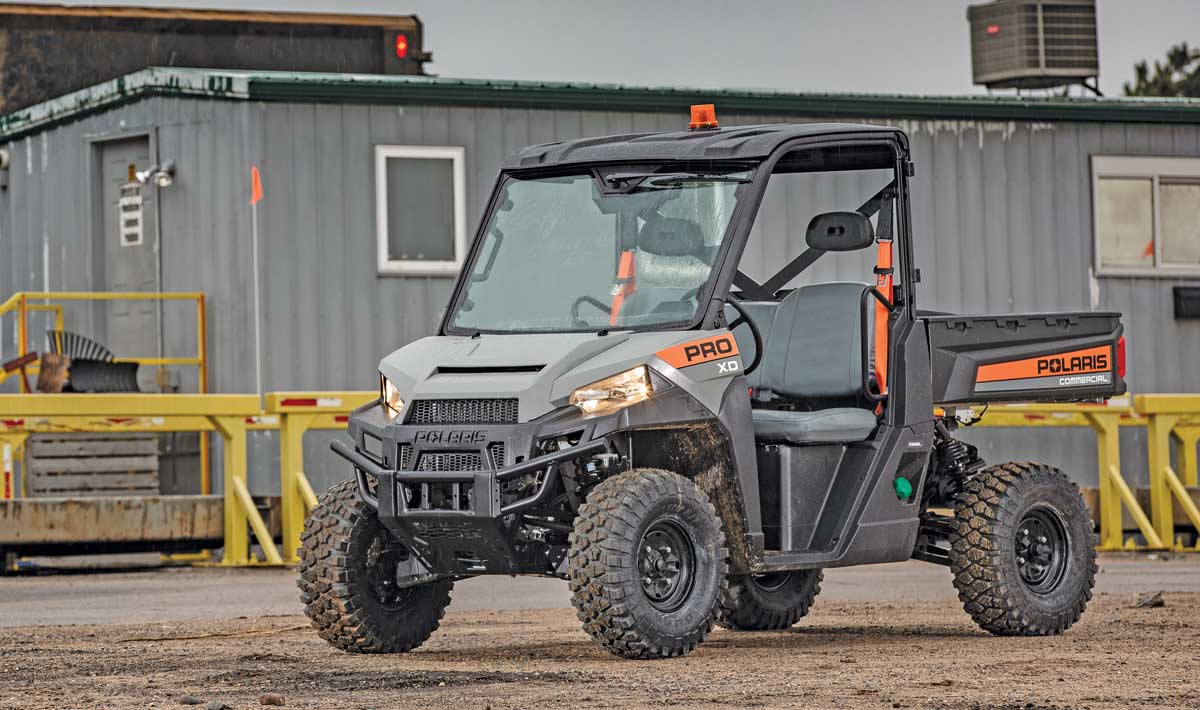 Advice: Understand how you will use the vehicle. Can it replace pickup trucks or vans? What are your driving factors? Most customers tell us safety, productivity and overall total cost of ownership are top of mind — and anyone buying a UTV for work should look for those features because not all UTVs are created equal. An extensive accessory portfolio is important too so your UTV can be tailored to the job. Accessories include a full cab with heat and ventilation for year-round comfort and maximum performance. Work doesn't stop for inclement weather, so make sure your utility vehicle works when you do. Can it be multi-purpose? Can you attach a plow? Will the cargo bed fit a pallet? Can you tow a trailer?
Product Spotlight: The Polaris Pro XD is the best work UTV in the market and committed solely to the commercial space. Utility vehicles designed for the jobsite, like the Pro XD, are compact, purpose-built machines to move people and equipment off-road, over the curb or on hard pack terrain where other vehicles don't fit and aren't designed for. The Pro XD provides cost benefits to buy, operate and maintain over pickup trucks, and it provides best-in-class durability, safety and serviceability. With the industry's largest accessory catalog, it can be customized for every job in any climate.
Bobcat
Angie Ryan, Marketing Manager – Doosan Bobcat North America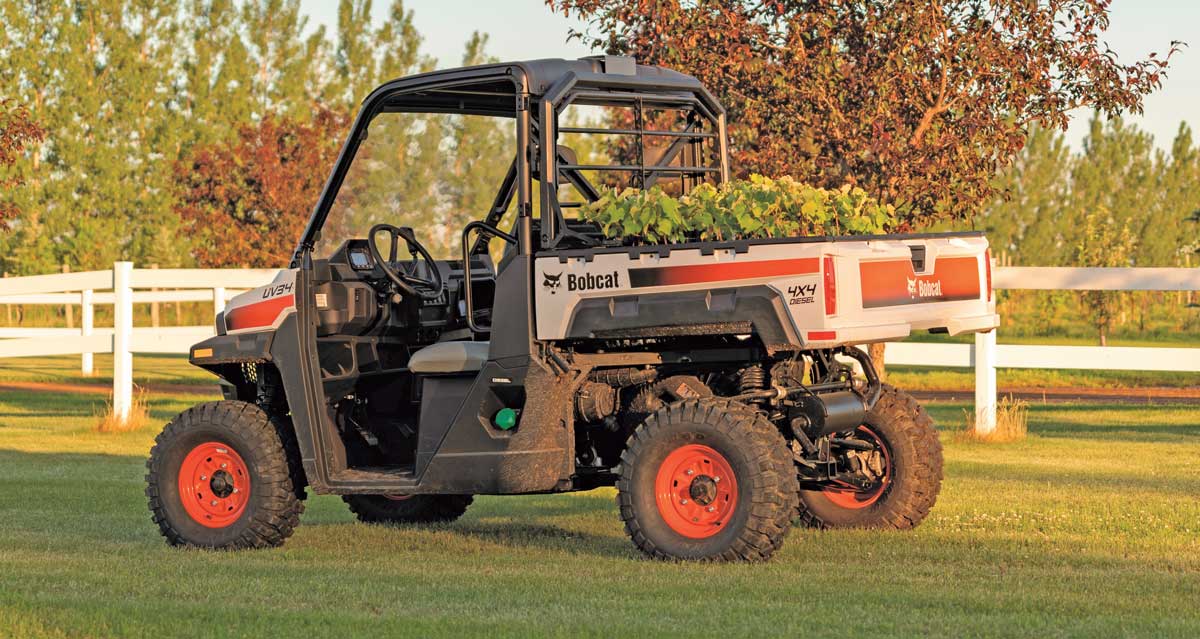 Advice: When it comes to choring and hauling, acreage owners should select a UTV that can provide durability and power without sacrificing comfort. For example, the Bobcat UV34 delivers what acreage owners need to manage challenging projects thanks to an increased tow rating, improved ground clearance, all-wheel drive and convenient service access.
Product Spotlight: For hauling equipment and materials on your acreage, the Bobcat 39.9-hp UV34 utility vehicle is the right choice for your toughest jobs. The 1,000-cc, two-cylinder SOHC engine is designed for maximum durability and reliability for challenging conditions, delivering the high-performance power you need with gas-engine convenience. The large, 900-watt stator provides more power — about 75 amps of output — for use with the snow blade and other electric-powered accessories, and the electronic fuel injection provides the best starting performance for working in all seasons. A large cargo box made of a durable, composite interior handles up to 1,250 lbs of materials or supplies to help you do more and do it better.
Gravely
Grant Wilson, Director of Product Management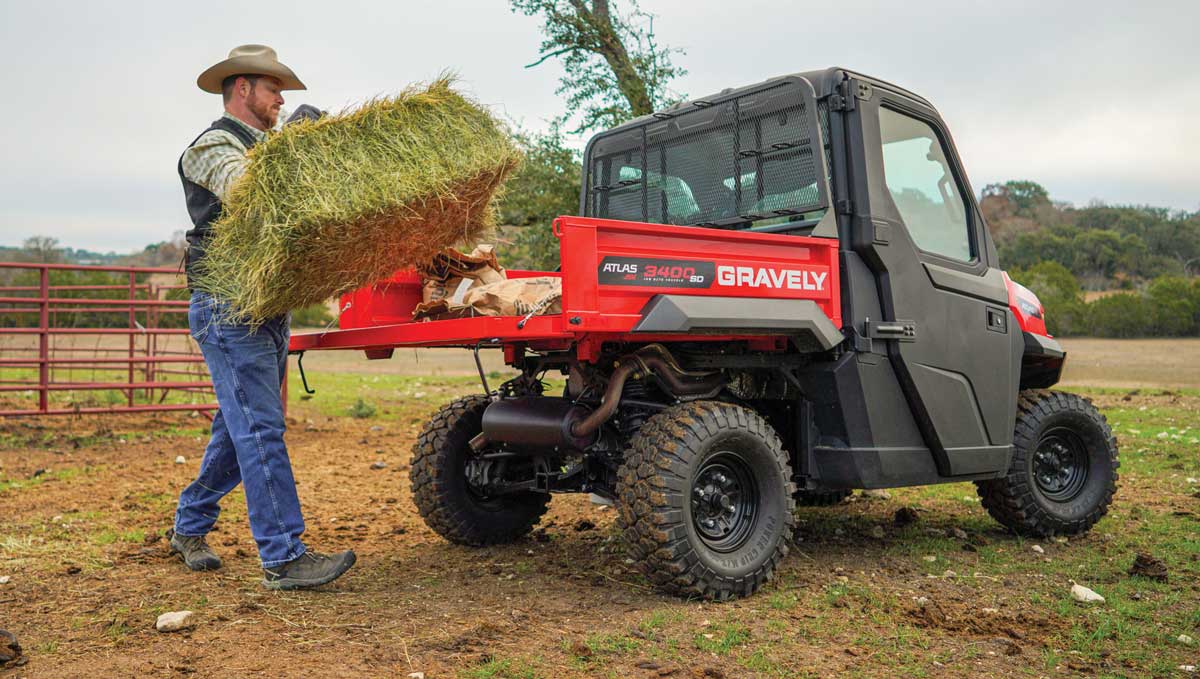 Advice: Utility vehicles, like the Atlas JSV, are machines intended for various terrains and tough work but still need regular maintenance to ensure safety and to perform at their best. Before each use, check the fluid levels, lubricate the grease fittings and check the tire pressure. Routine maintenance includes changing the oil, air filters, spark plugs and battery. When it comes to safety, local Gravely dealers are a great source of safety information and speaking with them is a good place to start. The owner's manual, AriensCo's customer service department and its YouTube channel provide safety information for all users.
Product Spotlight: Gravely's Atlas JSV is a work-machine built to tackle any job, even on the toughest terrain. The JSV offers several benefits on the jobsite to help landscapers work more efficiently and effectively. The JSV offers seven add-ons, but the hard-coated windshield, poly sport roof and 72-in. steel blade are the most beneficial. The windshield, featuring durable polycarbonate, protects users from debris and elements while the poly sport roof protects against weather conditions. A strong, durable utility vehicle, the Atlas JSV boasts a 2,000-lb towing capacity, an all-steel cargo bed for easy hauling and enough space for the whole crew. Complete even the most difficult jobs on any terrain with the power and capability of the JSV.
For reprint and licensing requests for this article, please click here.
Tags:
John Deere
,
October 2021 Print Issue