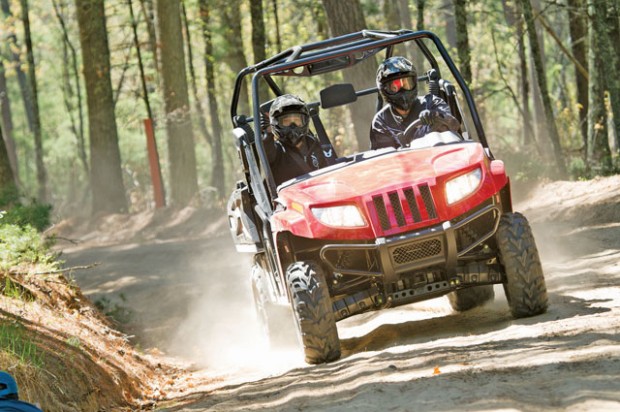 The Golf and Landscape Icon Offers Two All-Terrain Models
The Toro side-by-side utility vehicles were first unveiled during GIE+EXPO in Louisville, Ky., on Oct. 23, 2014, and were officially available to the construction and green industries in the first quarter of 2015. These four-wheel-drive vehicles offer hauling and towing capabilities in addition to seating for three. They can also be customized with a wide range of accessories, including windshields, cabs, plow blades, light kits, winches, a stereo and more.
Toro currently offers two gas-powered electronic fuel injection (EFI) models — the 500 EFI and 700 EFI — that support more than 40 different accessories and attachments for year-round project needs. The Toro UTVs are powered by four-stroke engines with EFI technology that provide improved fuel efficiency and responsive performance. They also come standard with Duramatic automatic transmissions, dynamic engine braking, an integrated parking brake and electronic two- and four-wheel drive. Additionally, the easy-to-read digital display provides instant access to critical operating information such as fuel level, temperature, oil pressure and a speedometer/tachometer.
The transformable design of the tilting rear cargo box allows conversion to a flatbed in minutes to enhance hauling versatility. The 500 EFI has a total payload capacity of 1,100 lbs and weighs in at 1,307 lbs, while the 700 EFI boasts a total payload  capacity of 1,500 lbs with an operating weight of 1,363 lbs. These integrated features contribute to an ideal blend of capability and versatility.
Both Toro UTV models are equipped with a standard front brush guard and adjustable CAM-style shocks for 10 in. of ground clearance to handle rough and challenging terrain, while at the same time, helping maintain the longevity of the machine. Front and rear 2-in. receivers give users the ability to hook up trailers or attachments at either end of the UTV.
Advice to Buyers
"Many believe the full potential in a UTV is realized when attachments and accessories are added to complement the normal duties of the unit itself," says Ryan Moorlag, associate marketing manager. "Many UTV manufacturers offer a number of attachments and accessories that can be integrated to enhance the overall experience and customization of a UTV, potentially creating the optimal machine for a
variety of unique operations."