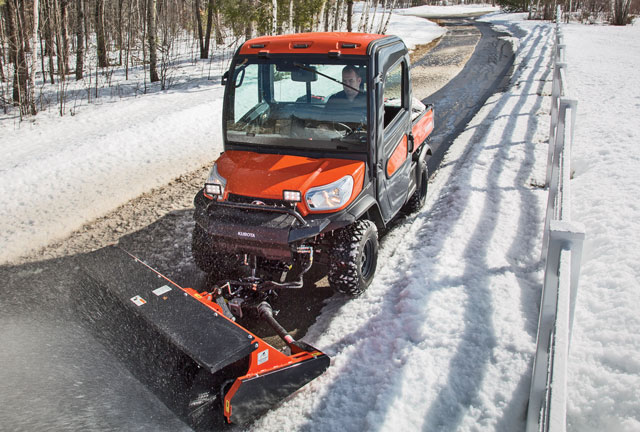 Work doesn't stop because of the weather. Actually, work in the industries we cover (construction, landscape, ag) can increase in inclement weather. Hurricane season is an unfortunate example of this. Winter weather is another situation where commercial-grade equipment is asked to do double duty on top of their construction day jobs. Wheel loaders, skid steers, tractors and backhoes have all been called in for snow detail. Going even smaller, utility vehicles are also being given more job responsibilities in the cold — continue to transport people and products and also tackle snow and ice removal.
"We definitely see an increased demand for attachments, as they allow operators to use their utility vehicles throughout the year, including winter," explains Kevin Lund, product line marketing manager for utility vehicles at John Deere. "The spreader attachment allows landscape professionals to efficiently spread materials like rock salt to ready grounds for upcoming weather. In fact, our newest sprayer in the lineup even offers speed compensating nozzle control to allow you to reduce the spray when driving slowly. Blade attachments allow the operator to easily plow snow, while those previously mentioned sprayers de-ice throughout the largest of properties. When the snow begins to melt, you can continue to use utility vehicles and those same attachments during the rest of the year for a variety of jobs."
A utility vehicle (or UTV for short) can be a versatile tool for professional contractors. Similar to their ATV cousins, UTVs are made for off-road applications but differ in that they can take at least two to six passengers and have a bed for cargo, supplies or spoils. UTVs are specially engineered to traverse both inhospitable, off-road jobsites and finely-manicured, hard-to-access public areas. It's a machine utilized by a diverse crowd of owners and operators — from farmers and foremen to hunters and off-road enthusiasts. It's also a pretty rad snow machine. And while every equipment brand under the sun seems to sell a UTV today, a big differentiator is a brand's and model's ability to be transformed for specific work like snow.
"Our RTV-X Series was designed for demanding conditions like snow," says Roger Gifford, Kubota product marketing manager of utility vehicles. "We offer factory and optional dealer installed cabs. Both cabs offer heaters for defrosting the windows and for keeping the operator warm. The diesel models offer glow plugs for preheating the fuel in the combustion chamber for faster startups. There is also a block heater kit available for keeping engines warm in colder temperatures. We offer snow blades and rotary brooms. The power is delivered by our PTO drive system, which is engine driven and coupled by our K-Connect system."
Every market segment has its unique characteristics and requirements, and the beauty of a good UTV maker is its ability to offer a multitude of available accessories to customize a unit for each one. We turned to two such manufacturers (John Deere and Kubota) to help us learn how to tailor-make a utility vehicle for winter work and then how to operate it.
Upfitting for the Cold
When faced with icy temperatures and challenging snow conditions, a utility vehicle is a great place to sit and operate in warmth and comfort. Performance-matched cabs, heaters, satellite radio, power steering, digital speed displays and on-demand four- and even six-wheel drive give operators the ability to snugly and productively work for long hours. Start by looking for a cab that is airtight, soundproof and rattle-free to ensure the chill and operational noise is kept outside. Also make sure the heater you choose is powerful and efficient and comes with a defroster and defogger for good visibility in cold climates. "Additionally, utility vehicles can be retroactively equipped with a heating system by installing a cab heater," says Lund.
Snow tires will definitely make a world of difference on slick cold surfaces, increasing grip and control. We highly suggest swapping out summer tires for winter versions. "When driving utility vehicles in snow and ice, one of the greatest concerns is loss of control," suggests Lund. "To reduce risk, install the proper tires to ensure the proper traction. Additionally, operators should adjust their speed based on the road conditions." Deere even offers Camoplast Hi Performance track systems that turn four tires into four individual motorized tracks — the ultimate for winter work.
To make the payload and ride more comfortable, safe and efficient, UTVs also come with a variety of options — hydraulic bed lifts, performance light kits, towing hitches, winches and rotating beacons for safety and night work. "There are strobe lighting kits available to improve machine visibility during heavy snow use," says Gifford. "We have convenient, under-the-seat storage for items like jumper cables. We have backup alarm kits and optional mud/snow flaps. We have turn signal and hazard light kits, and Kubota offers a variety of snow attachments for its utility vehicle lineup."
Getting Attached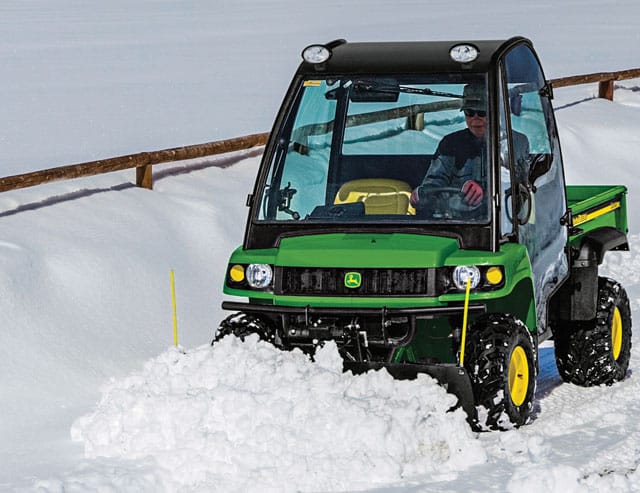 Not all, but some manufacturers of UTVs allow implements and attachments to be used off the front or back of the unit — mowers, brooms, pallet forks, blades, seeders, sprayers, wagons and winches top the list. Snow and ice removal tools for the front of a unit include brooms, blades, V-plows and snow throwers, and implements for the back include salt spreaders.
"When choosing a snow blade always make sure the width of the machine is covered in the full angled position," advises Gifford. "Make sure the cutting edge is constructed from high carbon steel and can easily be replaced or upgraded to a poly for special applications. Our new straight blade has a curved mold board, which creates better rolling of the snow and eliminates the need for deflectors at the top of the blade. Having a full moldboard trip spring protection will extend the life of your snow blade when objects are struck. The ability to operate in float or down pressure will enhance your performance in light- or heavy-frozen snow conditions."
There is no standardized attachment system for utility vehicles like you might enjoy with a skid steer or compact track loader. Power take-off or PTOs are popular. Kubota promotes its front four-point K-Connect system, which is a gear-box driven PTO. The control handle and PTO switch are ergonomically-located and easily-reachable for double action intuitive control, similar to tractor functionality. Polaris has the Brutus Pro-Tach system, which is driven primarily by a PTO shaft off the vehicle's diesel engine. Complementing these tools are deluxe hydraulic controls and valve kits, providing impressive, oil-under-pressure control of moving attachments from brooms to augers.
Many of John Deere's attachments don't require any power, and the items that do, like winches and lights, are driven by the alternator capacity and battery. "Monitor your battery levels, if operating consistently at slow speeds and especially if using a lot of electrical attachments like lighting," says Lund. "A trickle charger may be necessary." Deere also offers mounting and hydraulic lift kits that are required for using attachments like straight or V-blades.
But for snow, Kubota's K-Connect might create the ultimate removal machine with four snow attachments: a 66-in. rotary broom, a 78-in. V-plow, 78-in. straight blade and a 66-in. snow blower. Some things to think about when choosing the latter: "When purchasing a new snow thrower consider how the unit is powered," says Gifford. "A snow thrower with a separate engine will increase the maintenance required seasonally. A snow thrower that is powered by an engine-driven PTO requires less maintenance. Also make sure the width of the machine is wider than the machine you're installing the snow thrower on to."
Cold Preparation and Safe Operation
UTVs are engineered to endure a lot of abuse, but they'll need routine TLC to stay safe and efficient. To remain comfortable in the seat, check the front and rear suspension and steering components. Inspect these areas for broken parts and loose hardware, as well as steering free-play and suspension wear. To prepare utility vehicles for use in cold winter conditions, take the time to lubricate all grease fittings to protect against moisture and corrosion. If a part begins to corrode because there wasn't enough lubrication, or an engine radiator winds up failing because of low antifreeze levels, you might be saddled with additional costs and downtime.
"With all machines, pay attention to tires, as cold weather can drastically impact tire inflation," notes Lund. "Before running machines, check tire pressure and add additional air if needed. When dealing with freezing temperatures, take extra care of the transmission and engine, which can be negatively impacted by cold weather. Reference your owner's manual and take the appropriate steps to warm up the engine before starting your workday. If your engine is in the cold over night, you may consider using an engine block heater, which will help get your engine up and running in the morning."
Remember to double check fluids. Antifreeze levels should be checked for the proper concentration and level regularly and changed out every two years or per the manufacturer's instructions. In regions where freezing temperatures and heavy snowfall are a daily occurrence, you should only wash a utility vehicle with warm water and a mild soap to avoid freezing. When traveling through heavy drifts, check the radiator for blockages caused by packed-on snow that can cause overheating. "Test the battery, based on operator instructions, for proper charge and use battery tender to maintain proper charge during storage," says Gifford.
Even with all these best practices, operators can still run into trouble when facing nature. So before you head out, always be sure to let others know where your work will be located and when you plan to return. Take a means of communication like a cell phone or two-way radio. A device with GPS monitoring capabilities for remote worksites is also a great option. Be sure to carry more than enough water for the day; just because it is cold out doesn't mean you won't get thirsty. And as always, a first aid kit is a good thing to have on hand in case of emergency.
"When working specifically with plowing snow, operators should push now into piles, driving straight on, not at an angle," says Lund. "Also, while an operator is pushing new snow to stack up against hardened piles, start a new pile first and then push it against the existing hardened pile. Don't crowd snow too aggressively, as this can damage powertrain components. In general, to ensure safety, plow during low traffic hours and do not exceed 10 mph. Operators should always be cautious of pedestrians, domestic animals and other vehicles."
With the proper outfit, maintenance, attachments and operating procedures, you will have a safe and productive winter.
---
SnowWolf Introduces All-New, Redesigned FlexPlow
SnowWolf recently introduced its newly redesigned FlexPlow, an all-purpose plow that works equally well for snow removal and light dirt moving or landscaping. The versatility of the Burnsville, Minn.-based company's new attachment is made possible by a semi-floating torsion system that provides infinitely variable down pressure and shock absorption, a trip-lock-out feature and a shorter blade-to-machine distance for greater maneuverability. The FlexPlow also features automatic oscillation, which is an improvement over the previous design. It allows the attachment to rise or fall up to 5 in. on either end, so the plow follows the contours of the surface being plowed and scrapes it clean. SnowWolf resized the blade to make the FlexPlow ideal for smaller skid steers and compact tractors. The attachment is designed for use with machines that weigh up to 8,000 lbs, and it is available in 5-, 6-, 7- and 8-ft lengths. For more info, visit snowwolfplows.com.
Tags:
home
,
John Deere
,
Kubota
,
October 2017 Print Issue
,
Snow