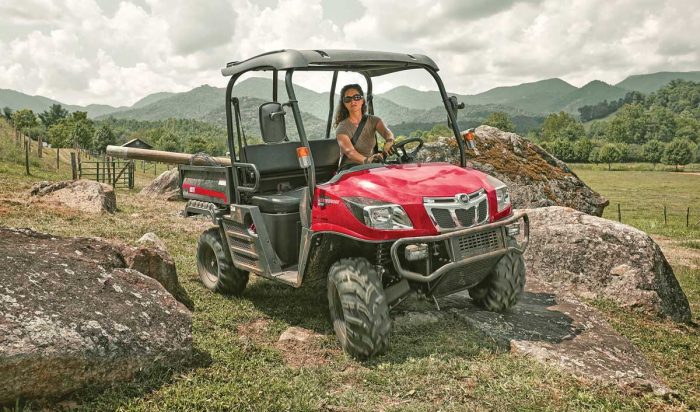 Growing up in North Carolina, I learned the importance of paying attention to even the smallest details when using any type of machine from my dad. Whether operating a motor vehicle, compact tractor or anything in between, Dad's words always ring true — "Safety first."
1. Think Automobile Safety
While there are certainly some nuances to each vehicle, it is tremendously helpful to keep in mind the basic safety rules for driving a car when operating your UTV. Always wear a seat belt. Be aware of your surroundings, especially when backing up. Don't exceed a safe speed (more on this later). Adjust your mirrors before driving as needed.
Take current weather conditions into account too. Luckily, UTVs are built to power through rain, mud, snow and ice, but you should still adjust your handling according to the weather to maintain control over the vehicle.
As with cars, speed and distraction are the leading causes for UTV accidents, but remembering the fundamental safety rules of operating a motor vehicle will help you create a safe experience in your UTV.
2. Don't Be a Speed Demon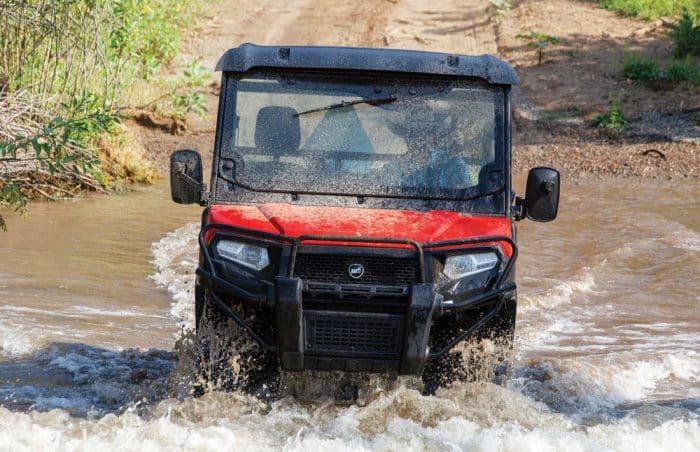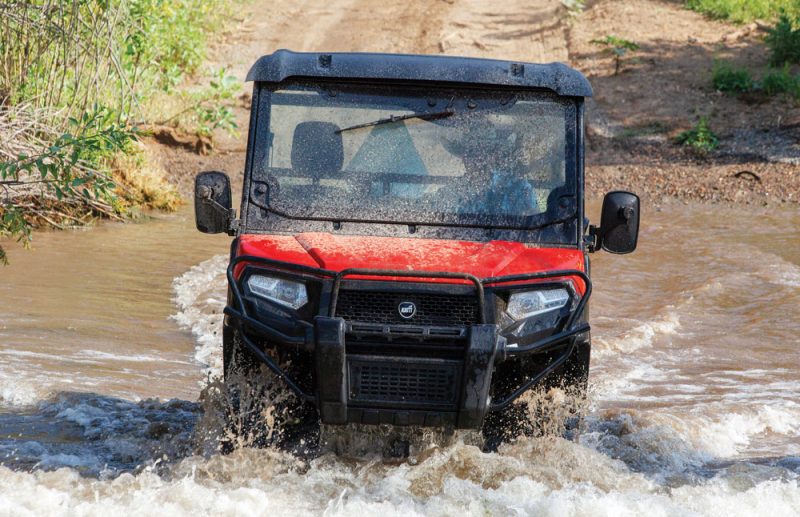 Speed is a critical factor when it comes to UTV safety. There's a reason UTVs aren't designed to operate at high speeds, and you should pay attention to how fast you're moving throughout the duration of your drive. Slow down before any turns or curves, especially when you're traveling through wet or tight conditions. If you're towing or hauling a load, bring your speed up gradually and allow for ample time to slow down. Adequate engine transmission torque makes acceleration and deceleration easier and extends the lifespan of your UTV.
As with the operation of any moving vehicle, speed plays a key role when it comes to safe operation of a UTV. When in doubt, err on the side of caution and take it slow.
3. Prepare Your Payload
One of the most valuable uses for a UTV is, without a doubt, hauling items around a worksite. While using a UTV to move tools, lumber or other cargo, and even attaching a trailer for larger items, is a real time-saver, it's important to do so safely. If not, you risk injuring yourself and your crew, plus damaging your payload and UTV.
All UTVs come with strapping points for tying down your payload in the bed. Kioti UTVs, in fact, have 10 strapping points. No matter how many strapping points your UTV has, use them. In case you encounter rough terrain or find yourself in an accident, you want to prevent your load from leaving the bed. Ensure any items stored under the UTV's hood or seats are also fastened in, and consider adding a buffer around any heavy or sharp objects like hammers or chainsaws.
One of the best parts of small equipment is the variety of attachments. From buckets and breakers to mowers and plows, click here to see what's out there.
If you regularly use a sizeable portion of your UTV's payload capacity, adjust the suspension to accommodate the load. The rear and front shocks can both be adjusted to increase the UTV's spring rates and prevent the vehicle from squatting too much. And remember to take any passengers into account when adding up your payload, if applicable to your vehicle's restrictions.
4. Use Your Dealer
There's a lot that goes into proper UTV maintenance. At a minimum, regularly check your fluids and that your tires are in good condition and properly inflated. Make sure the wheels are tight, without any loose lug nuts, and remove the wheels when performing maintenance to better inspect the UTV.
Regardless of your level of knowledge when it comes to UTV maintenance, always remember to use your dealer as a resource. If there's a maintenance issue that you aren't sure how to safely address on your own, you can always turn to your dealer for assistance.
Compact track loaders are the most popular category of compact equipment in America. Learn why with loads of track loader features right here.
5. Get Your Steps In
To avoid many common safety and maintenance challenges, take a minute every day to perform a quick walkaround inspection on your UTV. Keep an eye out for anything unusual, be it your tires, strapping points or the way the vehicle sounds when you start the ignition. A quick check before you climb in the driver's seat can help you get to work as safely as possible.
There's no other machine out there that mixes power, practicality and fun quite like a utility vehicle. But without a safety-first mentality, you won't be getting the most out of your machine. Just as I think back to my own dad's safety lessons growing up, I encourage you to take these five simple steps to keep yourself and your team safe, do your best work on the jobsite and make the most of your UTV.
Joel Hicks is the product development manager at Kioti Tractor. Tags: Kioti, KIOTI Tractor, May 2021 Print Issue