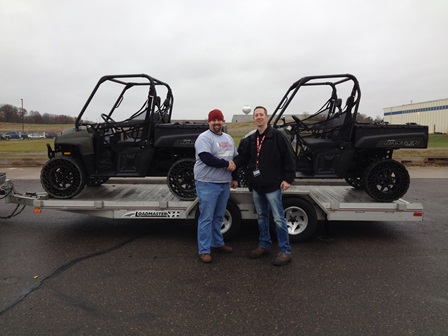 Based on information from Illinois Emergency ManagementAgency officials, a string of deadly tornadoes that hit Washington, Ill. andthe surrounding area Nov. 17 damaged or destroyed more than 1,400 homes.
Minneapolis-based Polaris Industries is collaboratingwith Team Rubicon and donating a pair of RANGER 800 full-size, side-by-sidevehicles, to that organization so its volunteers can assist with the storm damageclean up.
Team Rubicon is a nonprofit organization that providesmilitary veterans the opportunity to continue their service through disasterrelief and humanitarian assistance. By rapidly deploying teams of veterans inresponse to emergency situations, Team Rubicon implements lessons learned inwar for the greater cause of helping those in need.
The donated UTVs are equipped with TerrainArmorNon-Pneumatic Tires (NPT), which will help prevent down time. A key designfeature of the tires is that they never go flat and are virtually indestructible,an important aspect when traversing the debris-filled terrain.
"Off-Road Vehicles are a great ally in disaster reliefdue to their ability to traverse the difficult terrain usually found in thesesituations," said David Longren, vice president of Polaris' Off-Road Division."Our thoughts go out to the people of Washington, Illinois and we hope thevehicles serve them well."
As part of their disaster relief effort, Team Rubiconwill use the vehicles to assist with debris removal and transporting suppliesand resources across affected communities.
"TeamRubicon is committed to helping communities rebuild in the immediate aftermathof disasters, and we're thankful to have the support of Polaris in providingrelief to the residents of Illinois whose homes were destroyed during lastweekend's storms," said William McNulty, co-founder, Team Rubicon. "Polaris'generous donation allows us to be more efficient in providing aid to those whoneed it most."