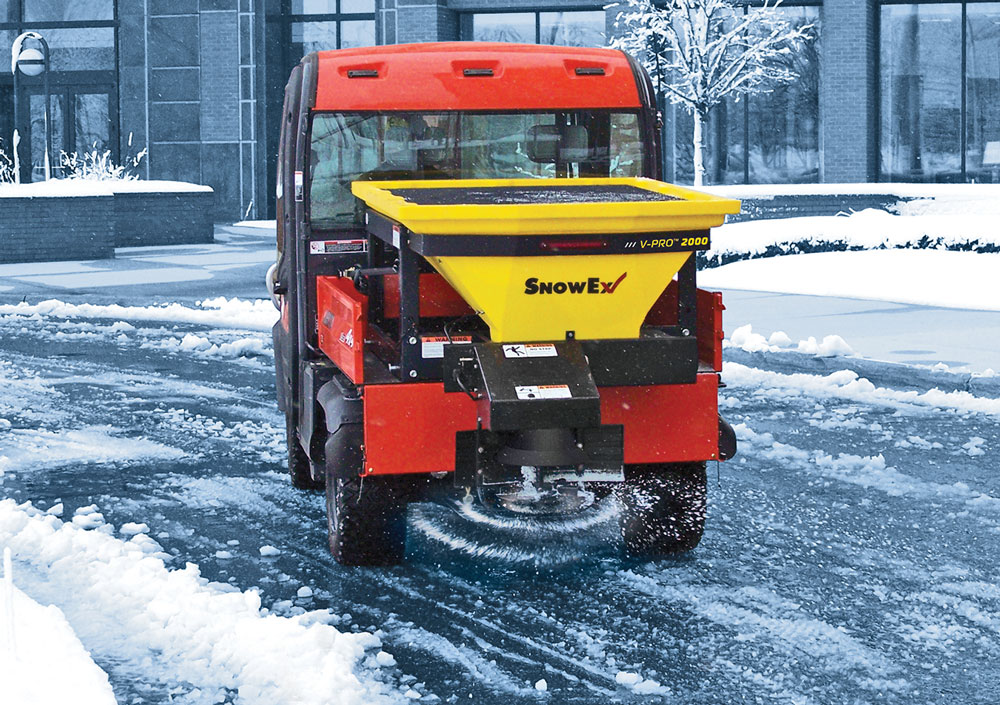 Utility vehicles (or UTVs for short) have become a popular choice among contractors, landscapers and homeowners to move people, tools and materials around without the size or cost of a pickup. They're quick, compact and with the right attachments and options can tackle lots of applications. But the work (and fun) doesn't have to stop just because the weather takes a turn for the season. Add a broom, snowblower or plow on the front, and you're ready to clear some snow. Throw a salt spreader on the back, and you have the ultimate wintertime workhorse.
"A good first step is to determine what surfaces you are going to be salting, whether it be parking lots, driveways or sidewalks," says Justin VanderHeyden, product manager for John Deere Gator utility vehicles. "Broadcast-type spreaders are good for spreading salt in a wide pattern and are ideal for parking lots and driveways. Drop spreaders lay a precise spread width, which is good for sidewalks because the salt won't reach the turf and potentially cause damage. You want to look for a spreader that has good capacity and an auger above the spinner to help move large particle material such as rock salt to the spinner. Additionally, it's important that your spreader is made from quality materials like stainless steel and poly that won't corrode due to salt exposure."
Thanks to the popularity of UTVs and their ever-increasing uses, there are plenty of spreader options to choose from when outfitting the vehicle for winter work. When looking at sizes and capacities, VanderHeyden says rear hitch/tailgate-mounted broadcast spreaders are typically around 3 cu ft, cargo box bed mounted broadcast spreaders can range from 10 to 12 cu ft and drop spreaders can range from 3 to 6 cu ft.
Prices for spreaders can range between $800 up to $6,000, depending on the type of unit. However, before committing to a particular spreader, Andy McArdle, director of product marketing for Douglas Dynamics (the parent company of SnowEx), urges buyers to look at their intended uses before spending money on more than what they may need.
"When purchasing a utility vehicle salt spreader, or any other utility vehicle attachment, it is important to understand the price vs. value proposition," he says. "If you are using the vehicle for casual/personal use, there may be areas of the attachment or product where you can sacrifice quality for price point. If you are a contractor, earning a living in snow and ice, make sure you understand the value each equipment manufacturer brings to the table and trust in the brands that have built their reputations on reliability, durability and performance."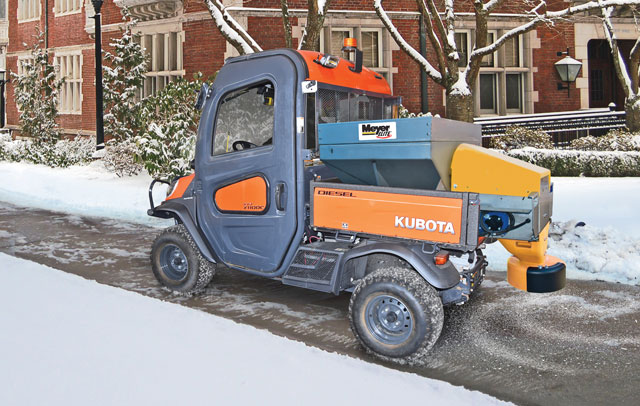 Getting to Work
After a spreader is selected, it's time to get the unit attached to the UTV. VanderHeyden explains the process.
"Hitch, tailgate and drop spreaders typically require a mount that ties into the rear hitch and vehicle chassis, while bed mounted spreaders are mounted directly to the bed of the cargo box and secured to the cargo box tie downs," he says. "All spreaders require a controller that will activate the broadcast spinner, adjust spinner or rotor speed, and open and close the material gate."
Before getting to work, there are a few safety concerns to address. First, operators need to be aware of their surroundings and never use the spreader around people. Low speeds are required when running this type of attachment. Do not exceed 10 to 15 mph. The right personal protective equipment is also encouraged such as eye protection, earplugs and protective clothing (think gloves, boots, etc., given the cold temps). McArdle cautions that operators should secure any loose-fitting clothing or belongings before starting the UTV and always park the vehicle on a level surface.
As for spreading the salt, it will take time behind the wheel. Operators will need to become familiar with the spreader and the best way to use it.
"Spreading salt can take some practice, especially when learning how to fine-tune the application rate and adjust the speed of the spinner controls, the width of the spread and the speed of the vehicle, which ultimately controls the application rate," says VanderHeyden. "It's always a good practice to not leave material in the hopper for extended periods of time. It can attract moisture and harden, making it difficult for the material to go through the gate or be cleaned out."
Understanding Upkeep
Although salt is a corrosive material, salt spreaders are typically made to withstand any damage from it. This coupled with an easy maintenance routine helps keep the salt spreader in tip-top shape.
"Most utility vehicle spreaders are made with powder-coated steel and have polyethylene hopper bodies providing protection from corrosion," says McArdle. "Most tailgate and in-bed salt spreaders will also come standard with a material deflector to protect the vehicle from flying material."
As for maintenance, McArdle recommends conducting pre- and post-season checks that include inspecting components such as the belt, chain and auger for wear, checking motor terminals and seals for damage or corrosion and ensuring all fasteners and screws are tight.
Greg Blankenheim, director of sales for ASH North America, the parent company of Meyer Products, says it's important to clean or wash the UTV and spreader after every snow event, as well as lubricate all of the attachment's moving metal parts frequently. Always make sure to check the spreader's operator's manual for any specific maintenance points for a particular model.
Tags:
home
,
John Deere
,
Meyer
,
Meyer Products
,
October 2018 Print Issue
,
SnowEx