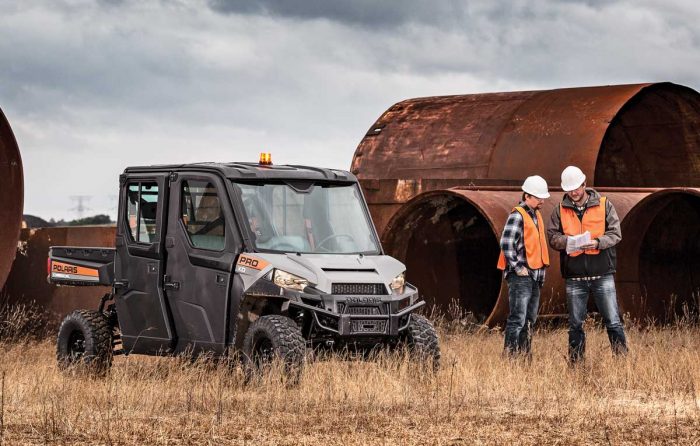 Utility vehicles (or UTVs for short) are a whole lotta fun, but they can also work hard. These small, capable vehicles are packed with enough power and payload to tackle tough terrain and get crews and their tools where they need to go — making them the perfect assistants on projects.
"It's all about having the right equipment for the job, and no one knows that better than a construction foreman," says Nick Snidarich, product manager for Polaris Commercial. "UTVs are versatile on the jobsite and used for foreman, VIP and jobsite worker transportation. UTVs are also used for hauling tools, equipment, personnel gear, dirt, water tanks, building materials or other critical cargo. They are also used for towing, whether it's pulling a light tower, a trailer to haul more cargo or getting specialized equipment to a tough-to-reach spot."
Before your crew hops into just any UTV, you have to find the right one for your needs. With options from manufacturers such as John Deere, Polaris, Kubota, Kioti, Yanmar and Caterpillar (to name a few), there are plenty of models, features and tools to choose from when creating the perfect construction site companion. Maureen McCormack, the go-to-market manager for John Deere Gator utility vehicles, says that a customer should know how many people they want to transport, how much and what type of material they want to haul and what kind of terrain they want to drive through.
"Knowing these three basic things, a customer can narrow down their purchase," she adds. "They should look for something that is easy to use and they feel comfortable operating. It is highly recommended to work with a local dealer, test drive a vehicle and even demo it on a jobsite if possible."
Multi-row UTVs are a popular choice for construction applications and are typically purchased by customers who need to transport multiple people on a regular basis. Snidarich says Polaris tends to sell more four-seat than two-seat UTVs for construction.
"The payload is greater, and it can fit more people, which makes sense on busy jobsites," he says. "Our Pro XD crew maintains its cargo bed size in both models, which increases the overall length of the vehicle. That can be a drawback if you're trying to fit as many UTVs as possible on a trailer. Also, the turning radius of a crew UTV is wider than that of a smaller model, although Pro XD's turning radius is the tightest in the industry."
John Deere offers two models that feature seating for four: the XUV825M S4 and XUV855M S4. McCormack says a big advantage is the rear seat in these models can convert to a flat surface for extra hauling space when not being used for seating. There's also sealed under-seat rear storage for additional cargo.
More to Consider: Polaris' Nick Snidarich Offers More Questions to Ask When Buying a UTV for Construction
Will my UTV be operated indoors or outdoors?
On or off road?
If I expand to a crew UTV for more passenger seating, am I losing cargo bed space?
What is the towing, payload and bed capacity?
What fuel will I have on site?
Do I have access to electricity for charging?
Are the key components engineered to withstand the tough duty cycle of a construction site? (Think heavy-duty, longer lasting tires, puncture-resistant seats, durable brakes and driveline.)
Is there a backup alarm, horn and parking brake?
Is the cab fully sealed to prevent dust ingestion?
Is there an engine braking system that eliminates acceleration when going downhill?
Are there operator alarms to alert me before I overuse my UTV, possibly causing damage?
How quickly can I perform the common maintenance checks? For example, do I have to empty my cargo to check the oil?
Are the tires all the same size so I can stock one spare vs. multiple?
One of the best parts of buying a UTV is customizing it to meet your needs — whether it's picking out the perfect shade or loading it up with tools. A crew can maximize a UTV's potential with the huge amount of accessory and attachment options out there. For example, Snidarich says Polaris' vast accessory catalog allows customers to transform their UTVs to become an extension to their everyday tasks. The company offers lockable bed accessories to carry and secure tools to keep workers safe and comfortable on the jobsite. Polaris also just launched a cargo bed topper, which keeps gear safe, secure and protected from the elements in a lockable, weather-resistant bed enclosure.
"Front, side and rear windows provide line-of-sight visibility from the cab to behind the machine, as well as inside the cargo area," he says. "Designed specifically for the Pro XD, the all-aluminum topper is strong and lightweight — and with integrated Lock and Ride technology, can easily be installed and removed. Some construction sites use our plows and other attachments or use the pallet-sized cargo area for water tanks or sprayers. Bumpers add even greater durability and are frequent adds, as are lightbars and headache racks. Creature comforts in UTVs are more and more commonplace too, like additional cupholders and a heated cab."
"For a construction crew, John Deere offers multiple UTV accessories that add additional storage to a unit, such as toolboxes and cargo box side extensions that will allow operators to haul twice as much material," McCormack adds. "Additionally, John Deere offers a cargo box power lift kit for XUV models that makes dumping heavy material even easier by lifting up to 1,000 lbs of cargo."
Other popular accessories are LED work lights, cargo box dividers, canopies, windshields and winches. As for attachments, UTVs can be equipped with a variety of tools to help accomplish certain jobs. These can include everything from spreaders to snowblowers and brooms. John Deere's McCormack says there are loads of attachments available that can make an immediate impact on a business.
Two for your Crew: Check Out Two Work-Focused UTVs from John Deere and Polaris
John Deere: Offering great value, up to 1,000-lb cargo capacity and excellent durability, the Work Series from John Deere is a prime candidate for construction tasks. Vehicles are available in 2WD, 4WD and six-wheel design with gas, diesel and electric options to help with any job.
Polaris Commercial: Polaris Commercial provides four Pro XD models so customers can select from a gas or diesel powertrain and two- and four-seat configurations. Designed with the construction industry in mind, it has jobsite safety features, heavy-duty tires, puncture-resistant seats and increased payload capacity.
Speed is also an important consideration when selecting a UTV, especially when the vehicle will be used on a busy construction site where the speed is typically limited to 25 mph. Manufacturers offer their own speeds and limits depending on particular models. John Deere's UTV lineup has various speed options available, ranging from 15- to 45-mph top speeds.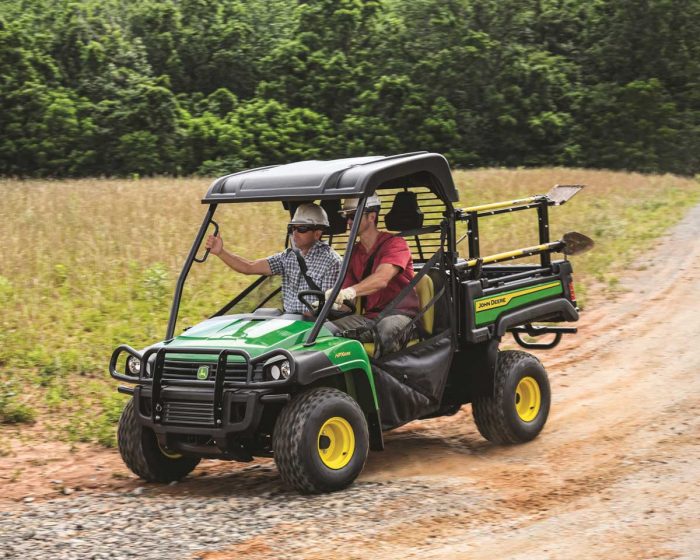 "For a construction jobsite, a work UTV with a lower speed is ideal to avoid any hazards," says McCormack. "These work units are specifically designed to carry heavy cargo at these lower speeds, while still maneuvering terrain seamlessly."
Polaris provides speed calibration in a few different ways.
"All our gas UTVs will limit the speed to 15 mph if the driver isn't buckled," says Snidarich. "Our Pro XD work UTV takes it a step further — the vehicle's speed is limited to 26 mph for jobsite compliance, with additional speed limiting capabilities down to 15 mph for slower jobsite requirements driven by safety critical operations. The speed can also be calibrated for a limit of up to 40 mph in Pro XD gas models for use on unrestricted jobsites."
Pam Kleineke is managing editor of Compact Equipment.
Tags:
John Deere
,
May 2021 Print Issue
,
Polaris