SPECS:
Engine Horsepower: 24.8 hp
Type of Engine: Diesel
Max. Travel Speed: 29 mph
Payload Capacity: 1,102 lbs
Towing Capacity: 1,300 lbs
Utility vehicles, or UTVs for short, have been gaining popularity throughout the construction industry thanks to their ability to move materials and people around a jobsite efficiently and for less cost than a traditional pickup truck. Add on the fact these vehicles can take attachments and, well, that's just icing on the cake.
While UTVs pack a productive punch, they're also just plain fun to drive. So, when I was tasked (I use that term loosely) with visiting Kubota for our Operator Issue, I gladly booked my ticket to its corporate headquarters in Grapevine, Texas. There, product marketing manager Roger Gifford spoke about the company's latest model, the RTV-X1120, and then let myself and my colleague Todd Miller take the wheel. Together we learned all about the vehicle's features and experienced firsthand what makes the RTV-X1120 a true workhorse.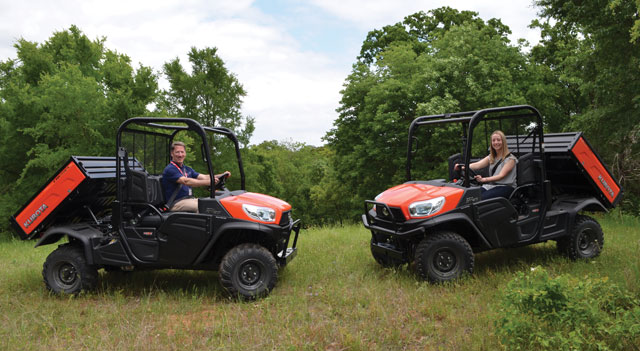 "The new RTV-X1120 models are Kubota's most well-equipped utility vehicles at the best price among its competition," said Gifford. "They're designed for the commercial customers who use these machines for heavy-duty work every day."
The first two features Gifford discussed were the RTV-X1120's engine and transmission. Naturally, he gushed a little over the vehicle's Kubota-branded 24.8-hp diesel and hydrostatic transmission (a feature brought over from the company's tractors).
"We're a compact tractor manufacturer. We built our company on compact technology," said Gifford. "When it came time to build the RTV-X1120, we built it on what we knew best — a diesel engine and a hydrostatic transmission. A lot of manufacturers in this industry use a CVT transmission, so this is where we really start to vary from our competition. By going to a hydrostatic transmission, you give the vehicle better working capability and more durability so you can handle those demanding worksites.
"The real big difference in this type of transmission is it changes how the driver operates it," he continued. "If someone is driving a UTV with a conventional CVT and needs more power, they just push on the accelerator. When you do that with ours, the power goes away. When you're driving a vehicle with a hydrostatic transmission on an incline or grade and you need extra power, you always ease back on the pedal and the transmission will kick in and give you that power to climb a hill. This type of transmission lowers engine RPMs, improves fuel economy and increases the machine's overall durability."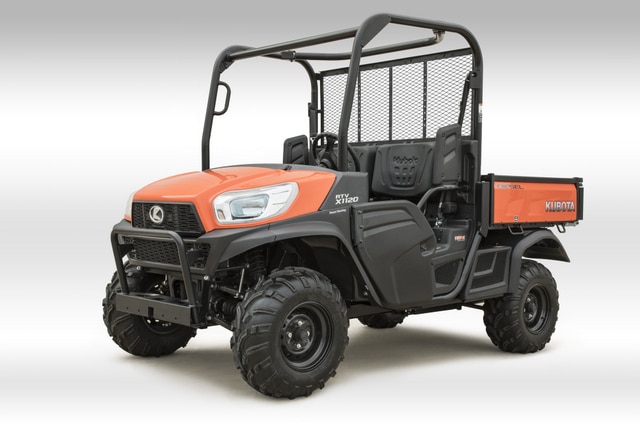 During my test drive, I had the opportunity to experience the hydrostatic transmission. Despite Gifford warning me about the need to let off the pedal ahead of time, I instinctively hit the gas going up a steep hill. Luckily, he was riding shotgun, told me to ease up and sure enough the RTV-X1120 handled that hill without a problem. I tested it out on several more hills for good measure (it's a tough job, but someone's gotta do it).
"When discussing the RTV-X1120 with someone, we really try to educate them on how to run this type of transmission," he said. "That's the biggest learning curve when operating it."
Next up was checking out the RTV-X1120's dynamic braking system. Prior to my test drive, Gifford discussed the system and how it's designed to create a more utility-focused UTV.
"We designed the machine to brake when you let off of the gas pedal. When you let off on it, the pressure actually keeps working so you're using the wheels, the axles and the whole drive system to give you the extra braking power to create a stable stop. This is a pure utility vehicle. It's a working machine that's designed to operate on those demanding sites."
Gifford pointed out that the transmission and braking system (a feature also derived from Kubota's tractor background) work in tandem to make the RTV-X1120 a more work focused vehicle. "Since the RTV-X1120 has the hydrostatic transmission, the operator doesn't have to put a lot of pressure on the brakes," he said. "If you're moving material around the jobsite, it's a huge benefit."
I gave the dynamic braking system quite a workout throughout my test drive, especially in the earlier portion of it as I got comfortable with the vehicle. Hesitation kicked in around some bumpy terrain, causing me to let off the pedal and engage the braking system, but Gifford assured me I could roll over curbs, larger rocks and whatever else came our way. Yep, he was right. I was able to maneuver over all those obstacles without a skip in my step. Easy peasy.
Gifford also discussed the RTV-X1120's hydraulic power steering — a unique feature in the RTV Series. This type of steering was selected to help minimize operator fatigue and boost productivity. Bonus points for the steering wheel being tilt-adjustable, allowing drivers to set the perfect angle for their comfort.
"With fully hydraulic power steering, you won't experience kickback when going over curbs or other bumps like you would with other machines," he said. "The wheel on the RTV-X1120 won't move. It will actually withstand the hydraulic pressure, and you won't have that steering wheel kickback. This really enhances the operation of the machine.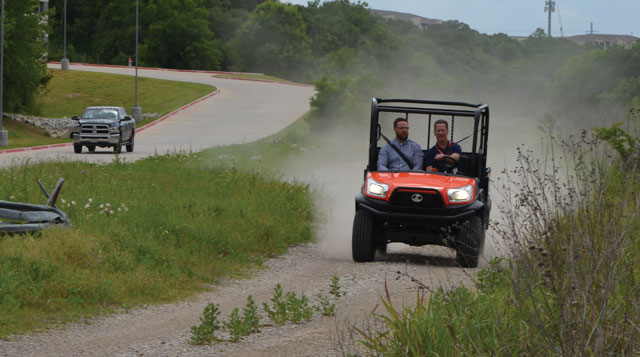 "If you're on a jobsite moving dirt and materials around all day, that kickback would eventually cause fatigue in your arms. That is not going to happen here. Our power steering eliminates that fatigue which ultimately increases safety and productivity."
We took a brief break in our test drive to shoot some photos and take a closer look at the RTV-X1120's hydraulic bed lift, which allows operators to dump the heavy-duty steel cargo box with ease. The cargo box has the capability to haul 1,102 lbs of materials around a jobsite. The RTV-X1120 also features standard 2-in. receivers on the front and back for towing up to 1,300 lbs.
Taking the Tour
Our visit to Kubota wasn't all zipping around on UTVs. We also had the chance to tour the company's picturesque corporate headquarters (which earned its Gold LEED certification late last year). The building, which opened in January 2017, sits on 27 acres of land that was purchased from former Texas Ranger baseball player Rafael Palmeiro. Everything in its design incorporates Kubota's "For Earth, For Life," motto, from recycled materials used throughout the building (reconstituted ebony in the wall paneling, rocks from the original site) to the membrane system used for water filtration (the Kubota Japan-branded system filters rain water and uses that water for the building's plumbing and irrigation).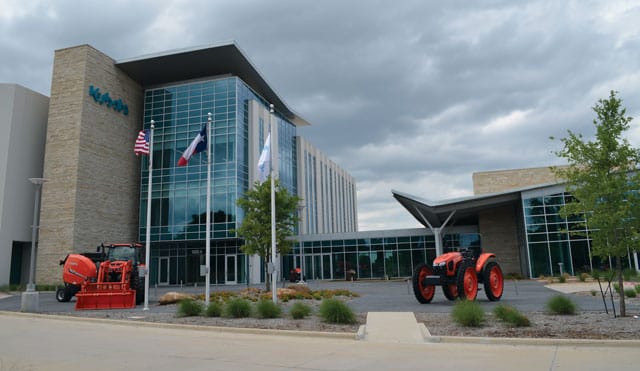 The corporate headquarters, which sits on the highest point of Grapevine, was constructed by Corgan Designs and is divided up into a 164,000-sq-ft main facility and a 64,000-sq-ft R&D department. Visitors are greeted by newer Kubota machines at the front entrance outside, while older tractor models from the 1970s welcome you on the inside.
"It's really cool to see where Kubota has come from over the last four decades," said Chris Balsly, HR administrator and tour guide. "One of the models we have on display is our L200 Series, which was the first tractor introduced in 1972."
After taking a quick peek at the R&D department, we ventured over to the main three-story facility which houses everything from human resources and payroll to product planning and parts. Immediately, we noticed the building's living wall, which fits perfectly with the "For Earth, For Life" theme. The wall extends all three floors with live plants on the first, brown dirt on the second and blue sky on the third. Balsly then showed us the cafeteria, as well as the seating areas throughout the space.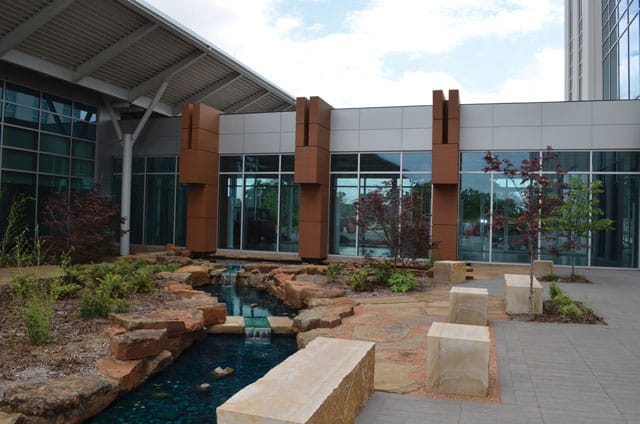 "When designing the building, the company wanted to go for an open collaborative environment to encourage employees to meet on the spot and not have to reserve a conference room," he said. "You'll see a lot of open seating, especially around our coffee bars, so people can sit down and work together."
Balsly also showed us various classrooms and conference rooms (each one is named after a geographical spot in the United States), as well as the company gym and outside deck which overlooks the property.
While our visit to Grapevine was short (less than 24 hours), we certainly learned a lot during our time at Kubota. There's nothing quite like an informative (and fun!) test drive to better appreciate the features that make the RTV-X1120 unique. Not a bad way to spend a Monday. Not bad at all.
---
Operational Advice
By Roger Gifford, Product Marketing Manager
When operating the RTV-X1120 Series or any RTV-X Series machine, always keep in mind you are operating compact tractor technology versus power sports technology. This simply means when extra performance is needed, like when climbing hills, ease back on the speed control pedal to allow the VHT-X (hydrostatic transmission) to deliver the torque needed to the wheels. This operation is the same as operating a hydrostatic tractor.
---
Company Culture
By Roger Gifford, Product Marketing Manager
"For Earth, For Life" is much more than Kubota's brand statement. It's a mission we dedicate ourselves to as a global company. We are committed to engineering excellence so that our customers can focus on planting, feeding, building and caring for our world.