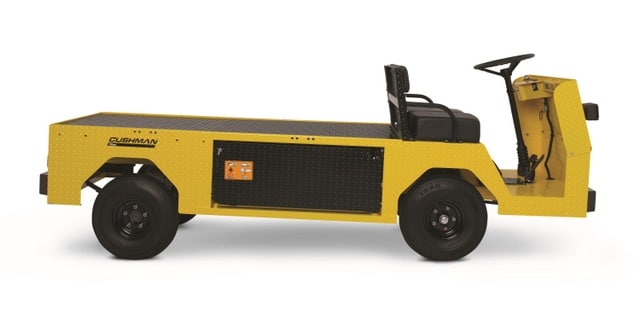 Textron Specialized Vehicles Inc., a Textron Inc. company, recently introduced a new model of its Cushman Titan XD industrial burden carrier with a 48-volt AC electric drivetrain and exclusive IntelliBrake technology.
For over a decade, Textron Specialized Vehicles has led the golf industry in AC electric-vehicle technology under its E-Z-GO brand of golf cars, and now it is expanding its use of this groundbreaking tech in its Cushman line of industrial vehicles.
The combination of AC power and IntelliBrake technology enables the Titan XD to offer superior performance with greater energy efficiency, longer battery life between charges, and regenerative braking. IntelliBrake automatically slows vehicles on steep grades, and engages the Titan XD's parking brake whenever the vehicle stops, providing heightened safety for work crews.
The updated Titan XD is also equipped with new standard dashboard features, including a speed control switch that limits speed while transporting material, USB outlet, headlights, brake lights and state-of-charge meter. The Titan XD is available in both two- and four-passenger options.
Many other models in the Cushman lineup also leverage AC electric drivetrains and IntelliBrake technology, including the Tug, Shuttle 4, Shuttle 6 and Shuttle 8.
Tags:
Cushman
,
Textron Specialized Vehicles