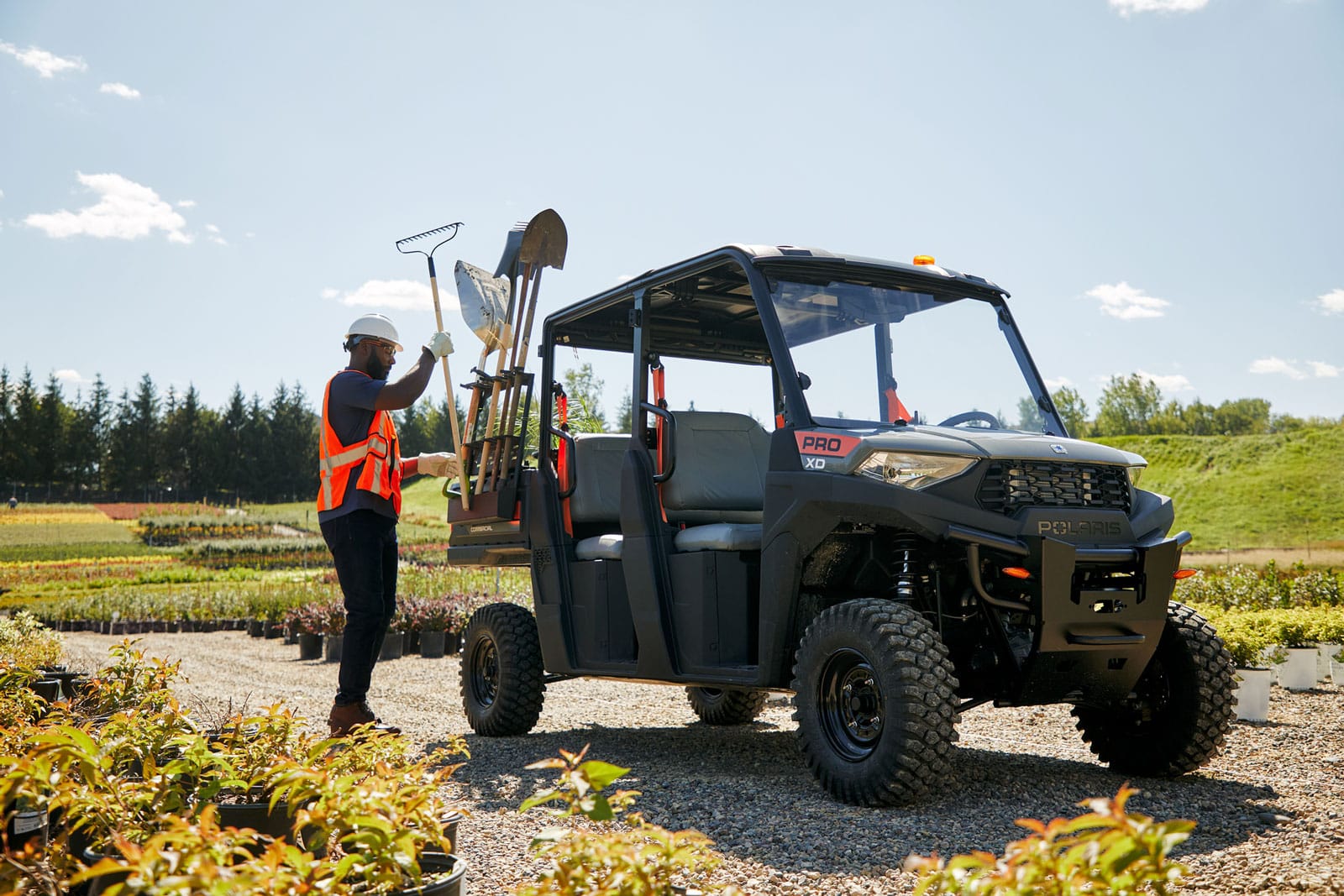 Once thought of as a vehicle purely for outdoor adventure, today utility task vehicles (UTVs) can be found virtually anywhere — from grounds maintenance and emergency response to sporting events and construction sites, where their popularity continues to rise. And it's easy to understand why: UTVs offer the ability to quickly tackle key tasks and combine the benefits of multiple vehicles into a single solution. With its compact design, off-road capabilities, and rugged durability, UTVs are engineered to traverse limited-access areas — and with expansive accessory offerings, they fit the needs of nearly every consumer. A rise in UTV popularity, however, can make choosing the best vehicle for the job overwhelming.
When adding a UTV to an operation's fleet, it's important to first consider the requirements of the jobsite. Consider the size of the crew, and the power, payload and towing needed to efficiently get the job done. The Polaris Pro XD Full-Size UTV provides industry-leading payload of up to 2,075 pounds and towing of up to 2,500 pounds, while its Mid-Size counterpart takes the same purpose-built features that customers value in the Full-Size Pro XD, and delivers them in a more compact profile, with a lighter payload. Next, consider the elements the UTV will work in. For harsh environments, vehicles with full cabs plus heat offer a valuable proposition for getting work done all year round regardless of the weather.
Finally, look for a UTV with standard features that enhance durability, productivity, and serviceability.
Withstand Tough Conditions with Durable Components
Durability is key to helping prevent UTV breakdowns, which in turn, lowers overall cost of ownership while driving productivity and profitability. Look for UTVs that are purpose-built for the long haul.
Polaris Pro XD UTVs are engineered with industry-leading, long-lasting and robust components that stand up against tough jobsite duty cycles.
Heavy-duty, nondirectional tires are designed for longer life on hard-packed, rugged surfaces.
Kevlar® backed vinyl seats resist punctures and tears from jobsite abuse.
Heavy duty driveline components increase resistance from corrosive conditions.
Heavy-duty suspension increases ride comfort, whileallowing for better handling on rough terrain.
Increase Uptime with Maintenance Ease
Downtime destroys productivity. While durable components help decrease breakdowns, when coupled with routine maintenance, operations can further maximize vehicle uptime and ROI. Choose a UTV that is easy to keep in peak condition.
The Polaris Pro XD line of UTVs have:
Easy access points to limit unexpected downtime. With a relocated oil dipstick and air filter, operators can efficiently conduct regular maintenance checks without having to raise the cargo bed.
Extended maintenance intervals to increase vehicle uptime. The Polaris Pro XD provides up to 200 hours certified maintenance intervals for less in-field maintenance and reduced service costs.
Fault alarms to notify operators when something is wrong, allowing operation to be paused before a costly repair is required. Alarms include low oil pressure, parking brake engagement, belt slip and engine overheat.
Additionally, look for UTVs designed with universal components — such as common-size tires and accessories that are simple to service and replace.
Keep Safety at the Forefront
No matter the application, safe vehicle operation is crucial to any jobsite — providing peace of mind to fleet managers and worksite crews, meeting jobsite regulations and aiding in productivity. Reducing accidents and injuries, avoiding mishaps while enhancing situational awareness should be the first things to consider when determining the UTVs to add to your fleet.
Engineered from the inside out to meet and exceed jobsite compliance, the Polaris Pro XD has many safety features including:
Help secure drivers, while increasing overall vehicle visibility to surrounding crew and vehicles.
Backup horns and pedestrian alarms increase vehicle awareness while traveling throughout worksites.
Adjustable speed calibration helps crew members consistently meet jobsite driving requirements.
To help prioritize safety is at the forefront of your next UTV purchase, look for vehicles with standard safety components already built in.
Lean on Those You Trust
While the best UTV will depend on the specifics of the jobsite, it is imperative to stick to trusted brands — quality and reliability go a long way in enhancing the UTV experience. The same goes for accessories — using an OEM's accessory catalog will ensure fitment and reliable integration and operation of the machine whereas non-OEM accessories that cause damage can affect the vehicle's warranty. Polaris Pro XD has a wide range of accessories that can also be added direct from the factory on new vehicle orders.
Leveraging the manufacturer's reputation plus understanding the ins and outs of the accessory options available will help make sure the UTV chosen will not only enhance jobsite performance, but it will also be an investment that lasts.
To learn more about the Polaris Pro XD line of UTVs, visit: https://commercial.polaris.com/en-us/
Build a Pro XD and get an online quote at https://commercial.polaris.com/en-us/build-model/.
Tags:
Polaris