John Deere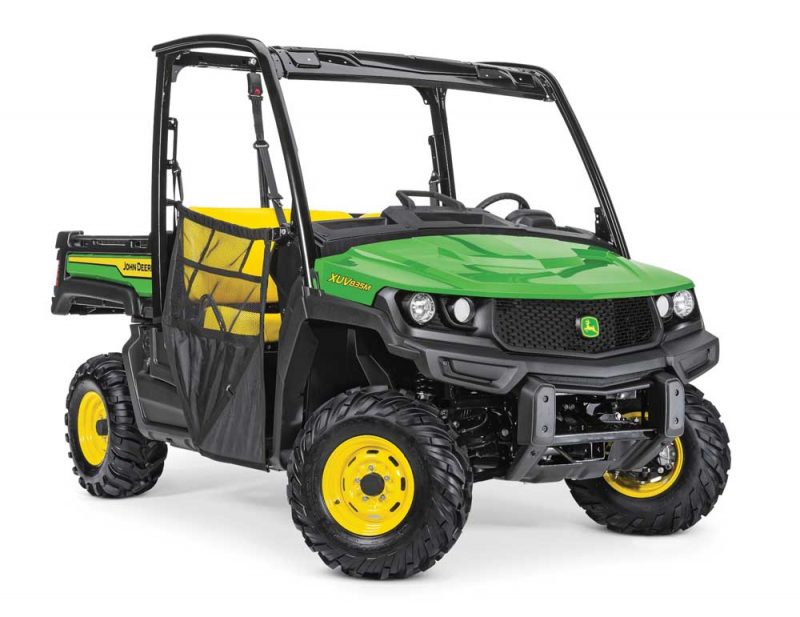 The John Deere model year 2021 Gator utility vehicles include new automotive-like features that make them easier to operate and provide improved control in a variety of terrain. Some of the latest updates include improved transmission controls, enhanced digital displays, easier gear shifting and refined power steering. The updated Gators also provide instant engagement of four-wheel drive and differential lock through a simple flip of a switch. The versatility of these vehicles is enhanced by a full range of over 100 attachments to help get any job done. For more info, visit johndeere.com.
Bobcat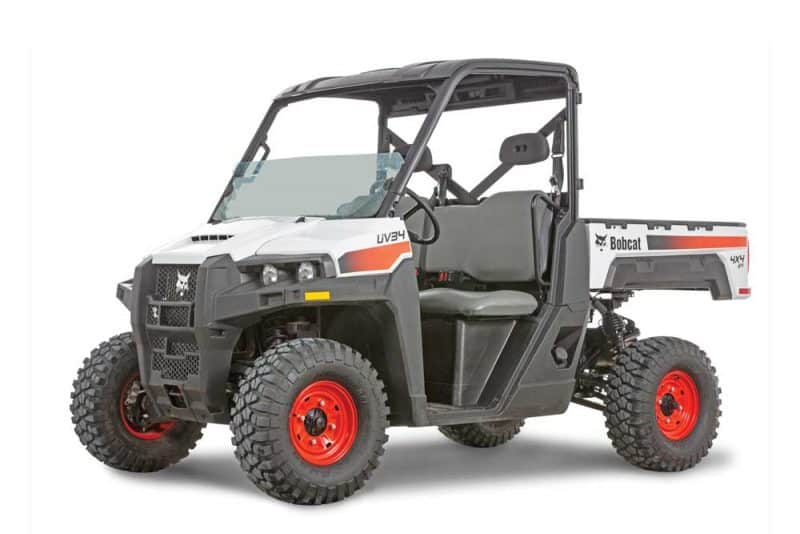 Bobcat UV34 and UV34XL gas utility vehicles deliver reliable performance and productivity with gas-engine convenience. A newly designed 39.9-hp, two-cylinder SOHC engine delivers generous horsepower and hard-working performance. Plus, the large, 900-watt stator offers increased output for electric-powered attachments. The UV34 and UV34XL gas models have an all-new chassis for increased durability and ride quality, an enhanced suspension system, increased towing capacity, a new gas engine and more integrated accessories. Bobcat UV34 utility vehicles can carry up to 1,250 lbs and easily tow up to 2,500 lbs of trailered equipment and materials. For more info, visit bobcat.com/utility-products/utv.
Kioti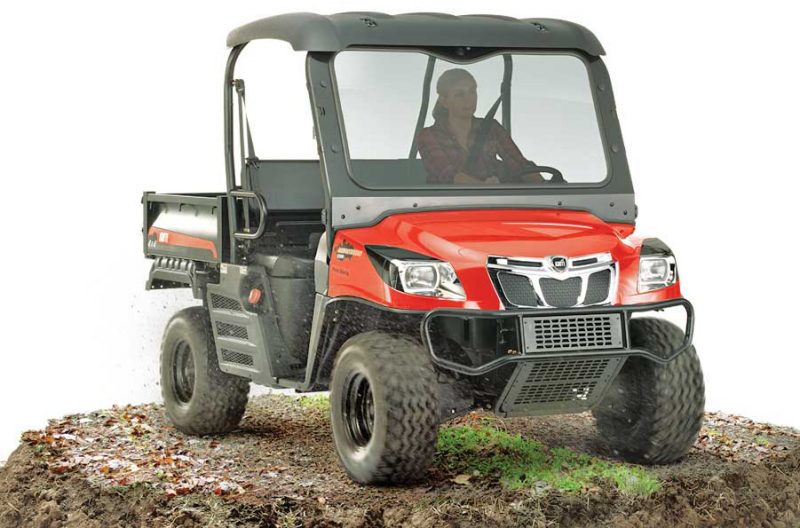 The Kioti Mechron UTV series offers a diverse range of models and features. With standard four-wheel drive and a 22-hp, three-cylinder Daedong engine, all three Mechron models offer a combination of power, toughness and agility. More than 55 in. of cargo bed space allows for over 1,100 lbs of bed capacity on the 2200 and 2200PS. The 12 in. of ground clearance offers precise maneuverability. With field cab add-ons available for the 2200 and two-row bench seating on the 2240, operators can choose the comfort and convenience that best suit their needs. For more info, visit kioti.com.
Yanmar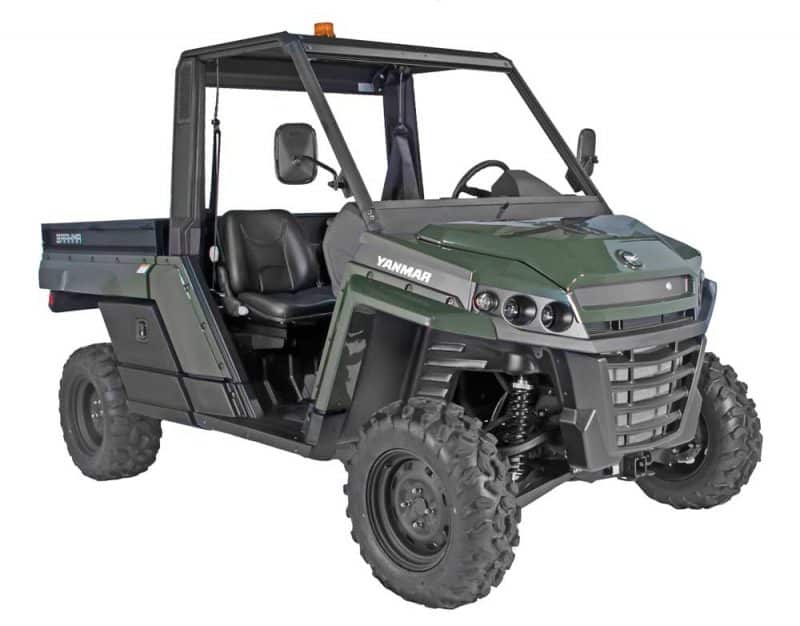 The Yanmar Brahma diesel UTV is powered by a reliable 993-cc, three-cylinder Yanmar diesel engine. Built with work capabilities as the top priority, the Brahma is a purebred work machine with amazing hauling and pulling power that sacrifices nothing to driver comfort. While the Brahma is a UTV, it could be described as a full work package with an abundance of standard features, already assembled and put together, ready for you to pick up at your local Yanmar dealer today. So, put it to the test, push it to the limits and get the job done. For more info, visit yanmarutv.com.
Caterpillar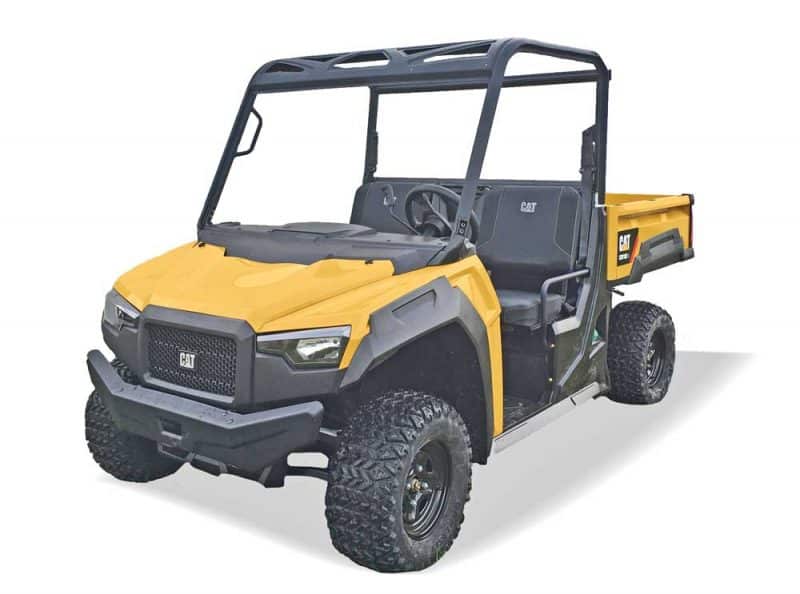 Cat UTV two-seat models (gasoline-powered CUV82 and diesel-powered CUV102 D) and five-seat models (gasoline-powered CUV85 and diesel-powered CUV105 D) now have an optional middle seat to convert them to three- and six-seat models, respectively. Plus, you can now get the Cat UTV with heat from the factory. Customers can easily customize their UTVs through over 50 accessory options including a full cab with heat option to work in colder climates. Cat UTVs feature a rugged steel cargo bed and standard power steering, offering 1,000-lb total rear cargo capacity and 2,000-lb towing capacity for outstanding performance in a variety of applications. For more info, visit cat.com/utv.
Gravely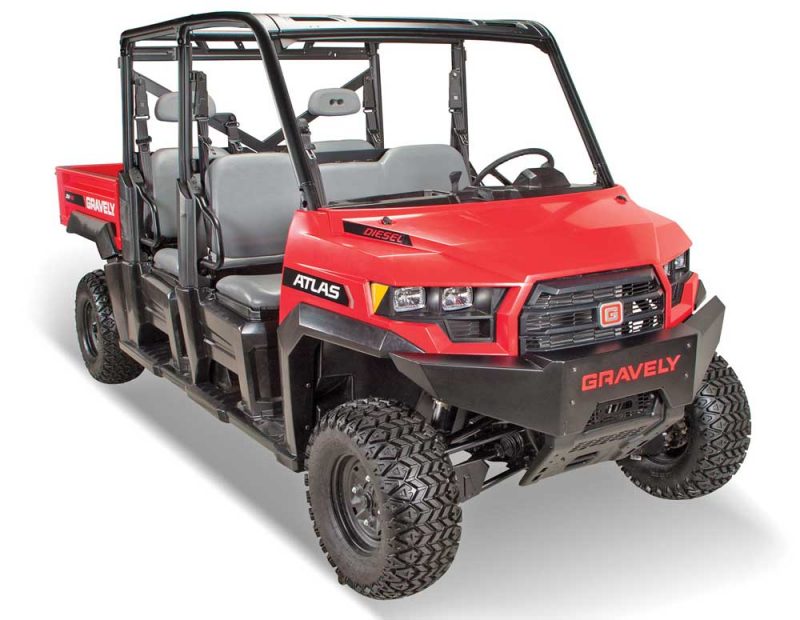 The Gravely Atlas JSV is the optimal jobsite vehicle that shows up ready to work. With a two-cylinder, 1,000-cc, OHC engine, the JSV is meant to take on the toughest jobs with the smoothest ride. The Atlas JSV features a fabricated steel cargo bed, an electric bed lift and an electric power steering kit for responsive, automotive-quality control. With pedal spacing designed for work boots and class-leading towing capacity up to 2,500 lbs, the vehicle also offers high-wear, heavy-duty tires to tackle tough terrain, making the JSV ideal for demanding jobsite conditions. For more info, visit gravely.com.
Tags:
Bobcat
,
Bobcat Company
,
Caterpillar
,
Gravely
,
home
,
John Deere
,
Kioti
,
October 2020 Print Issue
,
Yanmar