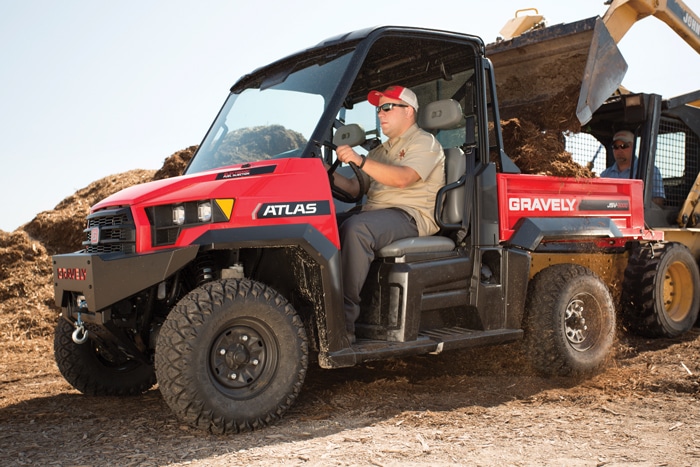 Construction contractors take notice. Green industry expert Gravely (known for its impressive zero turn mowers, snow throwers and parent company Ariens) is introducing a pretty hardcore, commercial-grade utility vehicle to the market. It's called the Atlas JSV (Job Site Vehicle), but it's not just for landscaping — if landscaping at all. It's impressive enough for any mining site, oil and gas project, dairy operation or industrial application. It's also a joint venture with Polaris.
"We're Midwestern, we understand the dealer business, we're innovative and we think outside the box, which is very much in the Polaris mindset," said Dan Ariens, Ariens Co. president and CEO. "They see that our brand is becoming this much more desired brand to lean into. There's been some strong brands in power equipment — in the commercial equipment category — but Gravely is that one that's up and coming. It's one of the fastest rising brands, and Polaris sees that as well, and they said, here's the one we want to ride along with."
Gravely introduced the new Atlas JSV at a press event hosted at Buffalo Trace Distillery, located in Frankfort, Ky., a day before GIE+EXPO began. We were super impressed with the toughness and work ethic of this vehicle during operation time. With a whopping 1,900-lb payload and 2,000-lb towing capacity, the Atlas allows work crews to literally haul a ton. Supported by an on-demand, true all-wheel drive system and De Dion rear suspension, this JSV provides the heavy-duty traction and suspension required to maintain full ground clearance and a smooth ride even when carrying maximum loads. But, what makes the JSV different from any other Polaris vehicle on the market (remember, Bobcat also has a joint venture with Polaris for UTVs)?
"Our unit has all the latest and greatest technology that Polaris has today, plus items we've uniquely engineered into the unit," explained Bill Engler, director of landscape contractor sales. "For starters, our chassis is a mix of two different vehicles from Polaris. The 900XP is the frontend, and the backend is really the Brutus style with the De Dion suspension in the back. Polaris, Bobcat, no one out there has a vehicle like this. And then of course there's what you can see on the vehicle — the box, the bed, the seating capacity, the front end — that's all our design."
Let's go over a few of these uniquely-Gravely features. The all-steel MX-18 JobBox features a 1,250-lb capacity, steel walls to prevent bowing and four integrated tie-down points to secure cargo. The extra-large 48-in. by 57-in. bed easily accommodates a standard wooden pallet. Electric cargo bed lift is standard on all Atlas models, which is pretty cool. The Atlas JSV-3000 fits three adults comfortably across one bench seat, and the Atlas JSV-6000 crew model fits six adults across two bench seats. Both models are available with a one-cylinder, 570cc Polaris DOHC gas engine or three-cylinder, 1028cc Kohler diesel engine. All engines provide a 10-gal fuel capacity and ground speed of 35 mph. Plus, all JSVs have a gnarly, black bumper standard on the front.
Atlas JSV-3000 models start at $12,999, and the Atlas JSV-6000 crew models start at $14,799. A full slate of accessories is available for the Atlas JSV including a range of cab enclosure accessories that fit easily into a profiled tubular frame for quick installation, winches, snow plow and front receiver hitch as well as tool rack, chainsaw press, gun mount and cargo box.
Keith Gribbins is associate publisher of Compact Equipment, based in Brecksville, Ohio.
Tags:
2014 Nov/Dec Print Issue
,
Ariens
,
Atlas JSV
,
GIE+EXPO 2014
,
Gravely
,
UTVs