Crunching over the construction demolition left by a hydraulic breaker, maneuvering around mountains of spoils from an excavator or stopping to pick up a mud-covered crew for lunch, a work-focused utility vehicle can cross busy jobsites with speed, safety and power. The dust kicks up and lingers in the air, swirling for a moment. The spinning tires grip, and the utility vehicle bursts forward again. There's more work to be done.
While the classic pickup has been a long-standing jobsite essential, a utility vehicle (or UTV) has become the new popular all-terrain transport alternative. Engineered with a cargo bed, tow-hitch, racking for tools and even PTO- or hydraulic-fueled attachments, UTVs are now being specifically engineered for work applications in construction, landscape, agriculture and more. To get a grip on the latest models on the market, we reached out to some of our favorite brands in the commercial UTV industry.
John Deere Gator HPX615E and HPX815E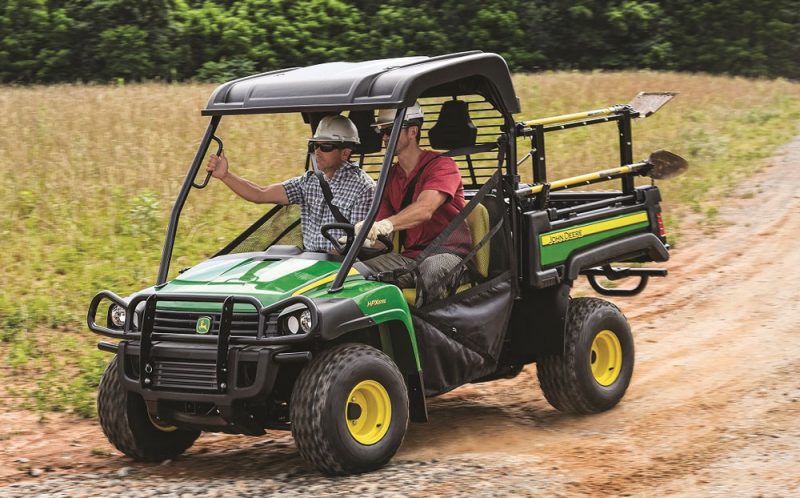 Built for varied work applications, the gas-powered Gator HPX615E and the diesel-powered Gator HPX815E models offer standard four-wheel drive for superior payload, cargo capacity, towing and overall stability. Both models are equipped with a heavy-duty suspension with 3.5 in. of suspension travel, delivering excellent heavy hauling capabilities. The deluxe cargo box on both machines features removable sides and tailgate, a one-handed pickup style opening and a design to last with durable composite construction that makes it resistant to dent, rattle and rust. Both the HPX615E and HPX815E handle up to 16.3 cu ft in cargo volume and boast an impressive 1,000-lb cargo capacity, 1,300-lb towing capacity and 1,400-lb payload capacity. These models also feature optimal weight distribution and a 6-in. ground clearance for easy usage on any terrain. For more info, visit deere.com/gator.
Kubota RTV-XG850 Sidekick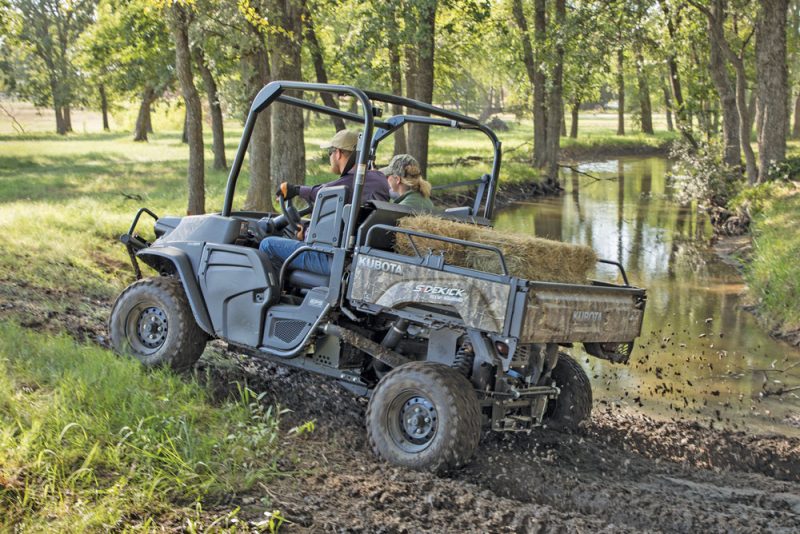 Kubota's RTV-XG850 Sidekick, the company's newest gas-powered utility vehicle, blazes a path into a new segment and joins the renowned RTV lineup of work-ready utility vehicles. Under the hood is a powerful 48-hp gasoline engine to get you where you need to be fast, up to 40 mph fast. Kubota conducted extensive research to design the Sidekick as a reliable workhorse in a powerful, fun-to-drive machine. With 2,000 lbs of towing capacity (1,550 lbs on hills) with the standard trailer hitch mount equipped, the Kubota Sidekick is at the ready to tow boats, jet skis, trailers and so much more. There are also more than 50 accessories and attachments available to make chore maintenance needs more manageable — from wheels to winches, snow removal to storage. For more info, visit kubotausa.com.
Bobcat UV34 and UV34XL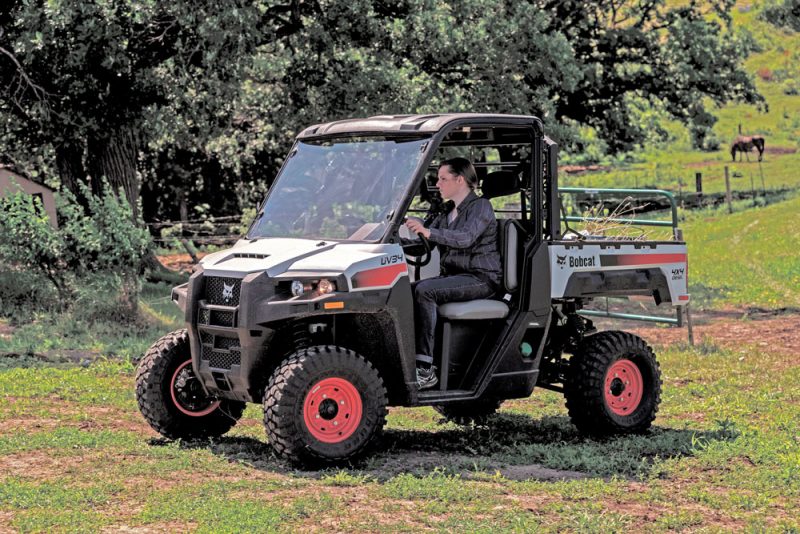 Model year 2019 utility vehicles, including the Bobcat UV34 diesel and UV34XL diesel, are designed to meet the demands of the most challenging work conditions. With industry-leading specs including 1,250-lb cargo box capacity and 2,500-lb towing capacity, industry-proven durability and comfort features, these UTVs deliver reliable productivity and performance every day. A more rigid chassis on both standard and XL utility vehicles gives operators all of the performance they need in a work-focused vehicle. The chassis design drastically improves ground clearance and off-road capability while allowing more range of motion in the suspension for superior ride quality, which is enhanced further with increased seat padding. With more material added to the frame, suspension components, wheel hubs and extended-life wheel bearings, the UTVs offer superior durability as well. For more info, visit bobcat.com/utility-products/utv.
Kioti K9 2400 and K9 2440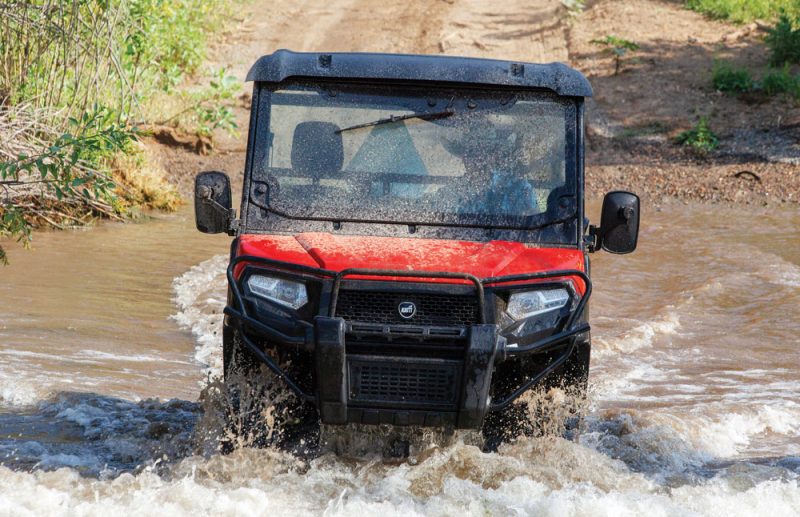 A fully featured, tough and reliable companion, the Kioti K9 2400 and K9 2440 are a landowner's best friend. They offer an abundance of storage, an ergonomic design and contemporary styling. The 24-hp, three-cylinder diesel engine — which makes way for ground speeds up to 31 mph — allows operators to tackle any task with strength and efficiency. The K9 2400 has one of the largest all-metal beds in its class, with an impressive 1,102-lb capacity, a standard spray-in liner and an optional hydraulic dump kit, allowing for a full range of towing and hauling capabilities. Access to critical controls and functions has never been easier with the K9 Series ergonomically designed dash. The K9 2440 offers two rows of seating capable of carrying five passengers comfortably. For more info, visit kioti.com.
Caterpillar CUV Lineup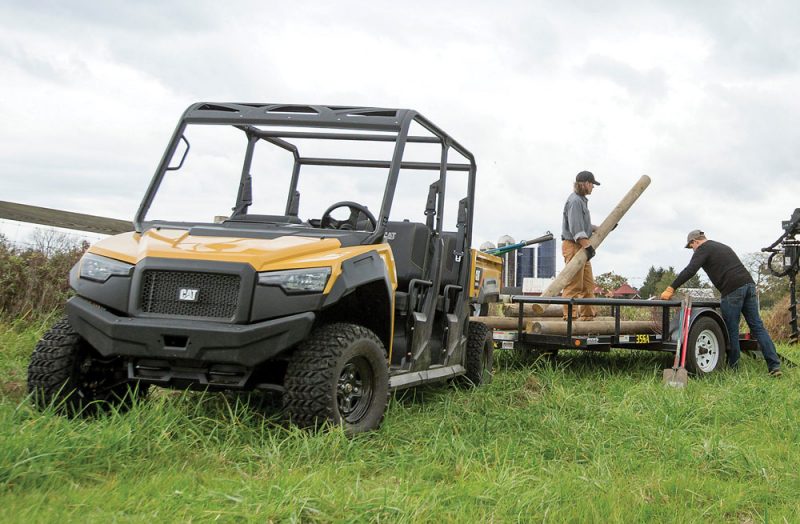 Caterpillar's gasoline-powered CUV82 and CUV85 and diesel-powered CUV102 D and CUV105 D all feature an extremely spacious cab to accommodate up to six people. Caterpillar gathered extensive customer and dealer input to build a UTV that delivers a combination of durability, comfort and maintenance simplicity. Rigorous vehicle testing ensures these UTVs meet the superior quality and reliability customers expect from Caterpillar. They feature a rugged steel cargo bed and offer 1,000-lb total rear cargo capacity and 2,000-lb towing capacity. Customers can customize their Cat UTVs to meet specific work needs through more than 50 accessory options. Easy access service points simplify vehicle maintenance, while on-board advanced diagnostics reduce troubleshooting time. For more info, visit cat.com.
Polaris Pro XD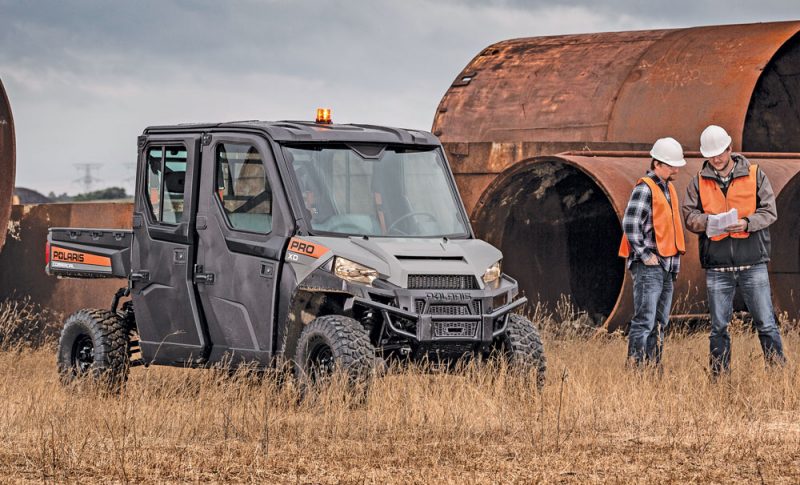 The Polaris Pro XD is built to withstand tough worksite conditions and enhance jobsite productivity. Pro XD provides seating capacity of up to four, industry-leading payload of up to 2,075 lbs and towing capacity of 2,500 lbs. Pro XD provides added safety features to comply with jobsite rules and regulations, including speed limiting, pedestrian alarms, highly visible colors and increased operator visibility. The vehicles offer a lower total cost of ownership with durable components such as puncture resistant seats and tires, commercial-grade wear components and heavy-duty suspension. Service updates are simplified with universal and simple-to-replace parts, such as easy-install accessories, common size non-directional tires, easy maintenance access points and up to 200-hour maintenance intervals. For more info, visit commercial.polaris.com.
Yanmar Brahma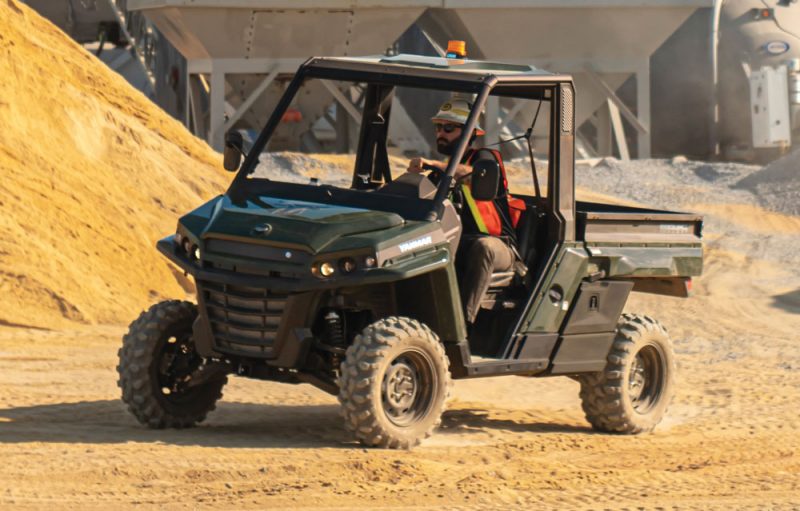 For more than 100 years, Yanmar has been at the forefront of diesel engine technology, powering the most respected brands in industries all over the globe. Today, that experience is packed into the Yanmar Brahma diesel UTV. The Brahma is powered by a famously reliable 993cc, three-cylinder Yanmar diesel engine. Built with work capabilities as the top priority, the Brahma is a purebred work machine with hauling and pulling power that sacrifices nothing to driver comfort. While the Brahma is a UTV, it could be described as a full work package with an abundance of standard features, already assembled and put together, ready for you to pick up at your local Yanmar dealer today. So, put it to the test, push it to the limits and get the job done. For more info, visit yanmarutv.com.
Gravely ATLAS JSV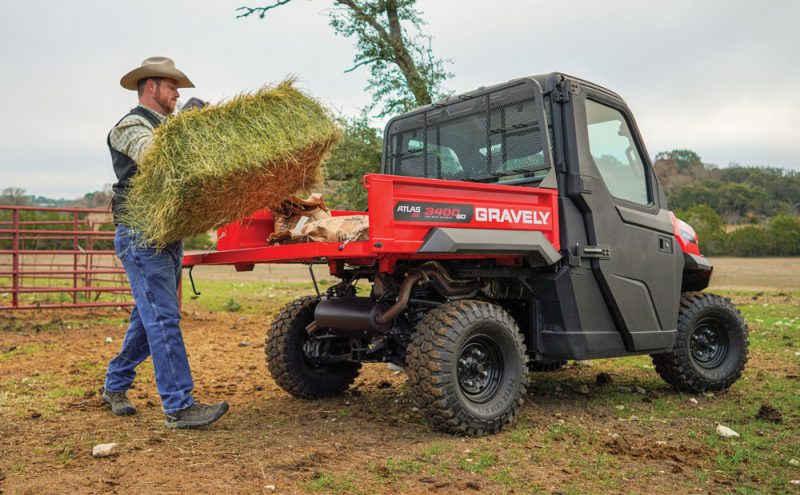 Not your everyday UTV side-by-side, the Gravely Atlas JSV is in a class by itself. From a fabricated steel cargo bed right down to pedal spacing optimized for work boots, everything about it is designed for the jobsite. And that's why Gravely calls it a Job Site Vehicle or JSV. It's a smooth-riding, quick-moving, mass-hauling workhorse of a vehicle, with the class-leading payload and towing capacity to prove it. Available in models that seat three or six, the Atlas JSV outworks standard UTV side-by-sides with an electric bed lift and an electric power steering kit for responsive, automotive-quality control. For more info, visit gravely.com.
Tags:
Bobcat
,
Caterpillar
,
Gravely
,
home
,
John Deere
,
Kioti
,
Kubota
,
May/June 2020 Print Issue
,
Polaris
,
Yanmar America