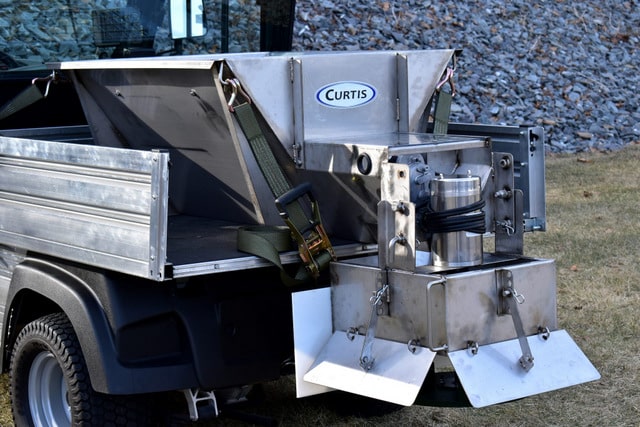 Curtis Industries recently announced the release of the Fast-Cast 600 spreader designed to fit the bed length and weight restrictions of most UTVs. Lighter than standard truck spreaders, the Fast-Cast 600 is ideal for applications such as sidewalks, driveways, parking lots and bike paths.
The spreader features stainless steel construction and an electric drive 4-inch diameter continuous auger. Hopper has 52-degree sides for continuous material flow. Fast-Cast 600 spreader has the fewest moving parts of any spreader on the market for minimum maintenance and reduced downtime.
Adjustable deflectors provide precise material spreading width to avoid overspreading in narrow area such as sidewalks. Additionally, the spreader comes standard with a spinner speed control to fine tune spreading width.
Spreader is ideal for bagged ice melt and rock salt. It can also be used with 50/50 salt and sand mixture. Salt and sand mix require optional vibrator kit.
Unique flip-up spreader chute allows for trailer towing or storage on any flat surface. No stand required. Spreader comes with tie downs and an in-cab spinner speed controller.
Spreader dimensions: 59" x 33" x 19" and ¼ cubic yard capacity. Optional extension kit is available to increase overall capacity. Vibrator kit also available to prevent material clumping.
For more info on Curtis Cab, click there. You can click, right?