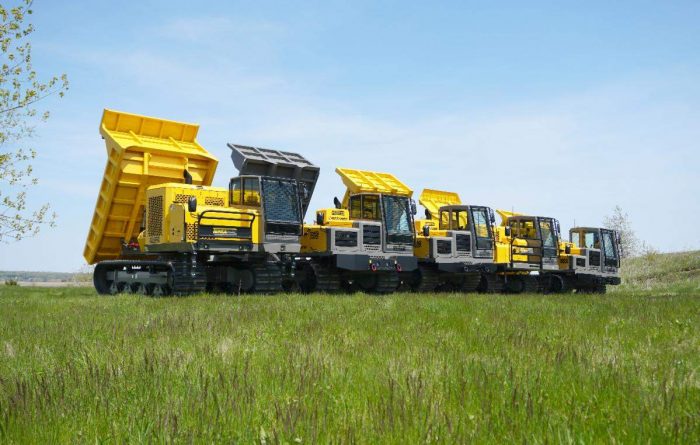 Terramac, a leading manufacturer of innovative rubber tracked crawler carriers, has expanded its production capacity to deliver an increasing number of machines for the North American and international markets with the unveiling of their new assembly facility located in St. Louis, Missouri. This announcement follows right on the heels of Terramac opening their new headquarters outside of Chicago in Sugar Grove, Illinois.
"It's an exciting time for Terramac! We took an existing older, shuttered 100,000 square foot complex located on eight acres in an industrial area of North St Louis and are returning it to manufacturing," says Warner Fencl, Vice President Manufacturing and Process Improvement of CK Power Family of Companies, the parent company of Terramac. "We designed the facility for efficiency and productivity with the ability to quickly changeover from one model to another as demand necessitates." The assembly plant will start with two production lines, each with a production capacity of 250 crawler carriers per year with room for expansion. The facility has more than 275 tons of overhead crane lift capacity, which will handle any assembly requirement with ease. The new Terramac plant is set to begin production in March. When fully operational, the St. Louis production will complement the existing Terramac production to allow Terramac to meet the growing demand for its crawler carriers.
"We are excited about revitalizing the plant facility, as well as the neighboring area. Our plans to ultimately hire more than 100 employees over the next couple years drawing from the local workforce will help support our goals for the company and the community," says JJ Costello, VP of Business Development of CK Power Family of Companies.
"The Terramac straight frame and rotating crawler carriers are the most versatile machines on the market," Matt Slater, Vice President Business Development for Terramac says. "We work closely with our North American dealer network to engineer crawler carriers for many different industries and uses. With a variety of sizes, rotational capabilities, and extended frame options, the potential uses of Terramac crawler carriers are endless, and the new facility allows us to adjust production as needed."
John L. Coughlin, President and CEO of Linder Industrial Machinery has been working with Terramac for more than six years and agrees with Slater. "We have used Terramac crawler carriers in so many configurations for our customers. There have been times when keeping up with demand has been more challenging, especially with the nationwide shortages, so it is great to see Terramac taking control of their production. Terramac's progressive approach will ensure we have access to the carriers we need to adequately equip our customers."
Terramac, now headquartered in Sugar Grove, IL, produces the world's leading crawler carriers. Units are sold through its dealer network, which offers easy-to-locate parts and service support throughout the world. The units can be customized with support equipment to serve many industries including pipeline, utility, mining, environmental, forestry, general construction and more. Terramac is part of the CK Power Family of Companies, a leading distributor, manufacturer and service provider for engines, power generation, powertrain, and off-highway power solutions. To learn more, please visit Terramac.com or call 630-365-4800.
You love dealer news. Can't get enough, right? Well, click here for more. Like, lots more.